Fairy Steps 4 Ella
FairySteps4Ella Focusing on therapy for cerebral palsy for development and growth for Ella.
Auckland
***A GRAND TOTAL OF $210,000 RAISED SO FAR via Givealittle and ELLA'S EVENTS! Thank YOU!***
***You may have also heard the news that Ella's needs a further $90,000 for travel to cover costs associated with her medical background. We have an incredible team working on travel plans for us for April 26th and are drawing in everything we've got. Please share Ella's story & find the fairies to help fly Ella to St Louis***
Ella bo bella arrived into this world weighing 800 grams and 15 weeks early. The odds were stacked against her - but no one knew how tough a tiny fairy could be.
Ella's Mum and Dad had lost her older sister, Emily, only one year before. The grief and pain was immense – and this tiny fairy carried so much hope for her family.
Ella suffered a Grade 4 brain bleed when she was a few days old. The outlook for her was grim, and Mum and Dad were told she would never walk, never talk, and never recognise them. They took it on, knowing that although the machines helped Ella breathe, her heart was beating to her own drum.
On day 6 Ella was rushed to Starship for emergency bowel surgery. She survived.
On Day 10, she opened her eyes. On Day 12, she was finally stable enough to be held by her Mama.
Day 13 Ella was rushed into surgery again to alleviate pressure on her swelling brain. She pulled through.
Day 20, Ella was almost 3 weeks old, but required another brain surgery to relieve pressure.
This pattern of challenges and trauma and surgery continued.
Ella spent 122 days in NICU both at Auckland and Middlemore, and over a week in Starship's Neurosurgery ward. Every hour there were highs and lows, challenges, infections, weight gains... and a "One Kilo Club" membership.
Then Ella made it home, September 2 – two weeks after her original due date.
Today Ella is a cheeky and social just-turned-4-year old. Her rocky start has resulted in her diagnoses of cerebral palsy, hydrocephalus and epilepsy. This means her legs are too tight to be able to walk and find balance. She requires a shunt to help alleviate pressure in her brain. And relies on daily medications to prevent seizures.
Ella soldiers on regardless of 13 surgeries, multiple ED admissions, physiotherapy, speech lessons, and of course, plenty of giggles, spark and cake.
But now the kid has caught a break. And we need your help.
Ella has been accepted to undergo Selective Dorsal Rhizotomy, in St Louis, Missouri,with the renowned Dr Park. This procedure will give Ella the chance to walk.
We are going to get Ella to St Louis for May 3rd, 2018 - Ella's 5th birthday.
We have been aiming for $150,000NZD to cover the surgery, travel and some costs associated with Ella's rehabilitation on her return. We kicked butt and raised this the day we broke the Guinness World Record for Most Fairies in One Location! However we have discovered the travel costs due to the complex medical conditions Ella has. To cover safe & appropriate care we have been told we will require two medical specialists to escort Ella. Our short-fall is a further $90,000 and will save, fundraise, work and plan accordingly.
X thank you for you help x
For more information on SDR at St Louis see here
http://www.stlouischildrens.org/our-services/center-cerebral-palsy-spasticity/about-selective-dorsal-rhizotomy-sdr
Other page links
---
Latest update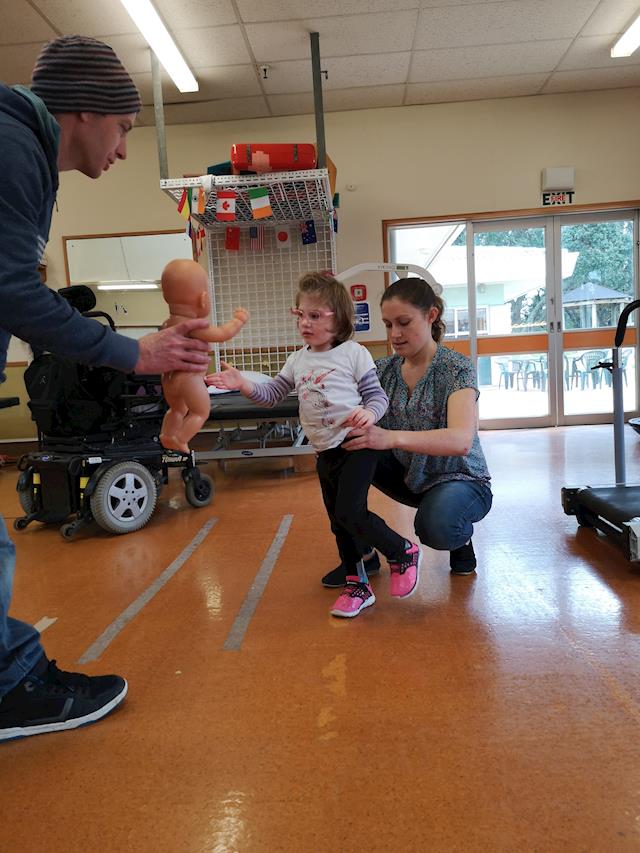 Ella's post-op and RUNNING! 31 August 2018
Posted by: Katherine Yearbury
The only way I can really summarise the last few months is that I have never had the culmination of such love, fear, excitement, wonder, fatigue and gratefulness to this extent – all in one moment! All in back to back moments!
The St Louis trip was an incredible time. I often had to pinch myself that it was real. Taking photos in front of the hospital, with Dr TS Park and Dr Matthew Dobbs. Riding shuttles to and from the hotel and dismembering equipment and backpacks to fit it all in. Sometimes it was just me and Ella. Sometimes it was our whole family. Sometimes we were packed in with families from Denmark, Israel, Titirangi and Waikato – all there for new legs.
The surgery has been an enormous success. For the first time in Ella's life she followed a one-page medical info sheet of what to expect post-op. The St Louis team decided it was best for Ella to head into PICU to be sedated for proper rest as she recovered. And on Day 3 it was time to sit up for the first time – and she loved it! The next day Ella stood up on her new legs.
Leaving St Louis was both an exciting and sad time. Exciting to come home, sad to leave knowing how challenging it would be to ever return to see these great new friends made. Dr Park has suggested that Ella will be independently standing within 4-6 months and walking independently in time. Her awesome physio team thought it was realistic to see Ella start school using her walking frame, and as she strengthens and learns to coordinate herself, walking canes.
So what's this fairy doing since her big life-changing op?!? Well. Experiencing what life-changing means!
- For the first time in Ella's life, she sleeps through the night. No more cramps or muscle spasms!
- Ella can stand flat-footed in bare-feet without anyone pushing her heels down, or needing stretches, hot wheat bags, massage, bath soaks, botox or leg casts.
- For the first time EVER Ella is comfortable enough to wear her splints ALL day. This helps Ella's muscles stretch, and also heal from surgery at the right length. It also gives her a great foundation to balance and call out "Look at me Mama!"
- Ella can scale the rock-climbing wall at the local park with a bit of help for safety. When she gets to the top she shouts "Again!"
- Ella has learned to RUN on her walking frame! She can run down the corridors to Glow Kids and kindy and through open doors without falling! Across carparks and she is working on getting up the ramps without a push from behind!
- Ella can crash into walls with glee in her walking frame. We are trying to teach Ella how to steer but when Ella does crash, she can now lift her frame up all by herself and redirect it to where she wants to go. I think this is a moment of independent standing, don't you??
- Ella is learning to walk on canes and with good energy levels, focus and someone close by, Ella can walk about 4-5metres on her own!
- For the first time EVER Ella enjoyed the zoo. She liked the elephant but LOVED the fences and spent the entire day side-stepping from one fenced enclosure to the other. She snored all the way home.
- Ella is eating more food as her tummy is more comfortable having all the tightness reduced, and her intestines working better – plus she is going to the toilet more often! Hooray!
- Ella has put on 3 kilos since surgery and finally is sitting on the weight chart!! She is bigger than her one year old brother! Biggest weight gain in her life.
- Ella can buddy walk around the house, walk upstairs together and push up with her legs, hold two adult's hands and walk around a playground… and say "Look what I am going to do!" and jump as HIGH as she can! We are working on landing but Ella thinks it's hilarious landing on her butt.
- Last weekend Ella went on her besties trampoline. This usually involves her lying down giggling while everyone jumps around her. THIS time, holding Mama's hands, Ella jumped AND landed on two feet! She jumped until she was so exhausted her knees wouldn't hold her up anymore and the only way she would leave the trampoline was for birthday cake.
I hope you realise our immense gratitude with your support. I also hope you know how phenomenal these surprises and achievements are for our little girl. Ella has so much potential ahead because of receiving this surgery.
Recently Ella was on 7 Sharp with Tim Wilson and team, showing off her new legs. Be sure to watch the clip if you have time.
https://www.tvnz.co.nz/one-news/new-zealand/shes-cheeky-determined-parents-risk-all-daughters-expensive-and-life-changing-operation
It is true. We ended up raising a little over $250,000NZD to get Ella to and from St Louis safely. It was an extraordinary and fearful and hopeful feat. But we did it! We had costs from her seizure admission of about $8,000NZD that we were able to pay as Ella did not hold travel insurance – thank you for letting this happen.
I have been soul-searching since our return as I had hoped to have approx. $30,000NZD left to spend on Ella's rehabilitation over a two year period. After the trip expenses Ella is about $12,000 short of this figure to give her what she needs. I have decided to finish this year with a few more events and raffles to do the best I can to give her the best shot at rehab before school starts next May. And then see how Ella is going, and what best helps her gain what she needs for independence, fun and finding the potential of her new legs.
After that figure is raised, I will be hanging up my fundraising hat for Ella, and looking at what good we can do to help others gain fairysteps.
Hope to see some of you at Ella's welcome home party in October and give a big thank you hug. Info will be on Facebook soon x
PS Keep an eye on What Now! for Ella's welcome home clip!
---
Latest donations

Well done Becky you absolute legend!

Emma & Maeve
on 22 Sep 2018
Run, Becky, run and then run, Ella, run xxx

Elsie and Tessa
on 22 Sep 2018

Hannah and Ivy
on 22 Sep 2018

Guest Donor
on 22 Sep 2018
---
Who's involved?
---
Page Moderated
The page has been checked by our team to make sure it complies with our terms and conditions.
---
Fundraisers supporting us
---
Gallery
---
Want to get in touch with Katherine Yearbury?
One question has been asked already. Check it out and
ask yours here
.
---
Any concerns?
Report this page
---
This page was created on 7 Jul 2016 and closed on 31 Oct 2018.