Bilan médical - Noumea
6 July 2019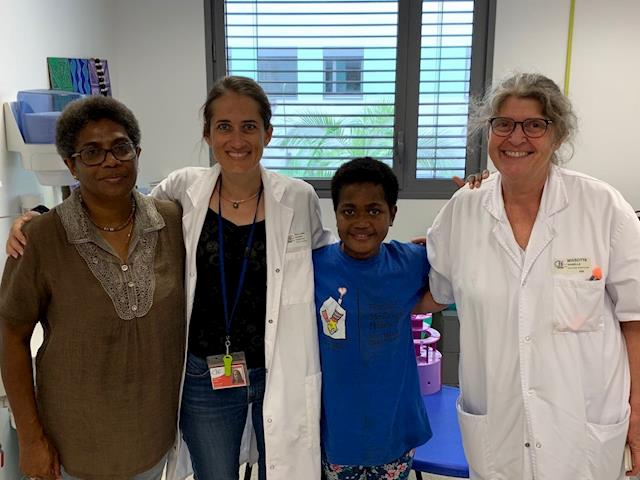 A tous les ami(e)s de Micheline,
Ça ne fait même pas 12 mois qu'on a trouvé Micheline dans un état désespéré à quelques heures de la mort. De 18kg, quand nous l'avons trouvée dans le pire état pour voir un être humain, à maintenant 40kg, pleine de vie, de rire et de bonheur est une réalisation incroyable. Il est temps que nous fassions le point sur les progrès de Micheline. Soit dit en passant, Micheline est aussi appelée Missy par beaucoup d'amour.
LA MAISON DE MISSY
Comme vous le savez d'après la dernière mise à jour, lorsque Missy est retournée à Vanuatu, elle a été placée auprès de sa tante Ruth et sa famille, qui sont des personnes incroyablement généreuses et gentilles. Notre Missy est non seulement extrêmement chanceuse qu'elle ait survécu à son épreuve, mais aussi très chanceuse qu'elle ait un environnement aussi bienveillant, aimant et sûr où elle peut continuer à guérir et à s'épanouir.
Ruth prend son rôle pour élever Missy et s'occuper de ses besoins très au sérieux et fait un travail exceptionnel! Ruth prend soin avec amour de Missy et lui fait actuellement aussi l'école et les lessons à la maison avec beaucoup de patience afin de protéger Missy des problèmes qu'elle pourrait éprouver à l'école par des questions des autres élèves ainsi que peut-être des moqueries concernant les cicatrices sur son corps. Heureusement, il n'y en a presque pas sur son visage. Comme vous pouvez l'imaginer, l'enseignement à domicile est un engagement important. La médication que prend actuellement Missy affecte sa capacité d'attention, et Ruth continue avec habileté et patience de persévérer, comprendre l'importance de l'éducation, mais aussi l'impact psychologique potentiel sur Missy si elle allait trop tôt dans une école locale.
RUTH ET SA FAMILLE
Nous sommes profondément reconnaissants de tous les soins et de l'amour que vous accordez à Missy, de votre persévérance, de votre soutien et de votre adaptation continue à de nouveaux défis et à de nouveaux apprentissages. Cela nous réconforte tellement après ce que nous avons tous vécu ensemble, que Missy a une vraie maison et les meilleurs gardiens que nous aurions pu souhaiter pour elle. »
MEDIPOLE DE NOUMEA
Il était temps de ramener Missy à la clinique en Nouvelle-Calédonie pour ses examens. Il y a quelques semaines, Missy, Ruth et Tobias sont allés à la clinique et Tobias a décrit cela comme une véritable révélation. Vous vous souvenez peut-être qu'après avoir déposé Missy en Nouvelle-Calédonie l'année dernière, Tobias et Nicole n'ont pas pu rester. Beaucoup de gens qui ont soutenu Missy pendant cette période, Tobias ne les avait jamais rencontré avant de ramener Missy ce mois de Juin 2019 au MEDIPOLE. C'était comme si Missy avait le statut VIP.Tout le monde la connaissait quand ils sont arrivés. Il y avait un entourage de personnel à la clinique qui attendait avec impatience de l'accueillir à son arrivée. Tobias dit qu'il était étonné du nombre de liens étroits que Missy a tissés pendant son séjour là-bas. Elle a conquis le cœur de tant de gens; le personnel, les pharmaciens, les infirmières venaient sans cesse la voir. Ils se sont tous battus pour sa survie d'une façon ou d'une autre. Tobias a été tellement touché par cette expérience. Il n'avait aucune idée à quel point Missy a touché tant de gens en Nouvelle-Calédonie. Elle n'est pas seulement une patiente là-bas, elle fait en fait presque partie d'une « famille »; la seule façon de le décrire…
Contexte : Normalement, l'équipe qui effectue les chirurgies voit un patient une fois. Mais Missy était anesthésiée tous les 2 jours, peu importe qu'il s'agisse de Noël, du Nouvel An ou d'un jour férié et peu importe les coûts. L'équipe était là et a répondu au besoin. Beaucoup de ressources ont été allouées et utilisées. Ce qui était plutôt drôle, c'est que Missy ne connaissait pas l'équipe de chirurgie car elle n'était jamais consciente, mais ils la connaissaient évidemment très bien. Quand nous sommes arrivés, ils sont tous venus la voir, et Missy était un peu bouleversée quand tous ces « étranger l'ont accueillie si merveilleusement.
L'ÉQUIPE DU DR MISSOTTE :
« Nous tenons à exprimer notre respect et notre gratitude les plus sincères pour le travail incroyable que vos équipes ont accompli pour permettre à Missy de survivre. L'engagement dont nous avons été témoins sur le plan médical était exceptionnel, mais aussi l'aspect humain de la bonté aimante, des soins inlassables et du soutien 24 heures sur 24, 7 jours sur 7 était sans égal et ce souvenir restera toujours dans nos cœurs et nos esprits. Cela a changé qui nous sommes et nous nous sentons très proches de vous tous qui nous avez aidés lorsque nous avons affronté cet énorme défi. Nous sommes humbles et reconnaissants. Merci à tous pour tous que vous avez fait.
VÉRIFICATION MÉDICALE
Missy a eu un contrôle physique qui a mis en évidence un problème avec 3 orteils sur son pied gauche. Ils se sont déformés à la suite des brûlures que Missy avait endurées et, malheureusement, il est trop tôt pour opérer, mais il y a un risque de problèmes de posture plus tard. Il sera surveillé pour l'instant.
Elle a également subi des analyses sanguines, près de 8 heures de perfusion (médicaments anti-allergiques, médicaments immunodépresseurs Rituximap, etc.), des radiographies, des échographies et un nouveau plan de médicaments a été établi.
Rituximap devra être administré tous les 6 mois pendant encore 2 ans pour garder son état sous contrôle. Il y a toujours le risque d'attraper des infections car son système immunitaire reste affaibli. Les stéroïdes sont encore administrés, mais seront lentement réduits sur de nombreux mois. Elle doit aussi prendre des antibiotiques tous les deux jours pour réduire le risque d'infection.
Les vols, les tests et les médicaments ont couté 6800 dollars.
Missy était très bien soignée et en de bonnes mains. Elle était très heureuse, elle riait beaucoup et prenait tous les soins dans sa foulée. Elle était très détendue avec tous les contrôles et les traitements. Il n'y avait aucune peur, juste la confiance.
Ruth a dit qu'elle était vraiment contente de pouvoir venir en Nouvelle-Calédonie. Elle a posé de nombreuses questions et obtenu des éclaircissements sur un certain nombre de sujets et se sent mieux équipé pour continuer d'être le gardien de Missy.
NOTRE SÉJOUR DANS LA NOUVELLE CALEDONIA
Nous avons été incroyablement chanceux de rester au magnifique
Hôtel Le Lagon https://lelagon.nc/en/home/
Le Lagon Hotel Noumea, New Caledonia
Ideally located in the heart of the tourist area of Noumea, the capital of New Caledonia, hotel Le Lagon is located 100m from beaches, restaurants and shops. Hotel Le Lagon is distinguished by the quality of its modern facilities, its comfort and its service, as well as the variety of free activities and services.
lelagon.nc
Quel plaisir! Patrick Cardin, le propriétaire, nous a offert un hébergement gratuit qui était incroyablement généreux et nous n'aurions pas pu rester dans un meilleur endroit. Il nous a aussi offert de nous y rendre gratuitement lors de toute visite future que nous accepterons volontiers.
PATRICK CARDIN : « Cher Patrick, merci beaucoup de votre générosité de nous avoir permis de séjourner gratuitement dans votre magnifique hôtel.
L'année dernière, Mr Toebelmann a passé beaucoup de temps avec Missy, son père et sa belle-mère pour les divertir pendant leur séjour. Lors de cette dernière visite, Tobias a rencontré M. Toebelmann pour la première fois, et c'était agréable de voir à quel point Missy et M. Toebelmann étaient proches. Missy était si heureuse de revoir M. Toebelmann, et il est comme un « grand-père » pour elle. Elle aime vraiment être près de lui.Nous n'aurions pas pu être plus à l'aise ! C'est aussi un vrai plaisir d'avoir fait ce lien avec vous. Sans doute, nous nous reverrons ! Ruth & Missy »
M. TOEBELMANN : « Merci beaucoup pour tout votre temps et vos efforts au cours des derniers mois. C'était très important pour la guérison de Missy d'avoir le soutien et les soins de gens comme vous. Vous êtes devenu un ami important dans la vie de Missy et elle a évidemment vraiment noué des liens avec vous ce qui est merveilleux. Nous nous réjouissons à la perspective de vivre de nombreux autres souvenirs heureux que nous pourrons partager à l'avenir. »
Il était également temps pour de nouveaux vêtements pour Missy. Nous avons pris le temps de faire un peu de shopping ce qui lui a permis de choisir quelques nouveaux vêtements elle-même. Quelle fille n'aimerait pas cela? Missy appréciait vraiment l'attention et nous remerciait d'avoir pu faire un peu de shopping elle-même ;-).
Chers amis et sympathisants, voici notre mise à jour pour l'instant. Nous espérons que cela mettra un sourire sur votre visage, consultez la Galerie pour de nouvelles photos, et comme toujours, merci pour votre générosité et votre soutien!
Jusqu'à la prochaine mise à jour !
Nicole et Tobias
0 comments |
Login
to leave a comment