Saving Micheline Next Chapter
Confronted with the most horrific sight you encountered in your life. You find a girl, barely alive, unable to move, covered in lesions.
Auckland
Imagine this…. You are on a yacht with your family cruising through Vanuatu's outer islands. Your destination is Pentecost island. You decide to stay nearby; you are intrigued by the beautiful island and decide to go on shore with your little girls and explore the beautiful beach. You have no worry in the world right now enjoying the beauty around you, creating memories with your family.
Then all of a sudden, an elderly local man approaches you and asks you if you have medication on board, to help his 10 year old granddaughter who is ill. He can't tell you what's wrong with her, you think she probably has a fever or similar and needs some paracetamol, and you agree to get the first aid kit and some medication. You leave your wife and kids back on the boat and follow the old man into the village to where the girl is.
And then picture this…. You are confronted with the most awful sight you have encountered in your life. You find a little girl lying on the floor of a clay hut barely alive. 70% of her body is covered in open lesions covered with flies and significant burns to her legs. She is barely responding anymore but still just alive. She is skin and bones and unable to move anymore. She is nearing death.
What would you do?
This is the incredible story of the rescue and survival of Micheline, a now 11 year girl from Pentecost Vanuatu.
Tobias & Nicole and their two daughters are originally from Germany and have sailed around the world for 3.5 years, with New Zealand now being their home. This encounter happened while on holiday in September 2018 in Vanuatu and this is their story.
Tobias and Nicole immediately arranged for Micheline being airlifted to Vila Hospital, tests were performed in Vanuatu and in Australia. It was discovered that Micheline suffers from a rare auto-immune disorder (Pemphigus Vulgaris). This disorder results in her skin developing blisters that turn into big and painful lesions covering her entire body.
Micheline got sick and was severely neglected. There was no medical facility and people on the island still believe in black magic. The burns were the result of the locals believing she was witched. Micheline also lost her mother to the same condition 5 years ago. The mother never got help.
Micheline's story of survival started here. And so did Tobias and Nicole's conviction and long term commitment to ensure Micheline's survival and enable her to heal and live the life that she deserves. This encounter had a significant and personal impact on Tobias and Nicole.
It was an emotional rollercoaster and at times a logistical nightmare trying to make sense of how Micheline got into such a state but also getting the appropriate local help and assistance from overseas. Amazing people came into their lives and assisted where they could and Micheline survived.
Please read this incredible full story here:
https://givealittle.co.nz/cause/fighting-for-her-life-and-future-micheline-10
Eventually, Micheline was flown to New Caledonia where she spent nearly 3 months in hospital. She is on permanent medication now which keeps her condition under control. She is well enough to get on with her life, but will need to continue monitoring her condition and adjusting her medication if needed to ensure that the blisters cannot form anymore.
It is now March 2019 and Micheline is back in Vanuatu. She won't be able to go back to her home in Pentecost as there is no medical facility and appropriate care for her.
Micheline is very lucky as one of her aunties, who is married to an Australian, has offered to take her and also home school her. They have a 13 year old boy who is also being home schooled after the Australian curriculum, so this is wonderful opportunity and the best environment for Micheline.
What happened between September 2018 and now is all documented on the previous Givealittle page which we launched to raise funds and awareness after finding Micheline. We were desperate to raise significant funds to pay for Micheline's stay in New Caledonia which with the help from many generous people around the world we were able to achieve. We are truly grateful.
If you are new to this story, we encourage you to go the links below.
You will read (and see) how Micheline was saved, her fight to live and the incredible challenges and bravery of all involved (read all pages and view the Gallery to get the whole story):
https://givealittle.co.nz/cause/fighting-for-her-life-and-future-micheline-10
The Herald published the following interview with Nicole and story, please view and read this also:
https://www.nzherald.co.nz/national-video/news/video.cfm?c_id=1503075&gal_cid=1503075&gallery_id=199895
So why another Givealittle page?
This is a long term commitment and to ensure Micheline can remain healthy. She needs to go to New Caledonia every 3 months for medical assessments and costly tests that can only be performed there.
We are asking for continued support of Micheline, so that we can pay for her flights, an adult to accompany her, accommodation, treatment and tests.
In terms of costs, the hospital stay in New Caledonia costs NZ$2000 per day. We don't know yet how many days Micheline will need to stay at each visit plus all other expenses that will need to be covered.
We aren't sure at this stage how many years this will be required but for now we understand four times a year checks are needed.
Micheline has been through so much. She witnessed her mother's death, she got sick herself and nearly died, had burns inflicted on her and was medically neglected. She may not see her siblings, father and family on Pentecost for a long time. But she keeps smiling which keeps us going to ensure she can heal, forgive and truly flourish in her life.
She is incredibly fortunate she is alive today, has a caring aunty and uncle she can live with, but will continue to need financial support until she can look after herself at some point in the future. We often think about her mother and how happy she would be knowing that her daughter is save now.
Please support this cause and Micheline's future. Her story has definitely had a ripple effect. She has touched ours and the lives of many others deeply. And you never know…. One day Micheline may make a big difference to others who she encounters and are suffering.
Many thanks for reading this.
With love,
Tobias, Nicole and the girls
Use of funds
* Flights to Noumea, New Caledonia (for check ups, four times per year)
* Hospital fees (NZ$ 2000 per day)
* Laboratory fees for blood tests
* Medication
Other page links
---
Latest update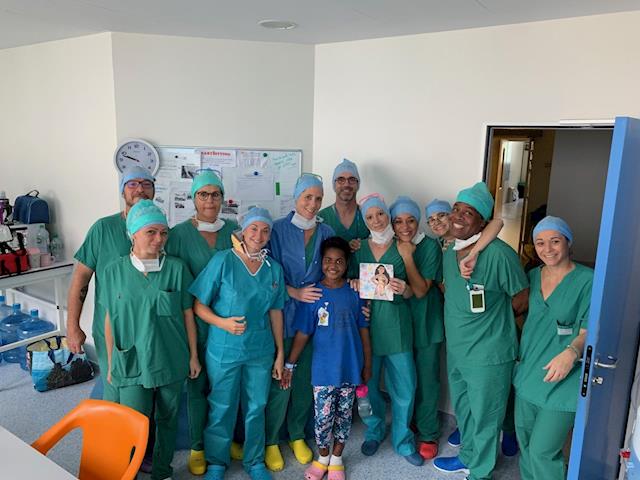 Back in New Caledonia for medical check-ups 27 June 2019
Posted by: Nicole & Tobias Janke
Dear supporters of Micheline,
It's been not even 12 months since we found Micheline in dire condition hours away from death. Going from 18kg, when we found her in the most awful condition to see a human being in, to now 40kg, full of live, laughter and happiness is an incredible achievement. It's timely that we provide an update on Micheline's progress. By the way, Micheline is also lovingly called Missy by many.
MISSY'S HOME
As you know from the last update, when Missy returned to Vanuatu, she was placed with her aunty Ruth and family, who are incredibly generous and kind people. Our Missy is not just extremely lucky she survived her ordeal but is also very fortunate that she has such a caring, loving and safe environment where she can continue to heal and flourish. Ruth is taking her role to raise Missy and look after her needs very seriously and is doing an exceptional job! Ruth lovingly takes care of Missy and currently also patiently home schools her to safe Missy the trouble she may experience at school from questions and possibly being mocked about her scars on her body. Luckily there are nearly none on her face. As you can imagine, home schooling is a big commitment. The medication Missy is currently on, affects her attention span, and Ruth skilfully and patiently continues to persevere, understanding the importance of education but also the potential psychological impact on Missy if she went too soon to a local school.
RUTH & FAMILY: "Ruth & family, we are deeply grateful for all your care and love you give to Missy, your perseverance, support and continued adaption to new challenges and learnings. It gives us so much comfort after what we all have been through together, that Missy has a real home and the best caretakers we could have wished for her."
NEW CALEDONIA HOSPITAL
It was time to take Missy back to the clinic in New Caledonia for her check-ups. A couple of weeks ago, Missy, Ruth and Tobias went together to the clinic and Tobias described this as a real eye opener. You may remember that after dropping off Missy in New Caledonia last year, Tobias and Nicole weren't able to stay and many of the people who supported Missy during that time, Tobias had never met before until now when he took Missy back to the clinic. It was like Missy had VIP status. Everyone knew her when they arrived. There was an entourage of staff at the clinic waiting eagerly to greet her at her arrival. Tobias said that he was amazed how many close connections Missy made during her time there. She captured the hearts of so many; staff, pharmacists, nurses kept coming to see her. They all fought for her survival in one way or the other. Tobias was so humbled by this experience. He had no idea how deeply Missy impacted so many people in New Caledonia. She isn't just a patient there, she is actually almost part of a 'family'; the only way to describe it….
Some context: Normally the team who performs surgeries, they see a patient once. But Missy was anaesthetised every 2 days regardless if it was Christmas, New Year or a public holiday and regardless of costs. The team was there for here and responded as needed. A lot of resources were allocated and used. What was kind of funny, was that Missy actually didn't know any of the surgery team as she was never conscious, but they obviously knew her very well. When we arrived, they all came to see her, and Missy was a little bit overwhelmed when all these 'strangers' greeted her so wonderfully.
DR MISSOTTE'S TEAM: "We would like to express our uttermost respect and gratitude for the incredible work your teams performed to enable Missy's survival. The commitment we witnessed medically was outstanding but also the human aspect of loving kindness, tireless care and support 24 x 7 was second to none and will always live in our hearts and minds. It has changed who we are and we feel a very close bond to all of you who helped us when we faced this huge challenge. We are humbled and grateful. Thank you all for what you accomplished."
MEDICAL CHECK UP
Missy had a physical check up which highlighted an issue with 3 toes on her left foot. They have deformed as a result of the burns Missy had endured and unfortunately it is too early to operate but carries a risk of posture issues later. It will be monitored for now.
She also had blood tests, nearly 8 hours of infusions (anti-allergy medication, Rituximap immune suppressing medication etc), X-rays, ultrasounds and a new medication plan has been established.
Rituximap will need to be administered every 6 months for another 2 years to keep her condition under control. It does carry the risk of catching infections as her immune system remains suppressed. Steroids are still being administered but will be slowly reduced over many months. She also has to take antibiotics every couple of days to reduce the risk of infections.
All up the flights, tests and medication cost a wopping NZ$6800.
Missy is in excellent care and in good hands. She was very happy, laughed a lot and took it all in her stride. She was very relaxed with all the check up and treatments. There is no fear, just trust.
Ruth said that she was really glad she could come along to New Caledonia. She asked many questions and got clarification on a number of topics and feels better equipped to continue being Missy's caretaker.
OUR STAY IN NEW CALEDONIA
We were incredibly lucky staying at the gorgeous
Hotel Le Lagon https://lelagon.nc/en/home/
What a treat! Patrick Cardin, the owner, offered us free accommodation which was incredibly generous and we couldn't have stayed at a better place. He also offered us to stay there for free again during any future visits which we will gladly accept.
PATRICK CARDIN: "Dear Patrick, thank you very much for your generosity letting us stay at no charge at your beautiful hotel. We couldn't have been more comfortable! It is also a real pleasure to have made this connection with you. No doubt, we will see each other again! Ruth & Missy"
Last year, Mr Toebelmann spent a lot of time with Missy, her dad and stepmother entertaining them during their stay. During this last visit, Tobias met Mr Toebelmann for the first time, and it was lovely to see how close Missy and Mr Toebelmann are. Missy was so happy to see Mr Toebelmann again, and he is like a 'granddad type' figure to her. She really enjoys being around him.
MR TOEBELMANN: "Thank you so much for all your time and effort over the last months. It clearly was so important for Missy's healing to have the support and care of people like you. You have become an important friend in Missy's life and she has obviously really bonded with you which is wonderful. We look forward to many more happy memories we can share in the future."
It was also time for new clothing for Missy. We took her shopping and allowed her to choose some new clothes herself. Which girl wouldn't love that?? Missy was definitely appreciating the attention and thanked us for being able to do a little shopping herself ;-).
Friends and supporters, this is our update for now. We hope this put a smile on your face, check out the Gallery for new pictures, and as always, thank you for your generosity and support!
Until the next update!
Kind regards,
Nicole and Tobias
---
Latest donations

Guest Donor
on 31 Dec 2019
May God continue to richly bless sweet Micheline and your family for all you've done on her behalf!

Prof. Ralf A. Kockro
on 21 Dec 2019
All the best, Merry Christmas and kind regards from Switzerland! Prof. Ralf A. Kockro, Center for Microneurosurgery, Zürich

U r such a beautiful,strong young girl ❤️❣️❤️ as long as I have life I will give a little to support you have it too . It is an honor and joy to be part of your journey , thanks for sharing it with me it means alot to me. 💛💜 Keep laughing and smiling ☺️


---
Who's involved?
---
Page Moderated
The page has been checked by our team to make sure it complies with our terms and conditions.
---
Gallery
---
Want to get in touch with Nicole & Tobias Janke?
Ask a question here
---
Any concerns?
Report this page
---
This page was created on 6 Mar 2019 and closed on 6 Mar 2020.