Help fund the FundRNZ Campaign
RNZ / Radio New Zealand is operating under an 8 year funding freeze. Please donate to the campaign to unfreeze its funding! #FundRNZ
Please donate to the campaign to unfreeze RNZ's funding. Radio New Zealand is our non-commercial, public service broadcaster. It has endured a 9 year funding freeze only to get a tiny increase this year and as a result of this, has been forced to make cut backs such as closing regional offices, making people redundant and cutting programmes. They are continually making a whole series of sacrifices in order to stay viable.
They shouldn't be having to hustle for their survival, they should be adequately funded so that they can get on with doing their job - being a broadcaster!
I intend to use the money to raise awareness of the issues surround RNZ's long term funding shortfall. If you donate, your money will go towards funding such things as:
Posters
Flyers
Public meetings
Advertisements
Decorative materials
Along with any other related costs that I incur along the way. I may also come up with other ideas for the campaign later on and these may need funding too.
This campaign is completely independent of Radio New Zealand and I'm doing this as a private citizen. All donations will go to the campaign and NOT to Radio New Zealand itself.
Please donate, if you want RNZ to have the future that it deserves! #FundRNZ
P.S. There is also a link below to the petition to the House of Representatives to increase Radio New Zealand's funding.
P.P.S I'm unable to change the wording of the subtitle where it says that RNZ is operating under an 8 year funding freeze. Suffice to say that its financial difficulties continue.
This page is authorised by A. Newman, 29 Bradford St, Waihi.
Jo Bond's involvement (page creator)
I started this campaign because I believe that public broadcasting is important for a well-functioning democracy. Radio New Zealand has a fine reputation as a public service broadcaster, but it is being slowly eroded due to its financial constraints.
We have already lost TVNZ7 which was a great source of information and analysis of issues which affect New Zealanders. We can't afford to lose RNZ as well.
Other page links
---
Latest update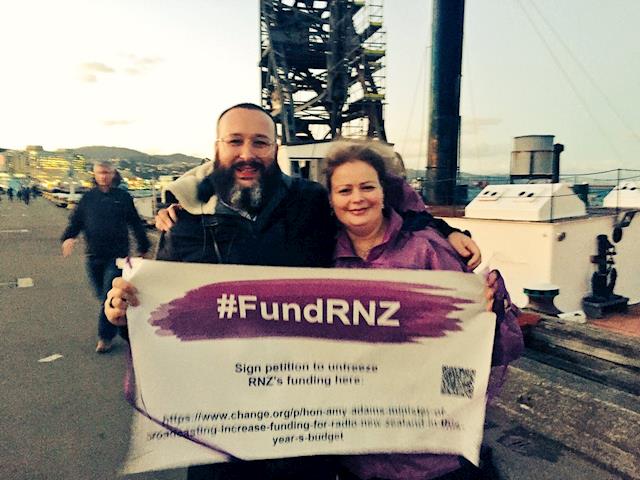 Happy New Year! 11 January 2018
Posted by: Jo Bond
Hello! I am reopening this page because although we have had a change of government, RNZ's funding has not yet been allocated. It has been reported that the majority of the proposed funding Increase for RNZ will be put into building a new television station for RNZ Plus, rather than RNZ's existing operations.RNZ is currently operation under a $12 million funding shortfall and desperately needs to have its funding boosted for its radio operations.
Since this page has been opened, RNZ has moved from operating under a 9 year funding freeze, to getting an extra $11.4 million in funding over 4 years. This only works out to be an extra $2.8 million per year. Considering that their last funding increase was in 2008 and they only got an extra $2.4 million, you can see that this funding increase really isn't a funding increase at all!
No funding increase would have happened it if weren't for people adding their voices to the campaign either via the petition or by other methods!
Thanks to your generosity, I have been able to pay for including, but not limited to:
.venue hire for public meetings
.A livestream video and podcast for a public meeting
.Printing of posters and flyers
.Packet data for mobile online petitioning
.Upgrading the Fund RNZ website
.Facebook and Twitter advertisements
.A newspaper advertisement
.A video camera
.A tripod
.A sound recorder
.Video editing software
.Portable hard drive
.One trip to Wellington for me to speak at Select Committee to the petition. (Flights & cheap room).
.The Funding Monster (worth $85).
.A portable table to run stalls
.A banner
.Fund RNZ Stickers, balloons and other decorative materials
.A heavily discounted former display model drawing tablet for making online images
.Sign making materials
Thank you very much to everyone who has donated so far, you have made a huge difference and I couldn't have done it without you!
---
Latest donations

Guest Donor
on 27 Jan 2018

Clark Mills
on 23 Jan 2018


Ian Brennan
on 21 Sep 2017
RNZ National is the best brain food available on the NZ airwaves.

Simon Werry
on 21 Sep 2017
---
Who's involved?
---
Page Moderated
The page has been checked by our team to make sure it complies with our terms and conditions.
---
Gallery
---
Want to get in touch with Jo Bond?
Ask a question here
---
Any concerns?
Report this page
---
This page was created on 5 Sep 2016 and closed on 24 May 2018.