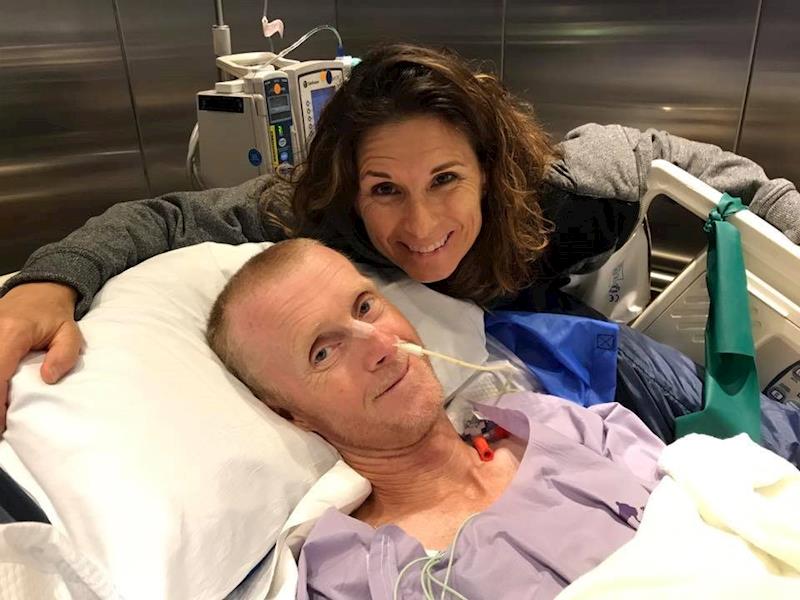 Getting Nick back on his feet
Nick needs your help to get back on his feet after a life threatening accident while running across America. Please help Nick and his family
Nick Ashill, an ultra-marathon runner from New Zealand, was living his dream, running across America, 5,400 km's from Los Angeles to New York raising money for the Pulmonary Fibrosis Trust. Nick's mum died of pulmonary fibrosis in 2015 so it is a charity that Nick is deeply passionate about. He understands that people and families with pulmonary fibrosis need practical, emotional and financial help. Now Nick needs this from all of us.
In the second week of May 2017 Nick started his run in Los Angeles and followed the historical Route 66 before veering off at Illinois, through Indiana and Ohio. With only 922 km's to go Ohio is where the run ended for Nick as he was involved in a serious hit and run accident and left badly injured in a ditch on the side of the road. Miraculously Nick was speaking to his wife Sarah in Cyprus when the accident happened and Sarah was able to alert his support crew and get the emergency help he needed. You may have seen the news reports about Nick's accident.
Nick was left with compound fractures to his leg and pelvis and the doctors say, is very lucky to be alive. He unfortunately had a set back with a perforated bowel and a serious infection and to date has had 5 major surgeries. The cost of medical care grows daily. His rehabilitation is due to take about 6 months in Ohio and Nick needs your help. Once Nick is out of hospital he needs to go through intensive rehab and needs help with the daily cost of living: rent, groceries, transport and most importantly a paid carer. These costs could be more than half a million dollars.
Nick says he wanted his run to "Inspire ordinary people to do extraordinary things and to never be afraid to dream big". This is an extraordinary situation and now Nick needs your help.
All donations, big and small will help Nick get back on his feet and back to his family. Thank you for "helping Nick to get back on his feet".
You will find more on Nick's story at www.nickrunsamerica.com
Links to news reports:
ABC6 - TV News (7th August, 2017)
http://abc6onyourside.com/news/local/family-hit-skip-victim-to-be-in-hospital-for-5-months-likely-to-never-run-again
NBC4 - TV News (8th August, 2017)
http://nbc4i.com/2017/08/08/wife-of-charity-runner-injured-in-hit-and-run-makes-plea-for-tips/
10TV - TV News (7th August, 2017)
http://www.10tv.com/article/charity-runner-struck-madison-county-remain-hospital-may-never-run-again
ABC6 - TV Interview with Nick, (27th August, 2017)
http://abc6onyourside.com/news/local/charity-runner-who-was-injured-in-hit-and-run-says-he-and-the-driver-need-to-heal
TV10 - TV Interview with Nick, (29th August, 2017)
http://www.10tv.com/article/new-zealand-runner-struck-pickup-truck-hopes-finish-trek-across-america
NZ Herald - News article (2nd September, 2017)
http://nzherald.newspaperdirect.com/epaper/iphone/showpage.aspx?issue=74782017090200000000001001&page=1&returnUrl=http%253a%252f%252fnzherald.newspaperdirect.com%252fepaper%252fiphone%252fhomepage.aspx%2523_title74782017090200000000001001%252fwatitle74782017090200000000001001%252f7478%252f74782017090200000000001001%252f1%252ftrue&x=0.5504885993485342&y=0.7726218097447796
Stuff NZ - News article (2nd September, 2017)
https://www.stuff.co.nz/world/americas/96433589/the-kiwi-runner-left-for-dead-i-tried-to-get-up-but-my-pelvis-was-smashed
Getting Nick back on his feet's involvement (page creator)
I am involved in this campaign because I am Sarah's (Nick's wife) first cousin and I want to help. We have a small family, but a strong family and I love Sarah, Nick and the girls, and this is how I can help out.
Use of funds
Funds will be used for hospital and medical bills, rehabilitation costs and aids. Nick and his family also need to pay for the day to day life costs of rent, food, petrol, power, phone. They may need to hire a care giver.
Other page links
---
Latest update
Amazing support 29 August 2017
Thank you to all who have contributed towards Nick's recovery.
The 2 men in the new photo with Nick are Paul and Jim . They both called in to see Nick yesterday.
Jim ran across the States 15 years ago and Paul is currently doing the run. Paul was about 2 weeks behind Nick and they have been following each others running progress. This is the first time they have met.
With the support of friends and family contributing to the Give a Little fund it shows Nick and Sarah how much you all care.
Thank you so much.
Janet
---
Latest donations
---
Who's involved?


---
Page Moderated
The page has been checked by our team to make sure it complies with our terms and conditions.
---
Gallery
---
Got a question for the page owner?
One question has been asked already. Check it out and
ask yours here
.
---
Any concerns?
Report this page
---
This page was created on 26 Aug 2017 and closed on 28 Feb 2018.