Givealittle baby a heart
This page is dedicated to raising funds to save a little baby boys life. His heart requires multiple surgical operations for him to survive.
Auckland
A little baby boy was born on the 10th of September 2019 with only half a heart. He means the world to his family, however he is living with Multiple Congenital Heart Defects. The pipes that flow between his heart and the rest of his body are in the wrong places and the left side of his heart didn't developed and isn't working at all. Without a series of surgical interventions, he won't have a viable circulatory system and he will die. He had his first cardiac catheter on the first day of his life and it's been full on ever since. He had an Atrial Septostomy, where a medical team send a tube through a vein to his heart, then they used a balloon to stretch open a hole between his top two chambers of his heart to help his blood mix, followed by a series of other complicated tests and procedures. He had two open heart surgeries in a row and another major one called the Glenn procedure. He will still need at least one more to survive and possibly still need a heart transplant at some stage in the future.
The Newman family which consists of Sam (dad), Rose (mum), 5 children and their elderly dog, Mr Puppy became a pet therapy dog while in Auckland, which helped other patients take a little bit of the strain off whole being stuck in hospital. However, he has since passed away. They relocated from their home in Northland to Auckland
The older son and daughter remain in Northland. They have been renting a HNZ house near Auckland Starship hospital. On 10th September 2019, Baby Titaha was born 5.25kg at the Auckland Maternity ward and went straight into the Neonatal Intensive Care Unit (NICU) where a cardiology team and pediatric doctors worked with specialized nurses to give their baby the medical care he needed to ensure he gets the best start in life. Then when he was stable enough, he was able to go home for a few weeks and be a normal baby. This was sort lived in the end, as reality caught up and he needed a lot of time in hospital and he has been back and forward between the Heart Ward 23b and the Pediatric Intensive Care Unit ever since.
As an Ambulance Officer trained at First Responder level, while in Auckland, Sam transferred some of his skills to looking after their baby. Working along side doctors and nursing staff and he has also helped others in the Auckland region with a community garden he made with the family and through a variety of volunteer work. He has done leadership training with Search & Rescue, Major Incident Support Team (MIST), who Rose is also a member of and St John. He has volunteered his time helping out on the Auckland Metro Ambulance service, South Auckland Health Shuttle, SPCA Outreach Pet Therapy program and Gift-a-Smile, volunteering time to help package for the homeless and other Starship families. They don't know how long they've got with their baby, so their key goal is to stay close so that the family can love their fragile little baby better and support him through his long fight against Congenital Heart Disease together.
Thank you all for taking the time to read our story. We will be regularly uploading new photos and sharing updates of Baby Titahas progress when we can and we'll start adding links to pages with more detailed information explaining exactly what is going on with his heart and the repairs to help you understand the medical procedures he needs better. A lot of things are going to have to go right if he's to have a quality of life outside of the hospital. Please feel free to help spread the word by sharing this page. Thank you from the bottom of our hearts for all your kindness. Your all wonderful.
Janice Doel's involvement (page creator)
Sam puts back into his community through volunteering with Emergency Services. Rose is a loving mum with well mannered children that they put a lot of time into.
They truly deserve all the help they can get towards saving their beautiful heart baby's life
Use of funds
To cover medical expenses and other general costs relating to getting the Newmans little baby boy the help he needs to have a basic working cardiovascular system, before it's too late. + Relocation, & accommodation costs for the family while in Auckland
---
Latest update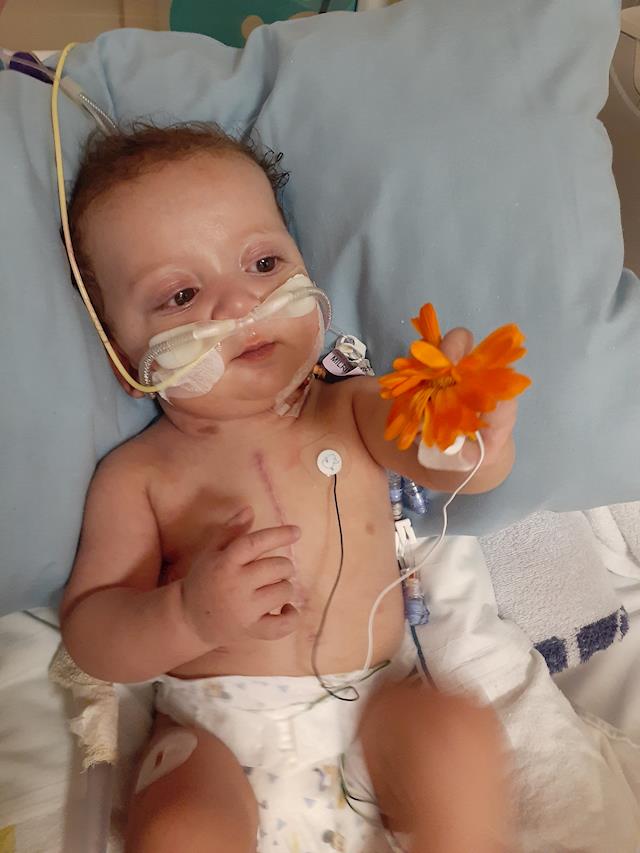 Titaha can't wait any longer to find a new heart now 30 May 2020
Posted by: Janice Doel
Hi everyone. These are the most incredibly hard words that I have ever had to write.
Baby Titaha is now nearly 9 months old. 7 months of that was spent in the wards of Starship Children's hospital in Auckland. He has already undergone every medical intervention we could try to help him survive and he's done really will with it all so far.
A lot of the interventions that were used, come with high risks, but there has been a lot of wins in the past against all the odds. Some of it had been really hard, there were plenty of worries at times, battling complications with anesthetics, tests like CT scans, several cardiac catheters, invasive oxygen therapy, traumatic surgerical procedures, including multiple open heart surgeries.
He's had countless drain lines stuck into his chest, to help drain excess fluids away from his lungs. Most of these were incredibly painful for him and limited his normal daily routine quite a lot. He has had different doctors and different specialist staff poking and prodding him and his foot has been pricked with a needle over a hundred of times for various different blood tests that he's needed. He has put up with a lot of invasive procedures, yet without any doubt whatsoever, he is still the happiest person I've ever met, with the biggest smile I have seen in my life and the love that he has for others is pure and true. He just has to look into your eyes and he's captured a part of your soul. I take my hat off to you little man, well done you. Your positivity in the face of such battles that you have been through are a valuable lesson for us all. No matter what happens next, your gracious humble kind caring heart has shown me a lot and is something I will never forget. The pediatric cardiology department at Starship Children's hospital has helped him out a lot and without them, he would never have made it this far. Unfortunately, they have now exhausted all their available options to be able to help him any further and without an imminent heart transplant, the only thing they have left to offer in their bag of tricks, is palliative care, advice, answer questions and a genuine wish they could do more for our boy who has also become their good friend.
This basically means as it stands, we won't have much longer left with our beautiful baby unless we can find him a new heart now. We have explored all the options that we have in New Zealand and requested help from Australia and USA as well, but so far we haven't found anywhere he fits into a criteria to be a candidate for a child heart transplant and he simply isn't able wait much longer. We haven't given up on him and his attitude itself gives us hope, but he will need a miracle soon and a hell of a lot of love from everyone wishing him well, for him to beat these odds that are stacked so high against him. If anyone can think of a practical solution, knows any tricks for divine intervention, religious prayers or black magic spells, then now is the time to pray for him please.
Spending any length of time in hospital is never nice for anyone and Titaha has done his hard time of being stuck in a hospital bed for most of his life. It's been hard for us too, but it's been made a lot easier for all of us by the positive kaupapa that our family have and we've all enjoyed every moment spent closely interacting with him. We are proud of him and ourselves, for putting in our absolute best for all the children. Being there for Titahas every need has allowed him to have a sense of normality in this foreign alien like world that's so far from home. We have got to know each other really well and he has also made a lot of friends at the hospital himself. He is especially popular with the nurses, who all fight over who will get to be rosterd onto his bed space for their shift. He has a kind soul with a humble generosity and has unfairly suffered through more than you would every imagine, but he has never once complained about a thing.
We don't know how long we have got left with our baby, but without a new heart, it is not likely to be for long, so if you would like to meet our son Titaha, then please come and see him as soon as you can. In other words, get in the car and drive to Starship Children's hospital in Auckland. If you know anyone who can help us give our baby a heart, then please let us know. He can have my heart if someone will install it for him please?, He's been doing so well, it doesn't seem fair for this to be the last chapter of Titahas book.
If anyone can help at all, please let us know. We will go anywhere and do anything we need to do for him to make it through. He Please help us spread the word of our search for a heart replacement for our precious little man Titaha and take a moment to send him some healing vibes sometime in your day, to help see him through this next step on his journey, which ever way that will be.
There are a lot of people who care very much about this special little man. We are feeling helpless and throwing every coin that we've collected into the wishing well of divine intervention. We are so desperate to help him survive and have the chance he deserves at becoming the great man he was born to be.
I loved you so much my son. You've been incredibly brave throughout your entire journey and I am so proud of you. It is an honour to be able to call myself your dad.
From Titaha and his supporting family members, Thank you for caring.
---
Latest donations
---
Who's involved?

Created by Janice Doel

---
Page Moderated
The page has been checked by our team to make sure it complies with our terms and conditions.
---
Fundraise
You can
start a fundraiser
to have your own page that raises money directly for the beneficiary.
---
Gallery
---
Got a question for the page owner?
Ask one here
---
Any concerns?
Report this page
---
This page was created on 12 Jul 2019 and closes on 30 Aug 2020.