Update for Maddie October 2016 09 November 2016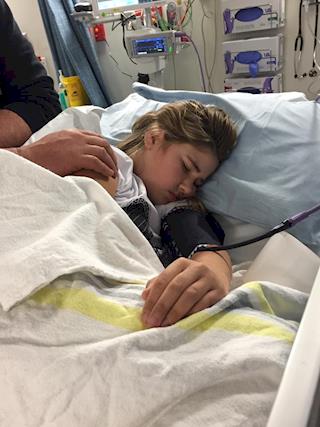 Update for Maddie October 2016
Maddie desperately needs a life-saving kidney transplant sooner rather than later which unfortunately is not likely to be available in New Zealand in the next 10 years because of all the critieria and the long waiting list for a transplant here. For Maddie to survive it is critical that she gets a transplant very soon and her best chance of that would most probably be in America but at the cost of $350,000.
Maddie is very unwell at the moment and is back in Starship hospital. The ongoing challenges the family face in Christchurch are huge as no one in paediatrics is trained to help with dialysis for children and so the responsibility for Maddie's care falls on her parents.
The dialysis machines continually break down and then they have to wait on another one to arrive from Auckland. They set off very loud alarms several times throughout the night which interrupts the whole families sleep and for Maddie's Mum, Sarah, it means she is up most of the night which have other consequences for Sarah who herself has had breast cancer and suffers with reoccuring problems that are a side effect from chemotherapy.
Sarah says, at Starship they are looking at new plans for Maddie's care - but until we get her well and strong enough most will need to wait.
The first plan is to treat the bug she has at present which is an ongoing problem as she is constantly getting some kind of bug/infection. The second plan is to continuously feed her formula via her mickey button 24hrs a day - slowly so she can tolerate it, this morning she was just getting 10mls an hour. We are trying to get 1000mls of this high calorie formula into her a day - fluid restrictions have gone out the door while we try and get her strong again - if needed they will use stronger dialysis bags if we look like we are getting fluid overloaded.
It seems her dialysis isn't working great, they are currently running tests to see if we can get better results with her dialysis - if not we might need to do haemo dialysis for awhile to give her body a break and hopefully recover so we can go back on pd dialysis - pd dialysis we can do at home - haemo for Maddie can only be done in Starship.........
We have lots to talk through with her team about, infusions, treating her antibodies etc but right now while she is so weak the focus is about getting her strong and well again....... But thats not going to happen overnight.........It's all about nutrition nutrition nutrition !!
We need to build her wee body back up - so today's plan is plenty of anti nausea meds and lots more itchy skin meds to make her as comfortable as possible and allow us to get as much high calorie formula into her, after a rough night of vomiting and nearly scratching her skin to shreds it's great to see the new meds kick in and for her to be more comfortable.
She's very anaemic but we can't give her an iron infusion for a few more days yet - we need to know the antibiotics have kicked in first. This morning she had a shower which has exhausted her - thus sound asleep - but sleep is good - it's a healing time........
It's a waiting game..... Lots of samples are in the lab having lots of extra tests that take a bit longer than our routine tests......
We hope that this week she starts to eat a bit more - currently a good day is when she has eaten 1/4 of a piece of toast!!
Maddie now has a Gastro team on board at Starship to try to get to the bottom of her tummy troubles. She won't be back in Christchurch anytime soon as there are a number of tests etc that they want to do and to get her fattened up a bit.
0 comments | Login to leave a comment