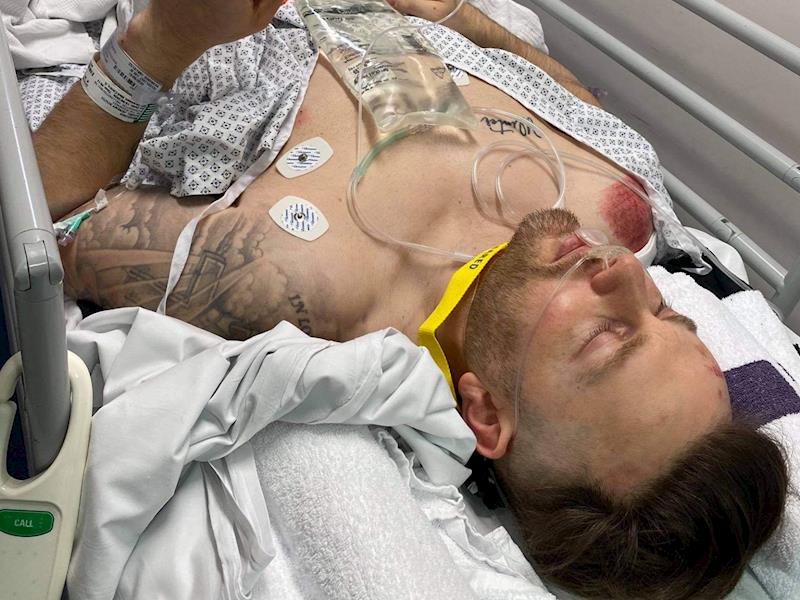 Help Danny after motorbike accident
Please help Danny and family during recovery from motorbike accident
Wellington
For those of you that know Danny you will know he would take the jacket off his back for anyone. He is a caring, loving, funny ( in a Dad joke way ), humble, determined and reliable man that looks out for people and helps anyone he can. He is a loving Husband to Kathryn and an amazing and committed Dad to two beautiful kids.
On the morning of Saturday the 15th of August Danny was on his way to work at Fresh Barbershop when a car hit his motorbike and sent him onto the road.
He was rushed to Wellington Hospital where they found he has an exposed fracture on his lower leg, a brain bleed, double vision, multiple cuts and scrapes, gravel rash and extensive damage to his right hand ( his cutting hand. )
He has already had one surgery at Wellington hospital to insert a rod into the bone fracture in his leg and has been transferred to another hospital where he will undergo plastic surgery to close the wound by taking half his abdominal muscles and a skin graft from his thigh.
The surgeons have informed Danny and Kathryn that the recovery time Danny is looking at is 3-6 months.
Throughout everything that's happened the last few days Danny and his wife Kathryn have remained so positive.
Danny is such a hard worker, working 6 full days a week at the barbershop to keep it running and support his family.
Despite the craziness of 2020 he recently purchased a bigger space to move the barbershop into so 3-6 months of not being able to work is very daunting. Having to cover rent and expenses of the current shop, mortgage on the new shop and house, and day to day living expenses is a big burden on top of a long road to recovery so if you're in a position to help out to take a part of the burden off Danny and his young family please do, every cent helps!
BUT if you have read this far and thought " hmm, not for me " PLEASE don't close the tab! There are HUNDREDS if not thousands of people here, in NZ, who need help! Please go and search for another cause that you feel comfortable supporting! Even without a monetary contribution a share makes all the difference. Random acts of kindness can change the world and if Danny could ask anything it would be for that.
Zara Calcott's involvement (page creator)
Use of funds
Rent and expenses of current shop, mortgage on new shop and house, any medical or day to day living expenses.
---
Latest update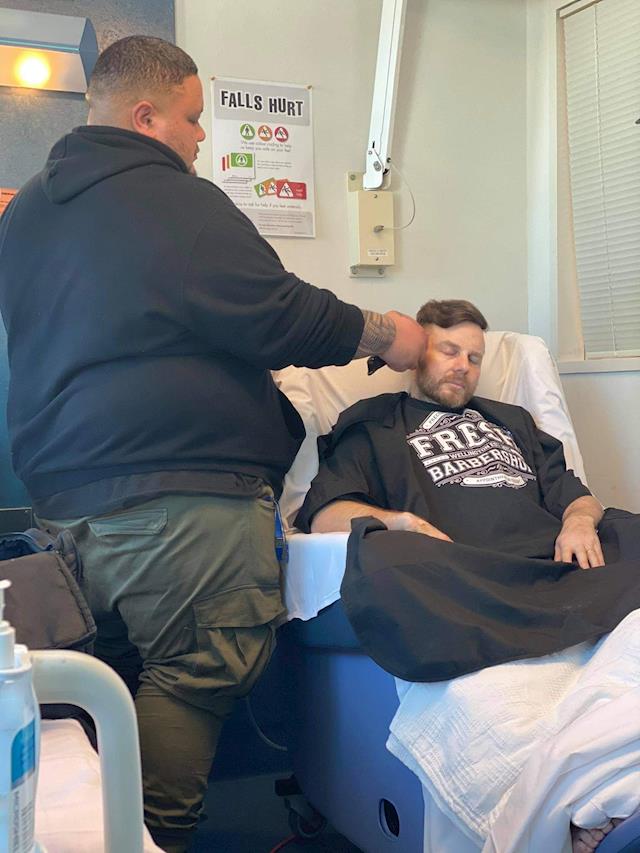 Update 8 September 2020
Posted by: Zara Calcott
It has now been 2 weeks since Danny's last muscle transfer from his thigh to his lower leg and healing has been going well.
After a week he was able to start hanging his leg off the bed at 5 minute intervals a few times a day which have increased each day -
He is now able to move around and have his leg lowered whenever he has the energy to! He has been around the block of his ward a couple times over the last few days using crutches, though he prefers a walker.
Dan was also able to start using a shower again which was a luxury he had missed! Sometimes they take the bandages off his leg and let him shower without it but mostly that goes into a bag to keep the skin graft dry.
Today he was told he may not be able to get home if he can't safely use stairs on crutches so of course he got out of bed and proved he could!
The skin is sticking, the muscle is shrinking and so far everything leg related is going well! So well that there is talk of a possible return home on Friday.
His vision has not improved and he still keeps his patch on but has an appointment Thursday to see what their thoughts on the double tilted vision are.
They had discovered blood clots in his lungs but after another head CT they decided the bleeding had stopped and he is now on a daily dose of blood thinners.
There are many in house appointments, nurses visits and hospital follow ups to come but we are so optimistic about the future and can't wait for another mini lockdown as a family!
Despite the accident, all the pain, stress, failed transfer and the little bumps so far we feel more blessed than ever! How lucky we are to be alive! For our friends and families, kind strangers, amazing country, free healthcare and not too shabby hospital food! Thank you to everyone who has been a part of that.
We will post another update when Dan has settled in at home.
Stay safe!
Kathryn.
---
Latest donations

Ritchie Wards
on 15 Jan 2021
Keeping fighting. Your mum keeps me updated.

Ray Carter, Auckland
on 19 Dec 2020
Donated as a Secret Santa gift

That sounds horrific! Hope you're now will on the way to recovery.

Guest Donor
on 07 Nov 2020

Guest Donor
on 03 Nov 2020
May the Lord bless you and use this part of your life to further His kingdom.
---
Who's involved?

Created by Zara Calcott

Paying to a verified bank account of Kathryn Meadows on behalf of Daniel Meadows
---
Page Moderated
The page has been checked by our team to make sure it complies with our terms and conditions.
---
Want to get in touch with Zara Calcott?
Ask a question here
---
Any concerns?
Report this page
---
This page was created on 18 Aug 2020 and closed on 18 Feb 2021.