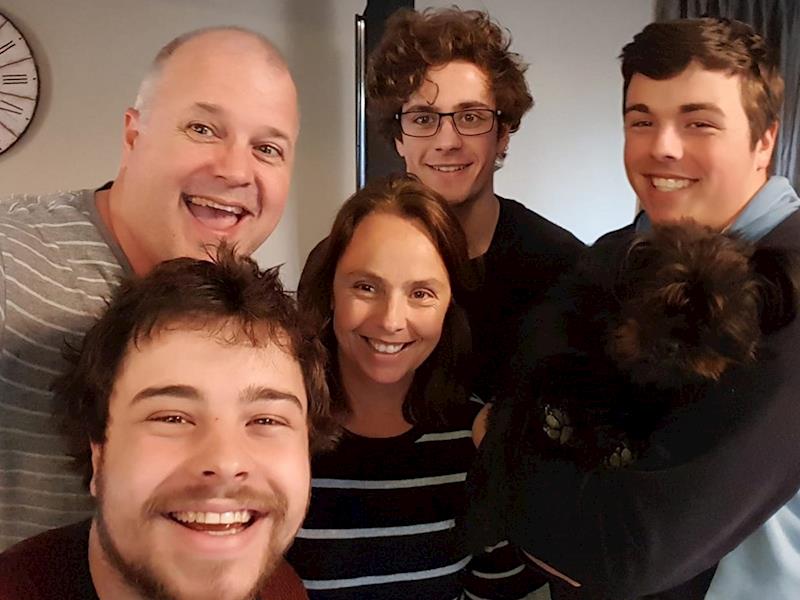 Help Katrina in her fight against MS
Please help my mum get HSCT treatment that isn't available in NZ for her Multiple Sclerosis
Wellington
When my mum was 22 years old she began to show signs of suffering from Multiple Sclerosis. At 27 she was officially diagnosed. MS is an autoimmune disease that results in your own immune system attacking your brain and spinal cord as if they were foreign bodies, resulting in deterioration and even permanent damage.
For many who suffer from MS, my mum included, it is a completely invisible disease. By looking at her you'd never know she was sick. In reality she's suffers from almost constant intense nerve pain throughout her entire body that no pain killer can stop. I remember once during a particularly bad flare up her trying to explain as she visibly battled through the pain how her entire body felt like it was on fire, and she couldn't even escape into sleep because the feel of her bed sheet against her skin was like "a hot knife scraping it off". She experiences debilitating fatigue, often having to sleep for 12 hours or more in a single day, and even then is only able to work at her job as a primary schools teacher two, or at a massive push three, days a week.
The type of MS mum has is called 'relapsing remitting', which means that in addition to those constant problems she experiences, every few years she has an intense flare up where her immune system attacks a different part of her body. I remember one time when I was 9 or 10 she went completely blind in one eye for a few months. Another time a few years back she was hospitalised for weeks when, during her and dad's 20th wedding anniversary holiday, she became completely unable to eat or drink anything due to her throat closing up. I don't even know how many other episodes she has had as mum always tries to hide her symptoms from us as she doesn't want us to worry, and there is nothing we can do to help.
There's no one in the world I admire more than mum. She's the toughest person I've ever known, and she's never let her disease stop her from doing everything she can to be the best parent you could ever hope for.
There's no cure to MS. Mum's on a huge concoction of drugs designed to slow and mitigate the symptoms she experiences, but they'll never make her better. That's the only treatment option that exists in New Zealand – take those drugs for the rest of your life, and hope that it doesn't get any worse.
Mum has been taking those drugs as long as I can remember. Her MS is still getting worse.
The only available treatment option left isn't offered in New Zealand. Hematopoietic stem cell transplantation (HSTC) is a hugely promising but also incredibly aggressive treatment offered in Mexico. It basically involves the use of chemotherapy to completely destroy your immune system, and then stem cell therapy to completely rebuild it. Its sort of like the biological equivalent of turning your computer off and back on again to fix a bug or glitch – by resetting your immune system, it can hopefully be fixed.
A week ago, mum made the incredibly brave decision to apply for the treatment. This is both the most exciting and scariest thing that has happened for her and our whole family, and if it works could radically change her life for the better.
One of the reasons this decision was so difficult for her is that HSCT treatment is insanely expensive – much more expensive than anyone could be expected to afford. For treatment and travel we're looking at over $100,000. She needs help. Our family needs help.
Please. If you can spare anything to help give my mum a chance at a life not filled with constant excruciating pain, I'm asking for your help. Please donate to the givealittle linked below, and share it around. We need all the help we can get, and anything you can spare will be appreciated more than I can articulate.
Joshua Trlin's involvement (page creator)
Katrina is my mum. I'm organising the fundraising on her behalf.
Use of funds
The money will be spent on the HSCT treatment program itself, and travel costs to and from Mexico. Any surplus donations will be donated to the Multiple Sclerosis Society of New Zealand.
---
Latest donations
---
Who's involved?

Created by Joshua Trlin

---
Page Moderated
The page has been checked by our team to make sure it complies with our terms and conditions.
---
Got a question for the page owner?
Ask one here
---
Any concerns?
Report this page
---
This page was created on 25 Aug 2019 and closed on 31 Jan 2020.