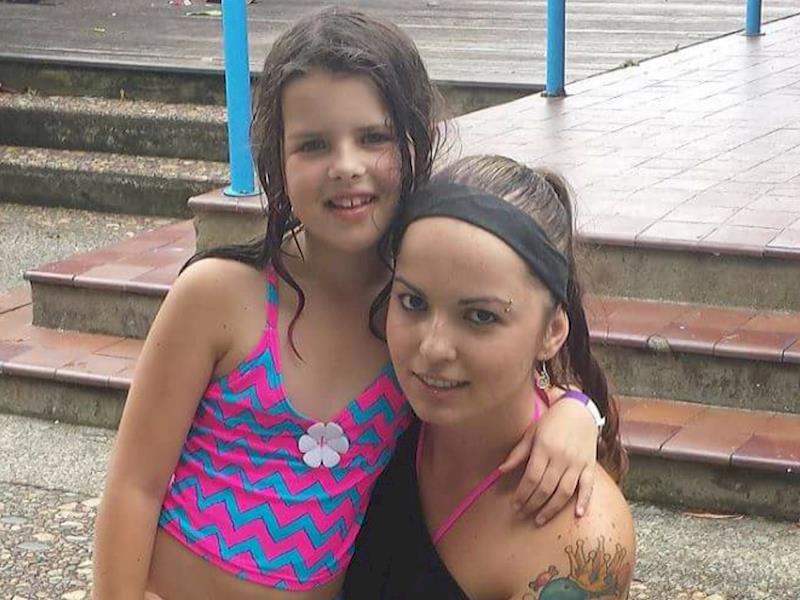 Help Heather
Heather is fighting an inoperable brain tumour, and she needs funding for the drug Avastin to help her beat it.
Heather had been having health problems since she was 16, but four years ago doctors suspected a brain tumour. They believed it was a low grade tumour and she was put on a six month waiting list for surgery. Unfortunately it was actually a high grade tumour; a grade three anaplastic astrocytoma. A grade four tumour is the worst and usually terminal, and Heather's tumour was just one grade below this. She was just 22 at the time, and her daughter only six years old.
In March 2011 she had an awake craniotomy to remove as much of the tumour as possible. This meant she had to remain awake throughout the surgery and read nursery rhymes to ensure the removal didn't affect her speech. This was followed by six weeks of radiation therapy, and six months of oral chemotherapy. She was restricted from driving, and had terrible side effects from the treatment, including speech difficulties due to the swelling in her brain. Most of the tumour was removed and the remaining cells showed little growth, however she was told that the cancer had a high probability of returning, within 4-5 years. It only took 4.
This new tumour is inoperable and doctors can't tell which grade it is, but the probability of it being a lower grade is highly unlikely. Heather has just finished 10 days of radiation therapy and three rounds of chemotherapy. She has another three rounds of chemotherapy to go. She has been on steroids for the last six months to reduce pressure in her brain, however these steroids have caused a huge amount of swelling, particularly around her face and neck, making her feel very self-conscious and withdrawn. If she stops taking the steroids, her speech starts to decline and she gets numbness down her right hand side.
Our goal is to raise funds for the drug Heather needs – Avastin - which is not currently funded in New Zealand. Avastin would close the bloodflow to the tumour and allow Heather to stop taking steroids. This would help fight the cancer, reduce the swelling and give Heather her livelihood back. It would also give her valuable time with 10 year old daughter, Ayla. Three months of Avastin treatment costs a staggering $50,000. If it was funded in New Zealand, Heather would already be on this drug.
Throughout her battle, Heather has been working at our West Liquor Lincoln Centre branch as a Duty Manager. She enjoys keeping herself busy in the store as it's a good distraction, and the Lincoln Centre team support Heather every step of the way. Because she isn't allowed to drive, she has to take two buses to work, yet manager Jo says she turns up on time for every shift. Jo speaks highly of Heather, acknowledging her hard work and dedication despite all that she is going through. It certainly puts things into perspective for the Lincoln Centre team, and everyone else at The Trusts.
Please consider supporting this cause. Any amount - large or small - will make a considerable difference to Heather. She's a funny, hard-working, lovely person and we would be thrilled to see her get the funding she needs.
You can follow her journey on her Facebook page: https://www.facebook.com/helpheathermoore/timeline
The Trusts' involvement (page creator)
We work with Heather and would love to see her get the treatment she needs.
Other page links
---
Latest update
11 April 11 April 2016
Posted by: The Trusts
Cant believe this was me 7 months ago....counting down the days till i got off the steroids and complaining about the measly 8kgs of weight i had put on. But now 40kgs heavier and 9 months on steroids!, Its crazy the amount of changes i have gone through, both mentally and physically.
I had my oncologist appointment on Friday last week. I wasn't able to get many answers as theres not many answers he can give me without a scan but he did recommend a few more places to approach to fundraising and said he will book me in for some scans over the next month before I see him again. I am back on chemotherapy, was hoping the 6 months ive just completed would be enough but I suppose ill wait and see what the next scan says…and hey itl help the anxiety at least
Its been a good 10 months since I was rediagnosed and I feel like everythings been thrown at me but ive found a way to crawl over it. I feel like i have gained so much from this journey, the strength i have found, watching my daughter get through this with me, the friends i have made, and being able to put aside my pride and be able to accept the help that has been offered. Its changed me, for better or worse im not sure yet but i feel like im a hell of a lot stronger,def more compassionate and so sooo proud of my little girl!
Yes i have my moments and my tears and unfortunately this is where i come to vent but u know that once those "moments" dissapear and the tears dry up im ready to face another day, and thats all i can do at the moment. I dont have control of this disease but i do have control over how im gunna live with it.
Heather
xx
---
Latest donations
---
Who's involved?


---
Page Moderated
The page has been checked by our team to make sure it complies with our terms and conditions.
---
Gallery
---
Got a question for the page owner?
One question has been asked already. Check it out and
ask yours here
.
---
Any concerns?
Report this page
---
This page was created on 7 Dec 2015 and closed on 30 Jun 2017.