Hornby Hydrotherapy Pool 2023 Progress
10 February 2023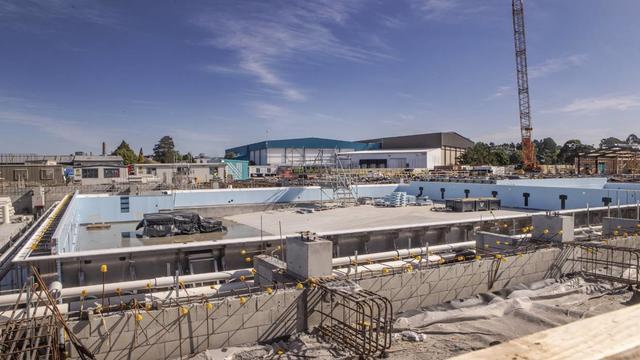 Constuction continues on the Hornby Hydrotherapy Pool and Hornby Centre into 2023. The Hornby Center now has been named Matatiki: Hornby Centre. This name was gifted by Ngāi Tūāhuriri and
accepted by Christchurch City Council in August 2022. Matatiki means spring of water in Te reo Māori. The name expresses the importance of water as a source of life and wellbeing.
Unfortunately, the Hornby community will have to wait a bit longer for the facility to open. Work started in November 2021 and was due to be finished early 2023, but the completion date is now slated to be December 2023.
But this means Hornby Rotary and the Greater Hornby Residents' Association will continue raising the $1.4m in funding needed for Hydrotherapy Pool under construction at Matatiki: Hornby Centre.
We are out of the Covid 19 restrictions so now our fundraising continues in earnest.
Along with the generous Givealittle donations (Thank you!) the club has raised $400,000 with $100,000 coming from Hornby Rotary Club itself demonstrating our commitment to this project. That's over 30% of the required funding for the Hornby Hydrotherapy Pool project.
Our team is out and about in the community continuing to fundraise for a great asset for Hornby and greater Christchurch. Know anyone who can help? Please direct them to our fundraiser information site https://hornbyhydrotherapy.nz/ or they can easily contribute to the cause on our Givealittle page https://givealittle.co.nz/cause/hornbyhydrotherapypool
Thanks, The Hornby Rotary Fundraising Team
0 comments |
Login
to leave a comment