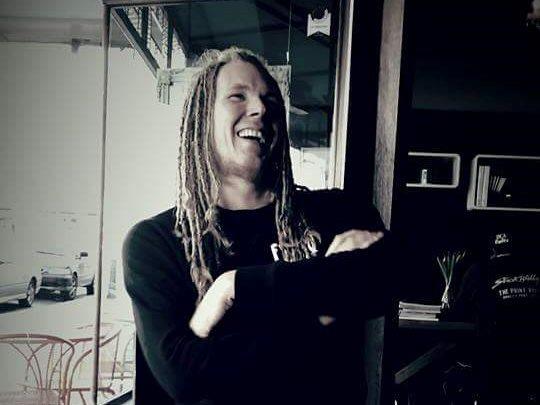 Jason's Bucket List! We need your help!
Jason has terminal cancer with a few months to a year to live. We want to make his bucket list come true and we need your help!
I am Jason's wife Jodi. I'm 28 years old; we have 3 cats and live in Canterbury. Jason is a co-owner of a small startup brewery called Fiasco Brewing Company. He is also a co-host on Cold Cuts on Pulzar fm 105.7 and I sing as Harmonixx MC. We will be doing some music fundraising to help spread this cause far and wide.
This is his Story.
In June last year Jason started to get a sore throat. We were told that it was potentially tonsillitis and after 3 rounds of antibiotics the tonsil in his throat wasn't budging. We were booked into ENT at the Christchurch Hospital to have his tonsils removed. By this time he'd had a sore throat for two months and the removal was booked for September.
When we got to the surgeon for the pre-surgery consultation, the surgeon thought it wasn't tonsillitis at all and had a senior surgeon look at his throat. They both told us then that they thought it could be cancer.
The tonsillectomy turned into a biopsy and I can tell you, those two weeks waiting for a diagnosis seemed at the time to be the worst wait of our lives.
They confirmed to us on the phone that the pre-conclusive results showed it was lymphoma cancer and that we had to have an appointment set up with haematology straight away. By this point the tumour in Jason's tonsil was covering 85% of his airways and he was having trouble breathing, swallowing and eating.
We went to his haematology appointment and were told that he had a rare double hit B cell high grade Lymphoma, which is an aggressive form of blood cancer. We had two hours to go home and head straight into the bone marrow transplant unit at Christchurch hospital.
Two days later on his 33rd birthday he started intensive chemotherapy treatment. He was scheduled in for 8 rounds of chemotherapy as an inpatient. Every 21 days Jason would spend 5 days in hospital for chemotherapy, and then twice weekly blood tests in between.
He was handling the treatment well. Before he started the chemotherapy we decided that instead of letting the chemo take his hair, we would shave it off. This way it was his decision. Jason had been growing his dreads for 11 years. It was definitely weird for me, his partner of ten years, to see him without them! (I weighed them after, it was 550gms of hair!!)
He required post chemotherapy injections at home. The rest of his hair fell out after the first round and we were feeling like we were getting through this horrible journey called cancer. He felt a pain in the side of his neck roughly 2 months into chemo. After the half way CT scan was completed they said they had found a tumour in his thyroid and a suspicious activity in the lymph node on the right side of his neck. They did biopsies on his thyroid that came back inconclusive. The Doctors explained this would be a wait and see approach.
Fast forward to 23rd December, he received his first blood transfusion. That night I rushed in back into A&E where he was hospitalised for 5 days with a neutropenic fever. I managed to break him out for a couple of hours on Christmas day and we handled the side effects over new years until he was due back in chemo on the 3rd of January.
They carried out a CT scan to confirm progress and a further biopsy taken from the swollen lymph node in his neck. The CT scan was put on hold after he was hospitalised again with a severe mouth infection and another neutropenic fever.
Just before admission for the 7th round of chemo, we had news that the chemotherapy was going to stop. The chemo was not working for the growth in his neck lymph node and the next strategy is that he needs radiation therapy. We have taken this as a huge blow, but we want to fight and get through whatever is going to be thrown at us together. He is so positive and honest about his treatment and how he's feeling. Jason has been my rock through this entire journey.
A week after we were told this, the conclusive results came back from the core biopsies. We went to an appointment with Jason's consultant who told us that his cancer is terminal. This put us in a tailspin as we were told only 6 days prior that he would be starting radiation. Not that he is terminally ill with an incurable cancer! The radiation may minimize the growth/tumour in the lymph node in the side of his neck, but it will most likely come back again somewhere else twice as fast and aggressive.
This is still a shock to us. We have been given a timeline of maybe a few months to a year, dependent on what the radiation does to the tumour. Jason will experience further side effects from the radiation therapy. This will include mouth ulcers and infections, as well as the radiation killing his salvia glands. The only thing we can hope for is that it works and we get some more time together. We have been together for ten years this year, and we would love to at least get another Christmas together with our families, if not ten more years! Heck if we could have a miracle we would rather it eradicated the cancer altogether! Unfortunately the likelihood of this happening is very low and we've been told to prepare for the worst.
We need your help to get Jason's bucket list completed before he's too sick to travel. Some things he has mentioned are to see more of NZ to spend time with family and friends, and to travel abroad to see and do the things he has always dreamed of.
I never thought we would never be put in this situation. But here we are. Cancer does not discriminate, he is 33 years young and apart from the hair loss and swelling in his neck, you would never pick that he is terminally ill. I think this makes it even harder to deal with.
So we are selflessly asking you for some help, by donating or by organising your own fundraiser to generate donations.
Your help means you are giving us something that can't be bought over the counter.
You're giving us the ability to make some priceless memories together, with his friends and family before he leaves this world.
Anything left over would go towards paying for funeral costs and then go towards paying off any remaining debt. This is the hardest thing we have ever been through, and I know it's going to get harder. But hopefully with a little help and some money, maybe we can put a little bit of light back into our lives.
Please share this with your friends, family, workplace, ANYONE who you think could donate towards making our life's special while we travel this journey.
UPDATE# Thank you all so much!! We are still keeping positive and putting all our good vibes and love into getting him into the stem cell transplant. If the radiation works they have said he will do the auto stem cell transplant straight away. They don't know if thats guaranteed to work but anything is better than feeling defeat!
We will update everyone as much as possible through this page so keep coming back to see how we are going x You are all amazing. Bless.
I would also just like to make a quick thank you to all the people we have met and dealt with during this journey. Like I said earlier, cancer does not discriminate. We've met older people, younger people, people fighting towards remission and even those who are on the same road as us. It takes a special kind of strength to realise what you can cope with. We know we are blessed to have support and people that really care about us.
Thank you all. It means so, so much to us both.
We will use these funds for:
Jodi Wareing's involvement (page creator)
I am Jason's wife Jodi. I'm going to fight for his life and put some happiness back into our lives, I'll fill the darn bucket before he kicks it!
Use of funds
Tick off a few things on Jason's bucket list so we can enjoy this time together with friends and family and make some priceless memories. Anything left over would go towards paying for funeral costs and then go towards paying off our debt. If money was one less thing for me to worry about it would make a huge difference to our lives over the next few months or year.
---
Latest update
The Last Post (well nearly) 30 July 2017
Posted by: Jodi Wareing
I guess this is the post that no one wants to see or hear or read.
Jason passed away on 21st of July at 6.07pm while I held his hand, his mother was beside him and as he drew his last breath ALL our friends and family that were in the hospice were in the room.
He had decided on the Wednesday morning that he would like to go to hospice. He was having trouble breathing the night before, having a really bad strider, which is the sound someone makes when they are struggling to draw breath. We headed into the hospice and that night I came home as I had spent the entire week not really sleeping that well and his mum stayed in the room with him. The Thursday night I stayed with my Mum in the room, and he was struggling to breath most of the night, hadn't eaten in days and was having trouble swallowing water. I knew in the morning on the Friday that today was the day, and I guess in my mind I had made some peace with that because he had no quality of life. He was sleeping, struggling to breathe and drink, wasn't eating and hardly living at all. We had most of our friends come through the hospice on the Friday, which I was so glad about as there was a few that hadn't seen him in a while, and to be able to say goodbye, even though he was not conscious for most of the day, but being able to say goodbye was so important to me. I didn't want anyone to feel like that had missed their chance to come in and see him. The last time I spoke to him was when the nurse put a bed into his room beside his bed for me, and then I got to have a little bit of time with him without anyone else around. As soon as the nurse shut the door, and I was getting quite upset beside him, he woke up! He shouldn't have been able to wake up as he had a lot of drugs on board to keep him sedated and not distressed. But he did, and asked me to take him to the toilet. So I helped him up and into the bathroom, and just before I put him back to bed I hugged him and said you know I love you aye, he said yup, and I said right well we'll have a snuggle before you go to sleep, which we didn't get to do as he was so uncomfortable in any other position but his side, but I settled for holding his hand and we fell asleep beside each other for 45 minutes or so.
Once I had woken up I went out to the lounge to try and eat something as I hadn't eaten much more then a bite of toast that day. His friends surrounded him in his room, my friends and family surrounded me in the lounge, and his family and my family surrounded each other in the whanau room. It wasn't until that point that he started let go, and we all got together in his room to be around him as he left his body. I can't help but feel that he was waiting for us all to be in the right place at the right time before letting go. He had most of his good friends around him and there was so much love in that room. I will never forget it as long as I live.
Straight after he passed I had asked my mum to open up a door so that if he did need to vacate the room he could, and as she opened the door the next door neighbours cat jumped in the room, and I picked him up and gave him a cuddle, then the cat went and nuzzled Jason and then sat down between us. I couldn't help but feel like that was a sign from Jason that everything was going to be ok, and to not be sad as he had moved on from his body that was so worn down and sick.
I am not afraid of death now. I look at how peaceful he looked, and how dying was effortless. It was nothing more then a blade of grass being flung into the wind. One moment he was there and then he was not. What a blessing that we were able to be together as a unit, whanau and friends, to farewell Jason. He deserved all the love and emotion that was poured out into that room.
His funeral service was held this Thursday and we had roughly 500 people in attendance. I couldn't talk and see each and every person there, but to all the people that did come I would like to thank you. There were many kind words and support given from you all over the last 8 months, and I will never forget the power of people and positivity. I sang Autumn Leaves by Eva Cassidy for him, as I sang it for him at our wedding, and I managed to get through my tribute speech to him without just sitting there for 10 minutes and crying. His mother and father had some beautiful and funny stories about Jason and my mum had a beautiful speech written for him. They all spoke so well. There were more laughs then tears and I think that is exactly how my man would have wanted it. I made a slideshow which I will try and upload a link to on here later on once I pick the USB up from his mums house tonight. Then one of his best friends Fraser got up and spoke about Jason and his friends, and the different times they had had together, then his business partner Corey got up and spoke about a few different times that they had brewed and been to festivals, and lastly his co host and old friend James got up and spoke about Music, and all the good times that Jason had with him in their hip hop trio The Anti-heroes and their radio show Cold Cuts. A few more friends got up and spoke after that and then he was taken out to be sent to the crematorium. I will hopefully get Jason's ashes back this week coming so I can take him with me to the west coast. I want to go home for a bit and spend some time with my Popa and family, take some walks in my favourite happy place, Hoki Beach, and take my guitar and book and just write. I have found this page to be a haven for my emotions. To write honestly and openly without editing is a liberating feeling. I don't hold anything back when I write, which is exactly what I do when I sing. I sing from the heart and I write from my soul. I want to continue to write and to write music. I feel like I have been given this second chance at life to do the things that I want to do. I love my job and want to stay in that profession, and my passion is music, so that is something I want to focus on over these coming months. I'm not saying that any of this is going to be easy, and I still cry myself to sleep and wake up with tears in my eyes every morning, but as my boss Lois has always said to me, "Courage doesn't always roar. Sometimes courage is the little voice at the end of the day that says I'll try again tomorrow." I will keep trying again and again to find some normality and to find myself each day until I can hold my own.
I am not making any decisions on Fiasco Brewing Company as its too early for me to start making important decisions. I want to spend the next few days feeling sad and wallow a bit at home, then I want to go to the coast and let my guard down for a while, get away from everything and just be ME for a few days, then I will come home and start to do all the adult stuff that comes with someone dying, such as sorting out all his personal finances and then figuring out how to do all the things Corey and I want to do with Fiasco and go from there. I also want to go away for a week or so and just have some fun for me. I have been a carer, a nurse, a pharmacy runner, a driver, a worrier and a warrior for so long that I have forgotten who it is to be me. I have never lived in my own house with my own room before. I haven't been "just me" for ten years, its always been Jodi and Jas, we, our and us. I feel like it's going to take me a while to find who I am now, what I believe in and what matters to just me and only me.
So for the moment I will leave the page running and any funds that are received will go towards Jason's funeral and finances. I will be doing some of his bucket list, such as doing a glider flight, (which I am terrified about because I don't like heights, but I am willing to conquer this fear because Jason was able to conquer his fear of dying, I will do the same with heights) and I also want to spend some time up north re visiting some of the special places we went on our honeymoon and have some time with family and friends up north. I would also like to go to Brisbane and spend some time with my nephews and family there for a little bit, just so that when I go back to work, I have sorted out all the adult stuff, but have also injected a little bit of life back into my sore and broken heart, and blow a few cobwebs out along the way. I will leave you with my tribute speech to Jason and will update this again before I go back to work for a final post, to let you know where I end up taking him, and to let you know if I can conquer my fears as Jason did.
I have so much love and respect for you all. Thank you. Thank you. Thank you.
Jasons Tribute Speech from Me.
Thank you all for coming. Thank you to all our friends who have travelled to be here, The support we have received from the brewing community and our friends and family have been outstanding and they all knew how special he was. I thank you all for being there for us. A special thank you to his friends James, Fraser and Corey. Your support has been irreplaceable. Throwing Jasefest and constantly being a pillar of strength for us both has made a world of difference. We are so blessed to have you in our lives. You made sure he never felt alone I thank you from the bottom of my heart for that.
Our house was always open to DJs and Brewers. There was always someone dropping in for something, or someone would ask Jas if they could show them some tricks on the decks, or how to brew. We have met so many beautiful people over the years, both young and old, both south island and north. Our door was and will always be open. Jas pushed himself to achieve his dreams, his music and did so every week when he jumped on the radio, or when we worked at the many beer festivals Fiasco was featured in. He loved the fact that he was doing something he was so passionate about. Music and Brewing was his thing. It was touch and go with the Mr2 and myself who was in the first place sometimes, but the cars and bikes we're just a hobby. It was his passion for brewing and music that kept him creative and gave him a zest for life. I remember the day he came home after a night out with Corey and he was like babe, I think I'm going to start a brewery with Corey... I was like, ok, this is cool, lets do it!
I wanted to be the one to enable him to achieve his dreams, to stand by and support him in every way as he did for me. I never liked craft beer back in the day and it took a few years and many brews before I could hold my own with all the brewers that seemed to be constantly in and out of the house, or at festivals. He was determined that Fiasco be a success and it was. I cannot summarise our life, his achievements or our memories, but I have never had trouble talking from the heart about Jason. He was such an integral piece of my being. He was the first person that came to mind when I wanted to share some gossip, a story, tears or a laugh. He was the first of most things for me. How strong minded he was about staying positive, how determined he was to get into remission, how hard he tried to keep me distracted when I was so upset about the cards that life had dealt us. To him it was all about what we had now, not over what we're going to lose. He showed me that it was ok to still live and make the most of each moment. He showed me the power of positivity. It is a lesson I will never forget.
Mindfulness enabled us to deal with the never ending anxiety we felt whenever another Dr gave us bad news and god knows we dealt with some big blows other the last few months. Because we were together it seemed like we could handle it. Nothing was too hard or unachievable. His tenacity to survive, and his sheer determination in all things was infectious. Not that it stopped me completely from feeling doom and gloom some days, but when all seemed lost he would say "hey be mindful" and it would work. Mindfulness is about living in the moment, learning to accept and make the most of what you have, here and now. Even now I get upset and his wee voice in the back of my mind says, HEY be mindful. His determination to be positive and to hold good thoughts has finally rubbed off on me.
He taught me to give without wanting to receive and it is one of the truest and most deserving lessons that can be learnt in life. He deserved everything I had to give and more. How and why should I be so lucky to have found the love of my life so early on I will never know. Ten years went by so fast.
So much of him is still in my life. He surrounds me every day, both in my thoughts and in our home. I will never forget the way he would look into my eyes, his little giggle or the small smile he reserved only for me. Even though I lost my soul mate, the knowledge and wisdom I gained through his love and acceptance of myself can never be replaced nor forgotten. We loved each other as only soul mates could and even though this last year has been the hardest of my life I would do it all again for him because he was mine.
You will live forever in my heart Jas, forever in my soul and forever in my mind, because you are apart of who I am. Thank you for letting me be me, and for teaching me to persevere, to hold faith and be positive. I cherish the times we were given and I shall always think of the good times we had. Goodbye is not an option for me because I don't think I will ever be ready. So please give our kittys all my love and one day, maybe not soon, but one day we will be in each others arms again, so until then.
---
Latest donations

Guest Donor
on 09 Aug 2017
Sending love your way Jodi x

Paul and Kirsty Fraser
on 27 Jul 2017
Hope this small donation helps in some way. Beautiful tribute to Jase today. Felt honoured to have met him. He was one of a kind . Our thoughts are with you and the family


Lucas the Ninja courier Firth and Diane
on 22 Jul 2017
From one world class courier to another you are a bloody great guy. It's bloody frustrating to see someone as young as you to have to deal with this. Stay strong Jodi everyone is here for you two

---
Who's involved?
---
Page Moderated
The page has been checked by our team to make sure it complies with our terms and conditions.
---
Gallery
View full gallery
---
Want to get in touch with Jodi Wareing?
2 questions have been asked already. Check them out and
ask yours here
.
---
Any concerns?
Report this page
---
This page was created on 7 Feb 2017 and closed on 1 Nov 2018.