Update for 2018! 30 January 2018
Posted by: Alexandra Harrison Forbes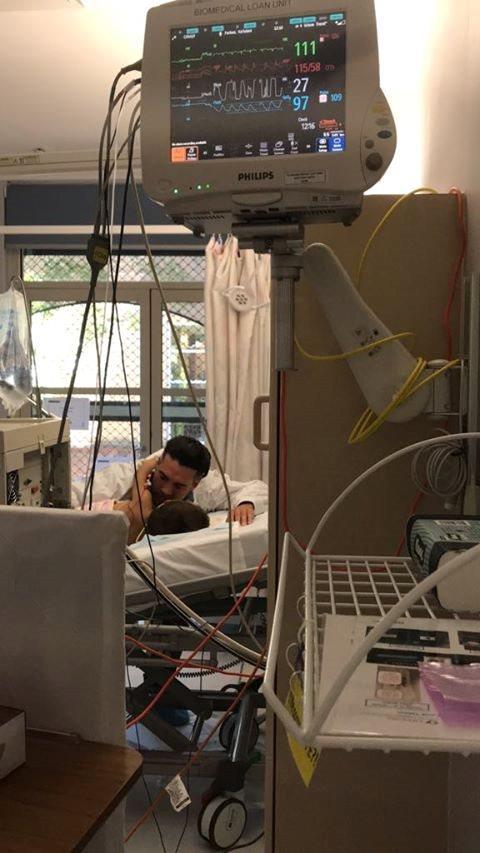 Ka'iulani turned 3 years old last December at the same time she completed her tenth round of chimeric immunotherapy with chemotherapy. Unfortunately the disease had started to grow slightly so we decided not to proceed to round 11 and instead gave her December off from treatment to let her enjoy Christmas with family. The immunotherapy had been heralded as having good results against neuroblastoma so having invested 10 months into this drug to fight the cancer without improvement, we were left extremely disappointed
In January 2018 Ka'iulani travelled to Sydney for MIBG Radiation Therapy. Nuclear medicine is injected into the body in the hope it attaches to the tumour cells and kills them. The process was a lot more involved than chemotherapy as Ka'iulani was radioactive meaning people were only allowed in her room for short moments during the 4 days of treatment (see attached photo). During treatment Ka'iulani was put under sedation and on automatic breathing. It was a great relief when she started breathing on her own again as the machine was turned off! If the cancer decreases or stays the same size we will be back to Sydney in March. If it grows we are not permitted to do the second round. Although they have told us it will not remove the disease we have been praying for a miraculous improvement!
Last year a new antibody trial was started and has moved into phase 2. This trial was for kids that had similar cases as Ka'iulani with tumours and disease in both the bones and bone marrow. So far the trial has had very good results and gives us hope the same will be achieved for Ka'iulani if we can get on it. It is available in both New York (USA) and Barcelona (Spain), so that is where we are trying to get to next! Barcelona will be cheaper than the New York option so we are continuing our fundraising to afford that option. Watch this space…
As always a massive thank you to everyone who supports us!
0 comments | Login to leave a comment