update #2 02 May 2017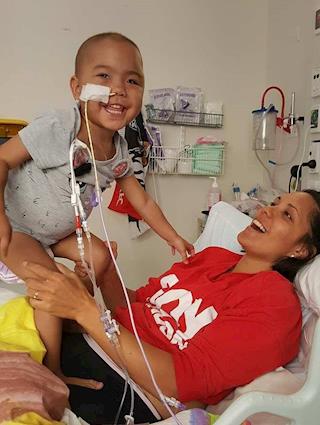 Kiaora everyone,
We continue to get so much support and love from all over and we thank you!! I'm sorry we haven't been able to keep in contact with lots of you and to even thank you!! Our list of thanks is so huge and we will thank you all personally one day hopefully soon!! So please don't feel like you haven't gone unnoticed or unappreciated as that's far from how we feel, we have been finding the last few weeks extremely draining and emotional. We only really have enough energy to look after Ka'iulani. Not to mention our gorgeous 7 month olds needs too. But some things have just got to give and this means we haven't been able to respond to messages, emails, acts of kindness and all your amazing fundraising efforts!!! We see them all and they all bring us to tears!
There is however one group of people that's outside our family and friends' support that we would like to mention that have been there from the beginning and have done absolutely everything they possibly can to help get our girl the treatment she needs and that's the CHIEFS. Liam Messam, David Galbraith, Dave Rennie, Andrea and the rest of the team and management have been just unbelievable and shown soo much love and support to us. Ka nui te Aroha kia koutou.
We are going into our 7th week continuous week in hospital. We have been getting a few hours a day to leave hospital which has been really great for Ka'iulani's wellbeing. We have had so much happen in the last few weeks, but on a positive note we have been given a spot on the USA immunotherapy clinical trial allowing us to stay in NZ for now! Ka'iulani is the first person in NZ to go on this trial, so it's exciting but massively anxious also. The infusions for this started yesterday (Monday) and go for 5 days. We are anxious because we know how much this trials means to us and it's pretty much our best chance for Ka'iulani to kick this cancer and reach remission however in this cancer they call remission NED (no evidence of disease).
Hopefully all goes to plan and the trial drugs manage to shrink her disease.
The next step is to travel to the USA to start a vaccine treatment, DFMO treatment, and investigate removing tumour from her spine. The fundraising continues and we have an amazing team of helpers behind the scenes who are planning our next big event which is Stand Up for Kaiulani Gala evening on the 27th May, at Eden Park, including special guests Graeme Henry and Wayne Smith, entertainment by NZ singer Ria Hall, and MC James Mconie from the crowd goes wild. If you are interested in attending this awesome event, more information can be found here:
https://www.eventfinda.co.nz/2017/stand-up-for-kaiulani/auckland/kingsland
A huge thank you to everyone and your amazing contributions to support our little princess so far.
Manihera, Moana, Ka'iulani & Te Atakohu
0 comments | Login to leave a comment