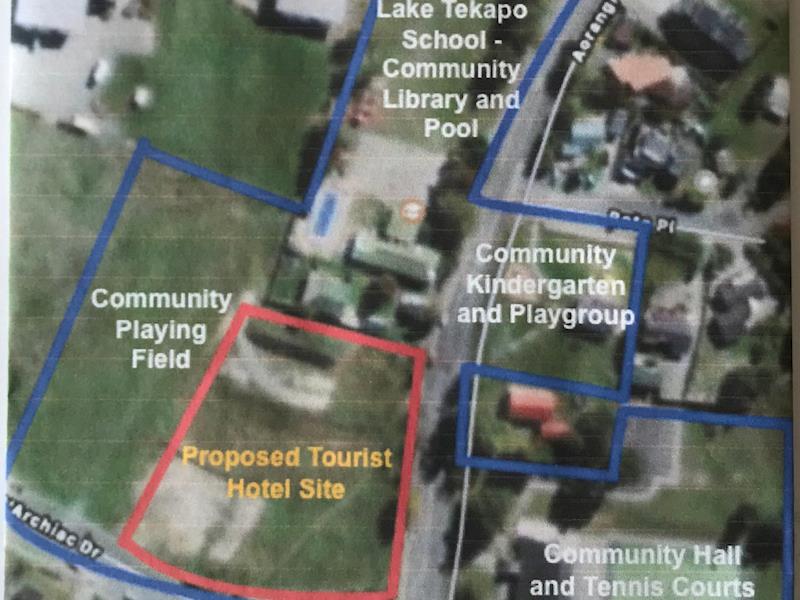 Keep Lake Tekapo Children Safe!
Help us protect our children giving what you can to raise $35,000 to challenge Mackenzie District Council's flawed processes and decisions.
Canterbury
Mackenzie District Council granted resource consent on a non-notified basis for a 112-room hotel to be built right next to our village primary school and community reserve, opposite our village kindergarten/playgroup and Community Hall. The resource consent, issued in July 2017 and amended in December 2017, only came to light when the Radisson Hotel Group issued a media release in September 2019 stating they were opening two large hotels in Tekapo. However, building consent has not yet been granted. The proposed hotel next to the school was non-compliant with legal parking requirements which the Council decided to disregard and instead granted 15 spaces, the shortfall, on the road reserve, adjacent to the school, without ever notifying our Community. Our children walk and cycle to these premises on a daily basis.
A change.org campaign was launched in October 2019 proposing an amicable alternative of a land swap so the hotel could be built in a more suitable location and our Community would still be safeguarded and our children kept safe. However, the Council has refused to engage with the Community at every step of the way. The current CEO of Mackenzie District Council was the Planning Manager who signed off the consent at the time and didn't attend a public meeting with the Community where she could face public scrutiny for her decision. The Council's actions have left us with no alternative but to seek a Judicial Review at a huge expense.
The Council quoted us $23,620 to provide us with all the information they held on the development subject to redaction of any information they considered to be commercially sensitive, which could be a significant amount. Thankfully this information is not necessary to proceed with a Judicial Review.
We have instructed Lane Neave Solicitors and the wonderful Pru Steven, QC to represent us at the High Court. Legal pleadings were submitted a couple of weeks ago. Our lawyers believe we have a solid case. The large scale of the hotel development meant it was non-compliant with parking and as such should have been publicly notified. The shortfall in parking should not have been provided on road reserve, let alone in the vicinity of the school and kindergarten/playgroup. Other significant errors were also committed during the resource consent process.
It is a sad state of affairs when a small community finds itself having to crowdfund to protect ourselves from our own Council.
We have managed to raise the security bond to enable us to go Court. We have incurred $10,000 in legal fees so far and we need to raise $35,000-$50,000 to cover the full amount. Fortunately, in the likely event of winning the case, Mackenzie District Council will need to reimburse us a large portion, if not all, of our legal costs. All this money will then be donated to local community groups and projects including Lake Tekapo School, our volunteer emergency services and others.
Please help us win this David vs Goliath battle to protect our children and ensure Mackenzie District Council does not disregard a community's legitimate concerns over any future developments.
Use of funds
The money will be spent on legal fees.
The full surplus in this account will be put straight back into the Community - Lake Tekapo School, Lake Tekapo Community Bright Stars Trust, our volunteer emergency services and others.
---
Latest update
We are off to the High Court 2 August 2020
Posted by: Lake Tekapo Community and Friends Incorporated Society
A big thank you to everyone who donated to our cause. We have secured enough funds to enable us to get to the High Court in September. Once again, thank you for support!
---
Latest donations

Guest Donor
on 08 Mar 2020
All the best!!!

Guest Donor
on 04 Mar 2020
Why allow the district plan to be breached for a private development? Sad the short term thinking :(



Instead of my 2cup of coffee, save our future children and beautiful New Zealand. Before happened.
---
Who's involved?

---
Page Moderated
The page has been checked by our team to make sure it complies with our terms and conditions.
---
Want to get in touch with Lake Tekapo Community and Friends Incorporated Society?
Ask a question here
---
Any concerns?
Report this page
---
This page was created on 30 Jan 2020 and closed on 30 Jul 2020.