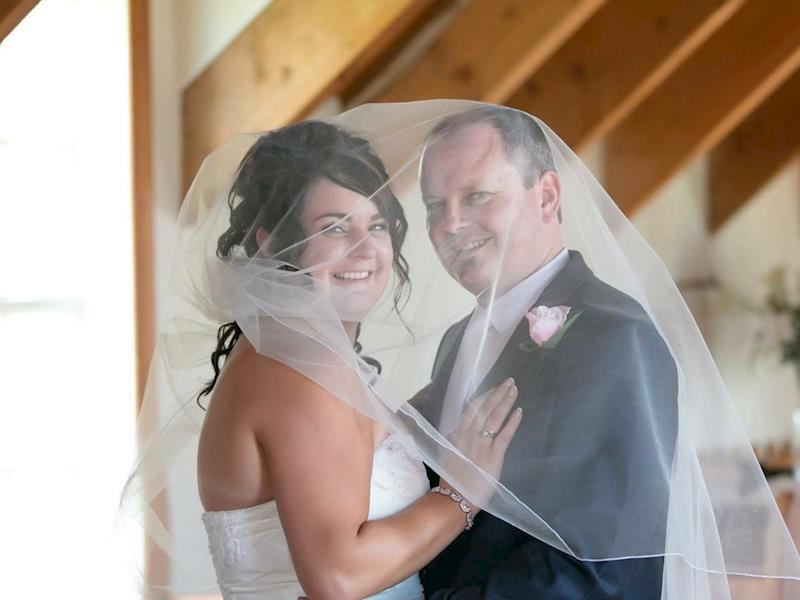 More time for Rach
Help Rachel beat the odds in her second fight against cancer and give her more time with her family and friends who love her so dearly
Canterbury
Rachel is 32 years young about to face her second fight against cancer.
Rachel is a loved Wife of Greg, Step Mum, Daughter, Daughter in law, Sister, Niece, Cousin and Aunty.
Rachel always brings a smile to the face of those around her as her laugh and wit are infectious.
Rachel beat a severe bout of cervical cancer back in 2014 and has since been enjoying a cancer free life living it to the fullest and making every moment count.
Early November 2018 things took a turn when she and her family received the devastating news that an unexplained pain was in fact an aggressive cancerous growth that has spread through muscle to her spine and one of her kidneys. While treatment will help to prolong her young life - the diagnosis is that sadly, it cannot be cured.
Rachel is due to start treatments this month, determined to fight again.
Some of the treatment options available are not funded and Greg & Rachel are looking at costs of up to $60,000 as well as travel and accommodation costs from their home in Invercargill to Dunedin and further afar.
This page has been set up with Rachel and Greg's blessing.
Rachel means the world to a number of people, and any extra time with her is a gift.
Thank you so sincerely for any support
Ashlee Henry's involvement (page creator)
Work colleague of the husband of Rachel - our team wants to do our part to help and take some stress away
Use of funds
The treatment options available are not funded and Greg & Rachel are looking at costs of up to $60,000 as well as travel and accommodation costs from their home in Invercargill to Dunedin and Christchurch.
---
Latest update
30th March 2020 Update 30 March 2020
Posted by: Ashlee Henry
Hay everyone, wee update for you all...
Looking back the last months of 2019 were spent celebrating Christmas at home with family and New Years in Manapouri with a welcome visit from family from afar and some much needed daddy daughter alone time.
I'm now receiving palliative care. My health took a turn not long after New Years and by the 29th of Jan my mobility had worsened to the point where i could no longer sit upright or walk with my walking frame, my time was spent laying in bed and the pain had become so excruciating. Everything id been fearing was coming true, losing my mobility, the ability to shower and dress myself. By mid Jan I had people coming to help me at home to take pressure off Greg and family.
In the 28th Jan I had a bad fall in the morning and by early afternoon the decison was made to call an ambulance to take me to hospice where the aim was to get the pain under control. After the pain levels got a bit better I was trialled sitting upright with the help of a swing lift style lift and when the pain was unsuccessfully lessened i took a second ambulance ride, this time to the rehab clinic in the hospital.
I was being treated with a cocktail of painkillers but nothing would work. By this time I'm also now using prescription CBD oil which doesn't come cheap.. Then came the discovery of a blood clot in my left 'bad' leg which they're treating with blood thinners by injecting them into me.
I'm lucky to have some awesome medical professionals pulling out every last stop they can and an option of a Spinal catheter was put to us and it could be done in Dunedin.
I couldn't take the pain any longer.. it just hurt so much, so I had to try it, although the blood clot made the procedure quite risky as it could break off and go into my lungs / heart or brain.
I travelled to Dunedin on Monday 24th Jan in an Ambulance and I had the procedure on the Tuesday. I had Greg with me and he was waiting nervously pacing the floor for the morning keeping everyone updated, I went away before 8am and didn't get to see him until after 4pm - it took so long!! I think he'd almost pulled out the last of his hair with stress and worry.
The catheter has been put into my back under the skin and delivers pain relief directly to the affected area meaning I'm now taking less medications orally which is great as I was getting confused quite often due to the medications, so I'm now permanently attached to a machine.
If im lucky enough to get a full nights sleep i wake up facing these irritating and sometimes new daily challenges like nausea, increased temperature, losing sensation throughout my body, sharp pains, nerve jolts an incredible burning pain in my left leg - when i can feel it! And just sheer frustration.
These challenges have been lessened with the love and support i know that ive got from my family and friends visiting me both in Invercargill and Dunedin, sending me messages, flowers and food, the leg massages from mum and manicures from Nicole when she flys down, having a special valentines day meal with my man.
Lately I've really had to prove my strength, somehow I'm stronger than i could have ever imagined and i know i should be proud of the fight im putting up.., I certainly havent taken this shit disease lying down - even if thats all i can do at the moment! There's still a lot I want to be here for!
With the spinal catheter now providing some relief mu goal is to keep working to get this pain under control so i can focus on each day as it comes and enjoy them and work towards getting back to my home my family and my pets soon.
I'm now back in Invercargill, I went back from Dunedin to Southland Hospital on the 5th of March and from there have been working with some awesome staff towards getting home although unfortunately I haven't made it there yet..
On the Wednesday morning before the COVID-19 lockdown I moved into a residential care facility here in Invercargill, this took a lot of organising and I'm ever so grateful to those that helped Greg and my family to get me in before the lockdown.
I can't wait to be able to see my family again after the lockdown is over and to be able to get a big hug from them..!
Thanks for the kind words, messages, visits and support, not just to me but those close to me as this has been incredibly hard on them too.
To help with some of my expenses we are fundraising by selling the Entertainment book.
This year all books are digital and there 3 options with one offering all cities in NZ, Australia and Bali with some great offers.
Please click onto the link below and share the link to people you think could be interested.
https://www.entertainmentbook.co.nz/orderbooks/9r60472
Thank you sincerely for your support
Love Rach xx
---
Latest donations



Guest Donor
on 17 May 2019

Laura & Matt
on 01 May 2019

Guest Donor
on 04 Apr 2019
---
Who's involved?

Created by Ashlee Henry

Paying to a verified bank account of Rachel Robertson
---
Page Moderated
The page has been checked by our team to make sure it complies with our terms and conditions.
---
Want to get in touch with Ashlee Henry?
Ask a question here
---
Any concerns?
Report this page
---
This page was created on 7 Dec 2018 and closed on 7 Aug 2019.