Support Scott's with his ongoing Battle ( a living nightmare)
I suffer daily from Hidradenitis Suppurativa. A condition where the slightest touch can feel like razor blades running across your skin.
Auckland
Hi my name is Scott Denham (30) I was a Support Carer for Geneva health care now I'm deemed unfit to work. I have been suffering with a chronic painful hellfire autoimmune condition called Hidradenitis Suppurativa. (HS) since I was 16 years old.
Unfortunately there is no known cure for HS. 
HS is characterized by recurrent inflamed deep-seated acne nodules that result in large abscesses and chronic draining sinus tract formation leading to scarring, disfigurement and life-altering disability. 
My life took a huge turn for the worst when I turned 27. Up until then I managed to have some control over my condition however the older I get the worse I become.
Basic everyday activities that most people take for granted become quite problematic to me. things like getting out of bed, getting showered and dressed, walking around the house or just sitting all becomes difficult, time-consuming and painful things to do most of the time.
The slightest touch can feel like razor blades running across your skin and Moving around can result in what I can describe as if someone is just plunging a knife into me and twisting it around.
The areas can be as big as a softball and I have to constantly wear gauzes and dressings as I'm constantly leaking blood and puss.
HS is one of the most painful things to endure, a life filled with surgeries, I&D procedures, removing of the packing in the wounds, swelling of cysts in my groin, underarms, under my stomach and thighs, my bum and even right up in rectum so going to the toilet is one of the biggest mission on Earth for me. I even get them on my back and on my neck and behind my ears.
I have seen so many doctors and dermatologists and had been misdiagnosed for 7 years and throbbed off with all different antibiotics and long-term pills which has only caused me to stomach issues and rotten teeth and of course building up a resistance to antibiotics.
HS has affected my entire life. I wake up all the time in pain. 
Most of the jobs I've had in the past have suffered due to many outbreaks and surgeries I've needed which left me with no sick days to use and becoming unreliable to be apart of a team.
I have now been deemed unfit to work. Which is a blessing for me not having to work in pain and bleeding through clothes but it's also a complete burdon to me because I can not have a normal life nor pay for the only medicine that has helped me get through my daily struggles.
The pain medication prescribed by my latest doctor works amazingly well for pain relief giving me more freedom to move around without feeling massive amounts of pain. Unfortunately is not funded by the Government so it costs $200+ each 20 days because that's how long a bottle of that particular medicine lasts for! Which means I have not and can not continue to use it anymore.
Every surgery I have received my body has never fully healed from as its a reoccurring issue and will continue to be that way for long life.
I see a district nurse once a week and have done for well over a year now. It's been a godsend to have that help available to me because before i had that help I was managing alone and the dressings was costing me $1000s a year. Sounds absolutely crazy right! But the price the pharmacy charge per dressing is around $4-$5 depending on the size and I right now I wearing 10 dressings a day and that changes often sometimes upto 16 dressings at any one given time and that doesn't include the ones I have to change more than once a day due to leakage of puss and blood.
I remained silent about my condition from people for year as I feel disgusting and hideous and it's taken alot of courage to share my daily life story with you all today.
I have not been a person to seek for help from the public before now and I feel absolutely ashamed to ask for it however my condition isn't going away and will remain apart of me for my forseeable future!
If there is a possibility to get help funding the medicine and skin products I need to feel more comfortable on a day to day basis then I am honestly the luckiest person alive.
please if you can spare a donation to contribute to the costs of my medicine it would mean so much to me.
And could you also Please share my story.
Not only does it help me personally but It also helps raise awareness to Hidradenitis Suppurativa. Which needs to be looked into further because us sufferers need a cure.
Enterally grateful and best wishes to you all
Scott.
Use of funds
All funds will go to buying Tilray medicine prescriped by my GP. This will not heal my condition but it will ease the amount of pain I suffer on the daily.
Other page links
---
Latest update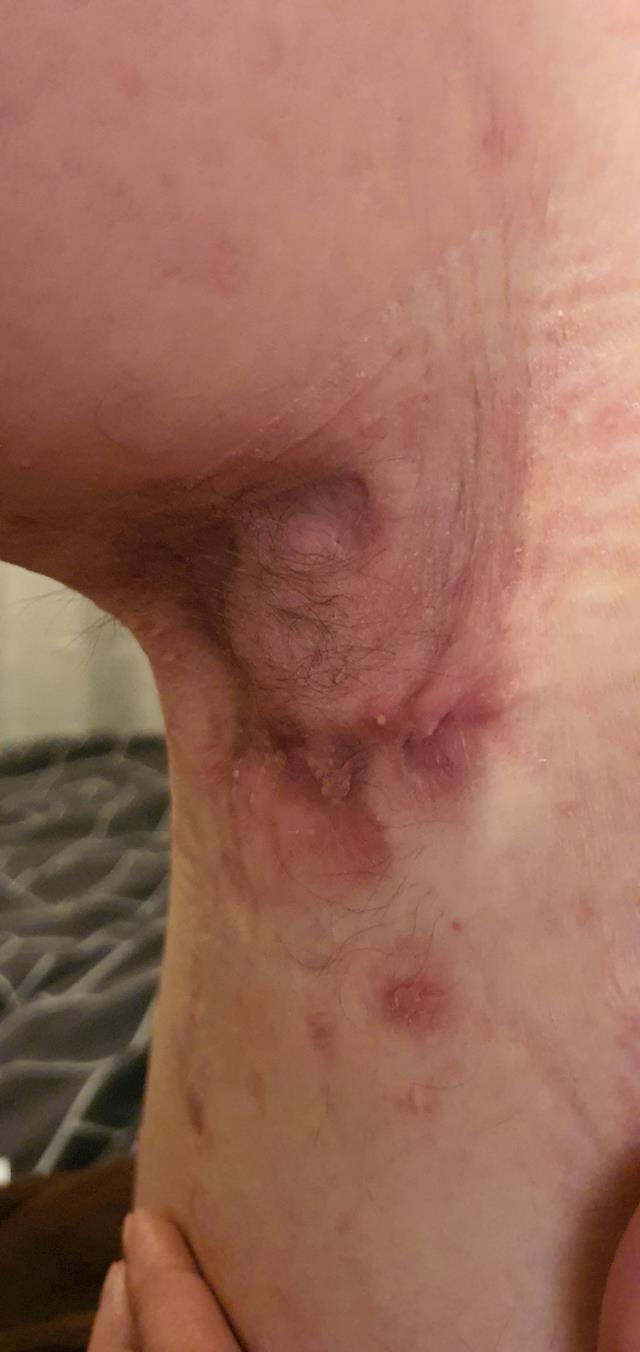 Painful day today 19 July 2020
Posted by: Scott Denham
Armpit is flaring up. Making it unbearable to move my arm. Throbbing 😭 might be a hospital operation coming up 😥 such fun
---
Latest donations

Shirley-Ann
on 04 Aug 2020
Wishing you all the best.
Scott Denham
Thank you very much Shirley-Anne, Stay blessed. X


Hope you are keeping well.
Scott Denham
Good afternoon Jennifer. I hope you are keeping well. Thanks for your continued support. Nothing changed my end still having constant flares. Weather changes haven't helped. So can't wait til spring. It's the time when my flares aren't so active! Don't get me wrong they are still there but it's not as bad which makes life so much more enjoyable as the pain is minimal. Stay safe especially with the covid doing the second round. Much love xx


Renee and Rob
on 18 Jun 2020
Hi Scott. Just read your comment on a fb feed. Hope this helps a bit
Scott Denham
Hi Renee and Rob, Thank you for taking your time to read and support my cause. I am forever grateful for your donation. Stay blessed. X


Andrea patterson
on 04 Mar 2020
So sorry you are going through this I dont know you but my heart is aching for you, hope this can help you out a little
Scott Denham
Thank you so much Andrea. It will definitely help me out. going towards some pain relief to make me feel more at ease. :) Thank you 😊 Stay blessed.


Scott Denham
Thank you so much Jennifer for your ongoing support. Words can't express how grateful and overwhelmed I am. Much love x

---
Who's involved?
---
Page Moderated
The page has been checked by our team to make sure it complies with our terms and conditions.
---
Fundraise
You can
start a fundraiser
to have your own page that raises money directly for the beneficiary.
---
Gallery
---
Got a question for the page owner?
Ask one here
---
Any concerns?
Report this page
---
This page was created on 9 Dec 2019 and closes on 9 Dec 2020.