Latest News on 'New Block' of land!
17 March 2020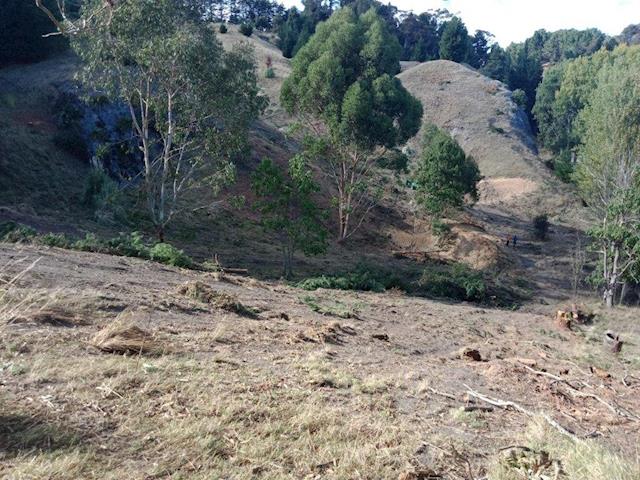 Lots has been happening over the last few months! We thought it was timely to send you, our valued campaign donors, an update of current progress.
Work on the 'new block' is now well underway.
• The resource consent application will be submitted soon, following recent consultation with neighbours and mana whenua. Once approved (hopefully by May), this will allow the track work to begin.
• ProArbore have been working onsite over the last 2 weeks – taking advantage of the fact that Chambers Walk has been closed (due to the forestry project happening in the Park). They have made excellent progress, and will complete the work by early April. We are removing all pines and wattles, and a handful of unhealthy exotic species. However a good number of trees will still remain, providing important shade (including those along Chambers Walk).
• We have been working on refining the track work plans. Some of our governance group met recently to assess the land, now that many of the pine trees have gone. Much easier to visualise the trails now! The next stage is that a more detailed plan will be created by Strata Group (thanks to their support), and proposed tracks will be marked out – for approval by the Board. A 'safety in design' assessment will also take place. We anticipate that there will be minor adjustments to the existing concept plan, ensuring that the walking tracks 'blend in' to the existing network of trails - but no changes of great magnitude (original concept plan here - http://tematapark.co.nz/wp-content/uploads/2019/09/Te-Mata-Peak-Park-Extension-Area-R4.pdf )
• New boundary fencing will also go up in late April / May.
• We are continuing to apply for funds for the future native tree plantings. However this years we have 6319 plants ordered, to go in the ground this planting season. Hardy, robust plants that will quickly grow and have a high likelihood of survival. Years 2 and 3 plantings will include more variety of species, and more quantity. Guy Morris is managing our landscaping programme.
• There will be volunteer planting days happening on 11 and 25 July (proposed dates). We will keep you informed. However if you wish to put your hand up to volunteer, please email Emma on info@tematapark.co.nz
We thank you once again for your wonderful support - and look forward to sharing this journey with you.
Many thanks
Te Mata Park Trust Board
0 comments |
Login
to leave a comment