Thank you 22 May 2020
Posted by: Glenda Tuaine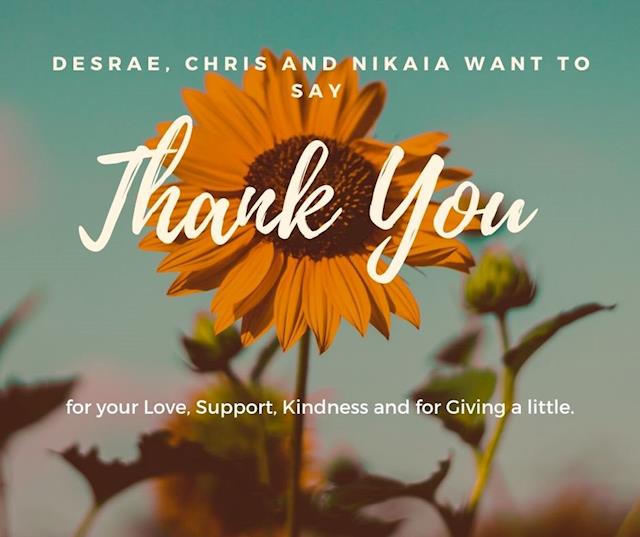 Firstly THANK YOU every single person who has given a little, who offered support, kind words, thoughts, a karakia, all of you we all send you a huge hug! As this Givealittle page draws to a close Des, Chris, Nikaia and I all feel an overwhelming sense of gratitude and thanks to you all. Thank you for your donations and support. Des has felt your love.
We started this page one year ago and it was not easy for Des ,Chris and Nikaia to make their life and Cancer battle public. I admire their strength, determination and love they share as a beautiful whanau unit.
This update brings some good news. It appears that Des's body has responded to part of her treatment positively and at this time the Doctors have decided against the surgery and will monitor how she goes. Now as you can imagine Des and Chris went to the hospital fully expecting to get the appointment sorted and be briefed on the surgery and outcomes.... to have that spun on its head in a bloody great way and Des now not needing to get her mind around being cut open again!!! YAHOOOOO.
Des told me that Chris and her were in a dream-like fuzz during the drive home, having worked themselves up to the idea of to prepare for surgery, but to be told otherwise. As she said Des had the deepest sleep she has had in ages.
So although she is still having to undergo treatment for the tumor she no longer has to deal with surgery on top of that. She starts back on weekly paclitaxcel, an intravenous chemo on 26 May so fingers and toes are crossed.
God Bless you all for giving, for caring and for being great people. Stay safe in these crazy days and as we all face battles in life this page has taught me to remember and remind others you are never alone in a battle and that love and kindness is always around you.
Much love from all of us and keep in touch
Arohanui
Desrae, Chris, Nikaia and Glenda
0 comments | Login to leave a comment