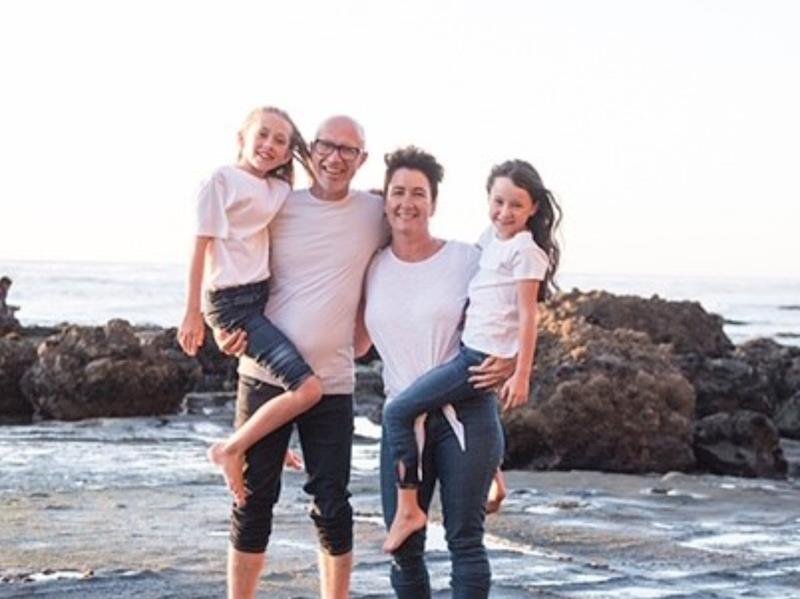 Please support James, Claire, Molly and Elsie
Support James's family to manage costs while he fights GVHD which has occurred after a Stem Cell Transplant for Blood Cancer
Auckland
Our dear friends James and Claire and their children, Molly (11) and Elsie (8) need our support.
Over a year ago James was diagnosed with MDS, a blood cancer. Since then, this incredible family has had their lives tipped upside down.
Pre-Christmas James underwent Stem Cell treatment. His recovery was going well, and early indications were that the treatment had been successful. However, in February, he unexpectedly developed Graft Vs Host Disease (GVHD) of the gastrointestinal system and has been in a very serious condition in hospital. He is responding to treatment, but GVHD is debilitating and James faces a very long recovery.
His brave family, as well as dealing with the emotional toll of this unforeseen development in his treatment, are now also faced with the significant financial burden of his ongoing care. Some of the unplanned costs include loss of income, regular travel to and from hospital, daily charges for hospital parking, unplanned meals, last-minute childcare etc.
They had a small amount of Trauma insurance which helped get them through the initial transplant but this has now been exhausted. This has left him and his family without any financial aid at a time of desperate, spiraling expenses. Bills are coming in daily and there is no clear end in sight. Claire doesn't know how long James will be in hospital, nor how long his recovery post-hospitalisation will take.
Both James and Claire are self-employed and now, Claire must keep working to support the family. Up until now, thanks to their own savings and the generosity of family and friends, Claire has managed to work, visit James in the hospital, pay bills and organise childcare for the girls. But Claire needs more help, especially to provide the girls with a more stable routine and a sense of normalcy. It's an immensely emotional time for them all.
James' wellbeing and recovery depend on Claire being available to visit James in hospital. James' immune system is so compromised that any infection could be fatal. Immediate family are the only permitted visitors. We don't know how long James will be in hospital, nor how long his recovery post-hospitalisation will take. Unfortunately they do not have family support in Auckland to assist with ongoing childcare.
It is uncertain when he will be able to recommence work and in the short to medium timeframes will most likely not have the physical energy required to be a primary caregiver for his girls allowing Claire to focus on work.
While the priority at this time is finding someone to help look after the girls while Claire works, financially things are starting to get tight. There are significant costs to long term illness, petrol, parking, medications, meals on the run and loss of income. They are a proud family, but they are at a place where they are openly asking for a hand back up. Money can't 'fix' this, but it can take some of the stress away from the family.
Please give a little to help this family in their hour of need.
Joni Ellery's involvement (page creator)
I'm a close family friend. I've been asked on behalf of the family to assist in setting up this give a little page.
Use of funds
Funds will be focused on Childcare assistance to support Claire whilst she works to her full potential to support the family.
---
Latest update
Life after lock down 25 May 2020
Posted by: Joni Ellery
From Claire, James and the girls
Hi everyone,
Wow, did that Covid thing change the world! It has put a huge amount of extra stress on our family over the last 7 weeks. James was released from hospital the day of Lockdown. He is one of 'those' people who would be taken out by Covid. For us it was like having a pack of wolves waiting outside the gate. We were so scared every time we needed to go beyond our home, for the many hospital appointments and medical supplies. This whole ordeal has taken a huge toll on both his and my mental health (we have counselling and more now to deal with this). We hope we are past that soon.
James is still very unwell, and he has a very long road to recovery from this. He struggles every day with eating and maintaining any appetite and continues to drop weight, which we have yet to get on top of. 51kg is so very wrong for a 46-year-old man. It has taken a huge toll on him emotionally and physically.
Yesterday he had his first private OT session. He has a long way to go as he has lost almost all the muscle on his body. He cannot walk up a single step unassisted at this stage, but we hope with this intensive and targeted help he will progress. We have been going on little walks down the street, just 200m at this point, but again we hope to slowly build this up, as he is physically able.
The kids have been amazing over lock down and provided lots of love to their Dad which has been a blessing to come out of this thing. They are back to school this week and now that Covid is less of an issue, we will get the childcare assistance we need to survive.
Juggling James's needs, the kids and my business has been massive. I have been beyond breaking on so many occasions, I have lost count. I have had my darling mum come from out of town, to help for a few days since lock down has lifted. It has been so nice to feel a little weight lifted for a few days. James and I just want to be normal, to be able to do normal again but its not going to be for quite some time yet.
Moving forward we will be using this Givealittle funding to arrange more assistance to help manage our situation. I desperately need to keep my business afloat as the sole breadwinner but need to balance this with the needs of the kids and James – I can't do it alone. Somewhere in all of this we will find a new way of living. And this has only been possible by all your generous donations. So again, we are humbled, and we thank you. Xx
As the person who set up this page, I would like to say thank you so much for your generosity. When we started this, we had no idea what was about to hit us all. The lock down has added another level of stress to an already difficult time for these guys. Now through the generosity received within this Give A Little page, has provided this beautiful family with a little light to help navigate a very difficult time. For that I would like to say a huge thank you, to each and everyone of you.
---
Latest donations





Best wishes Claire James and family. Thinking of you Love Kathy and Bob
---
Who's involved?

Created by Joni Ellery

---
Page Moderated
The page has been checked by our team to make sure it complies with our terms and conditions.
---
Fundraise
You can
start a fundraiser
to have your own page that raises money directly for the beneficiary.
---
Got a question for the page owner?
Ask one here
---
Any concerns?
Report this page
---
This page was created on 11 Mar 2020 and closes on 11 Mar 2021.