Quarantine Island Kamau Taurua is running out of water!
We are raising $7900 for a new 30,000 litre water tank to better guarantee the future ecology on Quarantine Island Kamau Taurua.
Otago
This is an opportunity for you to contribute towards conserving New Zealand's natural heritage and the native plants and animals that live among them, making our world a better place!
To make sure that we have enough water to continue to host visitors to Quarantine Island Kamau Taurua, we need your help to fund the purchase and installation of a new 30,000 litre water tank! We are reliant on catching and storing rainwater for drinking, to help protect heritage buildings, and for nurturing native plantings. This will supplement our current water capture which will help us nurture this incredible community asset for future generations.
We have 3 weeks to do this, so please forward this page to your friends and ask them to donate to this amazing community resource. Then email us to hop on a tour around the Island and see what we've been up to. Check out our photo Gallery below for inspiration or click on watch Cierra Stevens 'A Day of Volunteering on Quarantine Island' by clicking on the arrow on the picture above!
Quarantine Island Kamau Taurua covers an area of 14 hectares and is a publicly accessible recreation reserve in the middle of Otago Harbour. The Island is of considerable environmental and historical significance. Each year we host thousands on the Island at St Martin Lodge and educate hundreds of school children through 'hands on' ecology (caring for native plants), weed and pest control (tracking and trapping), the Island's local historical and cultural significance, and access for exploring and enjoying this amazing harbour retreat. The Island provides a safe habitat for many species of New Zealand's birds, reptiles and plants.
Local Maori were the first people to come to the Island, to camp, fish and collect shellfish. The Island served as the quarantine station for Otago for 61 years from 1863 until 1924. When passengers with infectious diseases arrived from Europe by ship, they waited the quarantine period for that disease on the Island for around one to two weeks. This could be from a few days, to months for individuals, depending on the disease. The average stay was two weeks. Sick passengers were treated in the hospital on the top of the Island. Of about 9000 quarantined people only about 70 died, buried in a small cemetery. The restored remains of the quarantine station, the 'Married Quarters' building (1873) which provided temporary housing for married couples and families waiting out the quarantine period, is a 'Category 1 heritage building', important for Otago and New Zealand's history. There are other remnants from the quarantine period, including the brick chimney of the former hospital, still on the Island.
The new water tank will ensure that we can continue to provide accommodation for our many volunteers and visiting school groups as well as water for our native plantings and improved fire protection. With less winter rain and longer dry periods in summer becoming a trend we urgently need to provide for the future of our visitor and the extensive native planting we do on the Island. For example, to grow successfully, we hand-water hundreds of new seedlings during the dry summer period until they are well-established. This can be 1-3 years! While the island was once covered by native forest, it's tough to re-establish this on the dry, windy island! The large tanks feed to smaller tanks, among the plantings, but the final watering is done by the 'bottle brigade!' We also host many school children during the summer period, all of which are provided with water stored in the winter period. We have come to a time when demand is beyond our current storage.
The government has set a goal for New Zealand to become predator-free by 2050 and the Community has joined this initiative. We have many projects underway to create and increase safe wildlife habitats on the Island, but right now we urgently need the water to safeguard open days for visitors, programmes for school children, and opportunities for environmental volunteers, student groups that enable this work.
This work is enabling us to protect and extend the native areas on the Island and create important wildlife corridors from one side of the harbour to the other and beyond. We already have thriving populations of skinks and many native birds. Our ongoing pest control programme seeks to protect these populations and provide an opportunity for other New Zealand wildlife.
With ongoing fundraising we aim to raise enough to realise the Quarantine Island Kamau Taurua Community vision, and make sure the Island has a sound, sustainable future, contributing to conservation, education, research, biodiversity and local heritage to the New Zealand community at large.
As part of our ongoing conservation efforts we have already:
1. Reduced our carbon footprint by reusing resources and minimising waste
2. Fenced off regenerating native forest and gradually extended areas for planting by fencing off parts of 'paddocks'
3. Planted thousands of native plants with the support of the local community and schools
4. Engaged our community with an ongoing pest control programme
5. Adopted organic and sustainable practices on the Island
6. Reduced the number of livestock on our Island
7. Supported "citizen scientist" projects by collecting key data on the Island
8. An education programme that reaches all levels of students from throughout the South Island, providing inspiration and skills to protect biodiversity for the future of all of New Zealand.
Thank you very much for helping us with our new water tank. Funds received over and above the goal will go towards supporting continued access to this precious asset and ongoing management and extension of the native habitat.
Absolutely any donation is appreciated. Thank you for your support and please come and spend time on the Island. Everyone is welcome!
We host an open day on the last weekend of each month, arranging a charter boat to help people get to the Island. Everyone is welcome to enjoy this escape just a short boat ride from the wildlife capital of New Zealand, Dunedin.
If you would like to visit Quarantine Island Kamau Taurua and help with planting and other conservation work please get in touch: quarantineIsland@gmail.com
*Artwork acknowledgment - Stanley Palmer
*Video acknowledgment - Cierra Stevens 'A Day of Volunteering on Quarantine Island
Jess Penwarden's involvement (page creator)
I am a member of the Quarantine Island community.
Use of funds
The funds will be used to purchase and install a new 30,000 litre water tank on Quarantine Island. Funds received over and above will go towards supporting continued access to this precious asset and ongoing management and extension of the native habitat.
Other page links
---
Latest update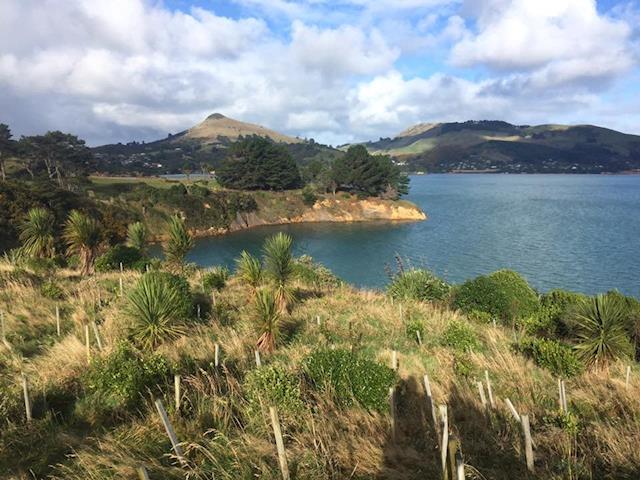 Time is running out! 23 June 2019
Posted by: Jess Penwarden
Thank you to everyone who has donated. We would like to ask a favour! Please help us get a new tank by telling your friends and sharing on social media. Volunteers currently hand water the hundreds of native plants they grow and plant each summer. Let's make the most of their help and keep our native trees alive through summer!
---
Latest donations

Karen Nairn
on 15 Jul 2019

Dunedin Zen Group
on 26 Jun 2019

John Thomson
on 25 Jun 2019

I remember the fun of putting in the last tank. Good on you this is much needed.

Jess Penwarden
Thank you for your donation! Much appreciated.

---
Who's involved?

Created by Jess Penwarden

Paying to a verified bank account of Quarantine Island/Kamau Taurua Community (Group)
---
Tax credit
Donations of over $5 are eligible for a New Zealand charitable giving tax credit.
Page Moderated
The page has been checked by our team to make sure it complies with our terms and conditions.
---
Gallery
---
Want to get in touch with Jess Penwarden?
Ask a question here
---
Any concerns?
Report this page
---
This page was created on 8 Jun 2019 and closed on 31 Jul 2019.