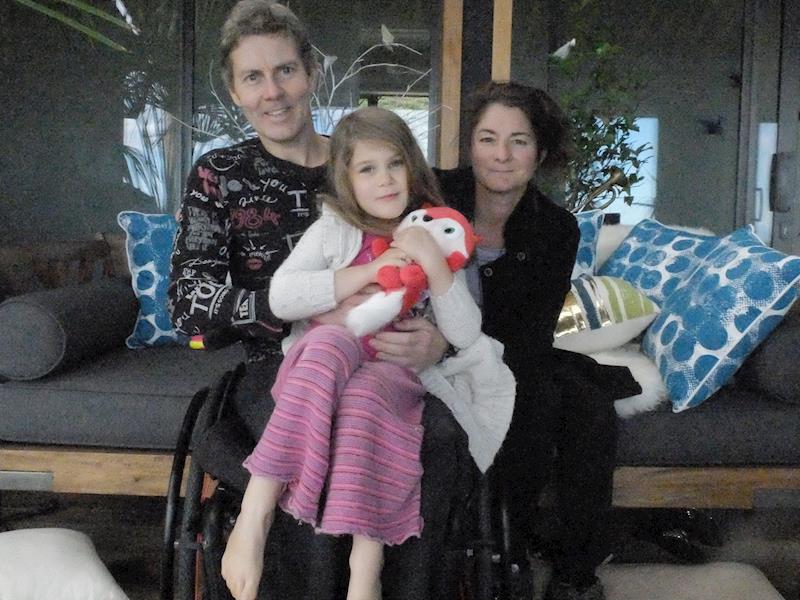 Roland Matthews goes to Moscow for Multiple Sclerosis treatment
Roland Matthews has advanced Secondary Progressive Multiple Sclerosis. This cause is to raise funds for his stem cell treatment in Moscow.
Thank you for reading this "give a little" request. We are the family of a very caring, fun and determined man, Roland Matthews, the father of our gorgeous, smart and sprightly girl Isabella (5).
Roland is 47 and has Secondary Progressive Multiple Sclerosis (SPMS). He needs expensive medical treatment to give him a better future with his active wife Andrea, and delightful five year old daughter Isabella. He can no longer, because of the many physical consequences of the disease, take part in even simple family pleasures such as taking Isabella to school, swimming lessons and walking the dogs.
Roland is highly determined. At no point in his life, even after the diagnosis with MS, has he stopped striving to achieve his goals. Roland has a degree in Technology, Diploma in Business Studies and Post Graduate Diploma in Ergonomics. He has had a successful career designing products for Fisher and Paykel in Auckland and Talbot Technologies in Christchurch, including two patents, one being the well-known and highly used 'Doofer' (Hamburger Holder). He is now working full time for Technix Bitumen Technologies in New Plymouth.
Having been a highly successful sportsman, he has determinedly continued his physical activities, but is now struggling physically and emotionally with the realisation that they are no longer possible.
The first symptom of his MS appeared in 1992 when he was skiing for New Zealand eventually representing the country in the World Cup. It was not till 2000 that he was diagnosed as having Relapsing Remitting Multiple Sclerosis (RRMS). Over the past twelve years his condition has steadily become worse with the transition to SPMS in 2005, and he is now confined to a wheelchair. He feels fortunate that he has managed 22 marvelous years managing the disease before rapidly progressing to his current state.
The only hope for Roland to stop his steady downwards progression is HSCT (Hematopoietic Stem Cell Treatment), which is being performed in Moscow by Dr Fedorenko of the National Pirogov Medical Surgical Centre. This operation first harvests Roland's stem cells then treats, freezes and stores them. Then after undergoing chemotherapy to destroy his immune system, the stem cells are reintroduced and he spends two weeks in isolation while his immune system reboots. The majority of Fedorenko's patients have reduced symptoms and improved mobility, many walking and working again after being wheelchair bound. This operation is not proven to be a cure (only time will tell), but has helped a high percentage of Dr Fedorenko' s patients, (including other New Zealanders) recover to live significantly more energetic lives, which is what Roland desperately wants.
Unfortunately medical expenses and associated costs (travel) will cost in excess of $95,000. It is hard for us to ask for help, as Roland, being an inventive, creative and autonomous person, has always been proud of achieving his goals. But he is no longer able to do this without help. So on his behalf we are asking for your support in helping him attain his goal of again participating fully in life and enjoying his family and friends.
Please, no contribution is too small, and we thank you in advance for your contribution.
Any excess funds to the costs of the procedure, and associated costs will be donated to the MS Society for the next person seeking funds, in order to undergo the same procedure.
Thank You
Roland Matthews' involvement (page creator)
Use of funds
Funds will be used for: Roland's HSCT treatment, Travel expenses, Family support expenses, Lost wages for living expenses, Fundraising for other people with SPMS
Other page links
---
Latest update

Rock'nMS Rollercoaster 9 September 2017
Posted by: Roland Matthews
The MS coaster is not as much fun as the loop at Knott's Berry Farm. Especially when crowds are sparse and loops can be seamlessly spun. I was looking at google images of knots berry farm and the rides have certainly upped in velocity. Gone is the loop, replaced with twisted steel super structures propelling pods of adrenaline about the farm. What the coaster skilfully does is spin your head. Are the cells doing their business or aimlessly playing bull-rush in the vessels.
In my post infusion excitement I edited a video of me walking in Sumner. It was that video that gave me an appreciation of Arnie's favourite drug. I know about the superhuman strength it imparts on one's body. In error I forgot to get take-aways and went cold turkey upon return to New Zealand. In the turkey chill I slowly reverted back to my pre-Moscow condition. Bugger, I thought it was going to be soo easy. Nope. 25 years of destruction doesn't resolve during a 4 week hiatus from reality.
Then there is the famed roller coaster, where the brain's ride begins. And the research on recovery starts. Am I one of the 30% that don't positively respond? I don't think so. Am I feeling historic damage or new activity? Probably historic. Is the fatigue MS damage or chemo aftermath? A bit of both? My MRI two weeks ago showed no activity, but there was none before I left for Moscow. So no news is good news or not news at all. Only the years will tell.
Further research and reviews of other AHSCT recipient posts uncovered the following phrase. 'Glacial'. And it is. Rome was not built in a day, neither was Christchurch or my body in the same period. And as of today the Christchurch cathedral will now be rebuilt in seven years after seven years of vacillation. Church (wants to finish off the quakes effort) vs. State (wants to rebuild the prosaic).
EDSS is a method of quantifying disability in multiple sclerosis and monitoring changes in the level of disability over time. Relevant levels for me are below. So to measure my progress and set targets I have resorted to the Expanded Disability Status Scale (EDSS). I have also unearthed through face book with other AHSCT recipients expectations of recovery that I am going to have to surpass.
6.0 Requires a walking aid - cane, crutch, etc. - to walk about 100 metres with or without resting (medium term target).
6.5 Requires two walking aids - pair of canes, crutches, etc. - to walk about 20 metres without resting (a walk in the park when fresh).
7.0 Unable to walk beyond approximately five metres even with aid. Essentially restricted to wheelchair; though wheels self in standard wheelchair and transfers alone.
Up and about in wheelchair some 12 hours a day (pre Moscow when tired).
I departed for Moscow in high sixes. I am now below 6.5, but this depends on the time of day and level of previous activity. My functional range is frustratingly wide. Between 6.3 ish and seven. Yesterday I went pool walking, visited my lawyer twice and negotiated Auckland traffic with a final EDSS of comfortably 6.3 ish on return. After diner I pretty much collapsed on the couch.
What I want to impress on people with MS is research AHSCT ASAP because the sooner the better if you make the choice to proceed. AHSCT is not for everybody. I was three years too late for an excellent recovery back toward a high level of well-being. Don't purely follow the advice of one medical discipline, i.e. neurologists. Look wider. This was my regrettable mistake that has made the pit that I fell into much deeper. I had been researching AHSCT for many years but it was continually dismissed by the professionals I trusted. Ironically, 14 years ago I asked my neurologist at the time what causes MS and how can it be treated. My neurologist said 'something unknown has gone wrong in the immune system so it is attacking yourself'. I ask how do you fix it? They said 'wipe the immune system out and start again'. Fedorenko started offering treatment for MS using AHSCT 12 years ago.
My physical activities are limited due to strength and fatigue. They include water walking and general walking. A morning start with light exercises helps begin the day. Walking is progressing slowly but surely. Yesterday I climbed the steps out of the pool a few times. This was encouraging and inspires me to go to the Pioneer Leisure Centre pool with the family. Much of this was attributed to a lower core temperature that assists nerve conduction.
My brain is still clear but gets fatigued. Core bodily functions work well. So it is now a matter of patience, persistence and exercise to build strength and rebuild my reluctant nerves. Thank you to my family and friends for all of the rehabilitation support.
---
Latest donations
---
Who's involved?
---
Page Moderated
The page has been checked by our team to make sure it complies with our terms and conditions.
---
Gallery
---
Got a question for the page owner?
3 questions have been asked already. Check them out and
ask yours here
.
---
Any concerns?
Report this page
---
This page was created on 19 Jan 2017 and closed on 16 Jan 2018.