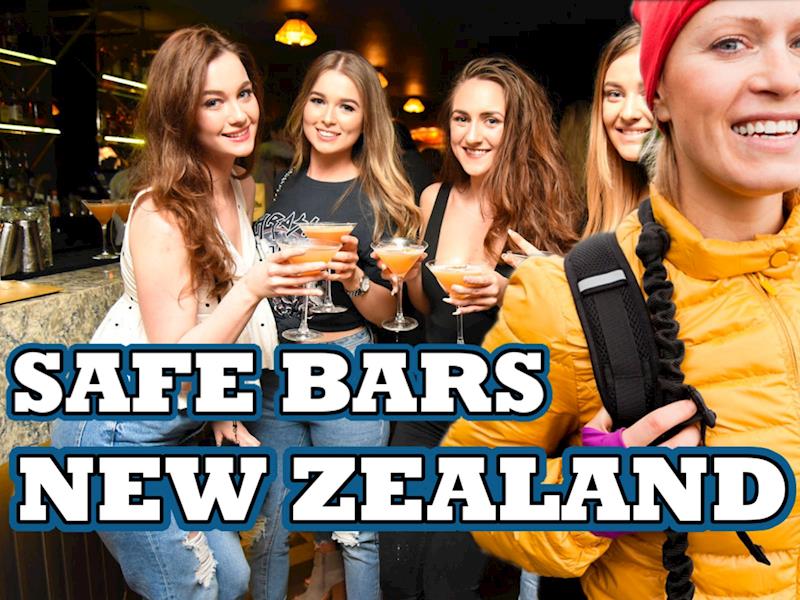 SAFE BARS NEW ZEALAND | KEEPING NEW ZEALAND THE SAFEST COUNTRY
SAFE BARS New Zealand is going to provide Safe Havens for young female tourists that visit our Beautiful Home, Aotearoa. Please help us.
Nationwide
SAFE BARS New Zealand is a 'Global Hospitality Senior Security' project which is to provide Safe Bars throughout New Zealand where young female tourists can socialize within freely without the hassle of harassment or worse, to go to if they feel as though they are threatened or do not know what to do in a bad situation.
SAFE BARS New Zealand will have members located throughout New Zealand, from the top of the North to the bottom of the South.
SAFE BARS New Zealand will do its part in making our Home, New Zealand a much Safer place for our young female tourists and for our own young female Wahine.
New Zealand is our home and as such, no visitor to our home should ever be in fear or harm, but unfortunately that is not the case,
Though most bars would say they are safe bars, SAFE BARS New Zealand's membership means that certain bars have undertaken major steps in providing much much safer social environments.
What SAFE BARS mission is to do is to remove violence from the nighttime community completely,
and we believe we can by introducing strict safety protocols for our member bars within our New Zealand Network.
Creating a SAFE BAR is accomplished by a strategy of stages;
The first is the enrollment of member bars within a target area of New Zealand.
For the start of this Project we have chosen Dunedin and Queenstown New Zealand.
Once the SAFE BARS system is set up in these areas and we have created SAFE BARS then we shall be moving this model throughout New Zealand.
Christchurch, Hamilton, Auckland, Rotorua and every where that a New Zealand Community wishes to create SAFE BARS.
All SAFE BARS Members are Bars that uphold what we call a ZERO POLICY.
Which means that each of our members SIGN and UPHOLD a ZERO Harassment, ZERO Violence policy towards their patrons and staff.
To create a Licenced premises to have the least amount of problems is not easy, but it can be done and this is why we are asking for funding from the New Zealand Public.
How do we find a SAFE BAR Member?
SAFE BARS New Zealand is a 'VALUE DRIVEN MODEL'.
This means that an owner of a Bar or the the Head of Security Personnel DOES NOT have to do it because the LAW MAKES THEM do it.
A VALUE Driven Model is a Model which at its Core holds a Value, a Human Value and with this Model that Value is 'to protect' people.
So, it is not that a person has to do it, it is because a person WANTS TO DO IT.
Those people that hold that Value stronger than others, these are the owners of these member Bars we wish to find, Those Senior Security Personnel, those Senior Bouncers that hold that Value stronger than others, that they WANT TO DO what ever they can to Protect others, Because they hold that Value.
ONLY THOSE BARS can become SAFE BARS Members.
ONLY THOSE SECURITY can create a SAFE BAR.
These people are the people that we at SAFE BARS New Zealand want to find, as they are the people who will not just say they will be ZERO Tolerant, but actually be ZERO Tolerant
As SAFE BARS will be trusted by the Tourists to our country, that what we say we really mean.
SAFE BARS New Zealand will become a trusted friend of every Female Tourist that comes to our Country and we can say that ,We, The Kiwis, do more to enhance the protection of young female tourists and our own young Female Kiwis than any other country,
Because we HAVE and HOLD that Value.
So, please if you can, help us bring the SAFE BARS New Zealand to Life and know that you did something that is directly making our home and keeping our Home, Aotearoa the Safest Country in the World.
Thank you so much in advance and no doubt you shall see me and any others in the updates as we roll out SAFE BARS New Zealand.
Now,
Before I go i want to clarify in regards to us having '2' Give-a-little Pages.
The QUEENSTOWN VIOLENCE FREE BARS (QVFB) Page, https://givealittle.co.nz/cause/queenstown-violence-free-bars
And The SAFE BARS New Zealand Page.
Why 2 Pages?
The QVFB Page is to find Funding for a 'PILOT' System we are implementing for Research that we are conducting within the Industry centering upon the Senior Security personnel.
For this Pilot, we will be creating 2 Main Control Groups made up of the Senior Personnel that we are utilizing for the Research.
What we are gathering the Research upon is the outcomes we collate from the different types of materials that we are upgrading the Senior Security Personnel (Senior Bouncers) upon.
This Research is 2 Fold,
The First is testing and adapting our 'EDUCATION METHODOLOGY' that we have built specifically for the Senior Bouncers to upgrade upon, so as to show that our 'Education Methodology' is far superior than that of which is used around the World at the present when it comes to educating Senior Security and Senior Bouncers in the Global Hospitality Industry.
The Second goal of the research is to be able to show that there is a direct correlation between the Upgrades that have been implemented towards the Senior Bouncers and the Reduction of the Crime rate within the Target Area.
We want to obtain this very research to show that the Pilot system works dramatically better than having no Model in place at present to protect the Night Time Industry from Violence, once we have this data, we are going to take it to Parliament and show them what we have accomplished and push them to allow us to place this Model throughout Aotearoa, to create the safest Hospitality Industry in the World.
Now THIS PAGE:
This Page SAFE BARS New Zealand wasn't meant to be created for a while, as we would be stretched for Human Resources, There is a lot of work that had to take place before the SAFE BARS New Zealand Project of providing Specific Safe Bars and 'Sanctuary Bars here in New Zealand,
It was meant to be sometime next year, but then it happened.
That horrific man who killed our Beautiful Kiwis, that Horror happened to our people, and that changed everything to me, I cannot wait, we cannot wait, I want to do everything I can to keep New Zealand Safe, to keep our People safe and those who come here to Aotearoa, Safe.
So, I have worked day and Night and day and Night, to bring the SAFE BARS New Zealand forward, and Since I am in Residing in Dunedin and travelling to and from Queenstown, (When I can pay for the bus), I can start the process of creating SAFE BARS here in Dunedin and in Queenstown now..
It has been and still is a lot of work , but I am getting through it and under the Strategy now, We can Start the process of making New Zealand have these SAFE BARS and keep them so as to have places for female Tourists that are being hassled or have been hassled to be able to go to and have them make them feel safe.
Just knowing that one thing, to them and their Parents will make the world of difference I reckon,
So. Now you know why I have 2 Give-a-Little pages,
I am hoping to have some of the wealthy Queenstowners help funding and I am sure they will if indeed we get some press and people know about us,
So, please if you have any questions, please just contact me through any of the Facebook Pages that I have for both QVFB and SAFE BARS.
http://tiny.cc/SAFE-BARS-NZ-FACEBOOK
Stay Safe and God Bless.
(To which ever God you believe inn as it makes no difference to us).
Aroha Nui.
Jonathan.
Use of funds
Set up costs, Tutoring, Marketing, Classroom and seminar rooms, workshops, technology, Books and other learning materials, travel, council meetings, contracting specialists, Projects and Teaching. Housing, camp funds, many many online apps for security.
---
Latest update
All the VIDEO UPDATES Jonathan Dixon 3 May 2019
Posted by: Jonathan Dixon
Hey everyone.
I thought it would be good since this is a new page project that is part of the QVFB Pilot system that I post the Video Updates that I have made over the past moths in trying to obtain funding for all of this.
this will be most likely the second last update for these projects as I have done as much as I can without funding but now I can't as I have to be in 3 places at once and workibg in a least a dozen senior projects that it's just become insane.
please if you can watch these video updates perhaps you can see that we are driven to make Aotearoa a safer place for our people
https://givealittle.co.nz/cause/queenstown-violence-free-bars/updates
please have a thin about joining in 9n this massive project. and be part of the reason why we can change it all for the better. ..Stay safe
Jonathan
---
Latest donations
---
Who's involved?
---
Page Moderated
The page has been checked by our team to make sure it complies with our terms and conditions.
---
Got a question for the page owner?
Ask one here
---
Any concerns?
Report this page
---
This page was created on 31 Mar 2019 and closed on 24 Mar 2020.