Support the Curreen Family and Brent's Terminal Cancer Journey
Brent needs Vitamin C treatment, at approx $300+ per dose it's both a huge expense and an alternative treatment that Brent really needs.
Auckland
Brent is a wonderful single father and primary care giver of 7yr old Nevin at our amazing little school. He's having a really tough time and he needs our help. After having being diagnosed and treated for stomach cancer 3 yrs ago, Brent has now been diagnosed with the devastating news that his cancer has metastasized and spread to other parts of his body. He is now at Stage 4 level cancer with a terminal diagnosis. To help prolong his battle with cancer there are treatments available that Brent is unable to afford and we'd like to do all possible as a school community to help him fight this and spend as much quality time with his son as he can. Anything you can contribute to help Brent receive additional alternative treatments would be greatly appreciated. Brent and Nevin's family journey hasn't just been a 3 yr journey, it's actually been a 7yr year journey with Nevin having had serious health issues from birth. This is a huge amount for any family to deal with. First Nevin having serious health issues, and now Brent.
Nevin was premature baby and had a constant struggle with feeding. His condition started to deteriorate, and a GP referred him to a cardiac specialist. 1 month later Nevin was diagnosed with a congenital heart defect and would need Open Heart surgery within 3 months, but the surgery was postponed multiple times until Nevin was 2 ½ years old. Nevin spent the majority of his first 2 ½ years in complete isolation from children under 6. Additionally at the age of around 6 months Nevin's parent's noticed his head shape did not look right. At 12 months Nevin was diagnosed with a metopic craniosynostosis called Trigonocephaly or Triangle Head, and required corrective surgery before 2 years of age. Nevin required Bi Fronto-Orbital Advancement surgery where the front portion of his skull is removed, remodelled, and replaced. The specialists did not know if they could perform this operation due to his heart, and it was very costly paying for a private specialists to make a diagnosis and approve the surgery on his head. This has been an unbelievably tough 7yrs for Brent and Nevin's family.
It breaks our hearts to think that this little boy won't have the care of his father at some point in the future. Brent and Nevin are an amazing team, and we're sure this story will touch your heart too. Let's try and ease the financial burden for treatment as much as we can and help create a secure future for Nevin.
Please donate if you are able to afford it, and share this with as many people as you can to help us, help Brent and Nevin.
The Brookby School Community
Support the Curreen Family - Brent's Cancer Journey's involvement (page creator)
I work at the school that Brent's son Nevin attends. We are very saddened by his terminal cancer diagnosis and want to help Brent and Nevin in any way we can.
Use of funds
These funds will be spent on additional therapy and alternative cancer treatments first and foremost and securing a financial future for Nevin.
---
Latest update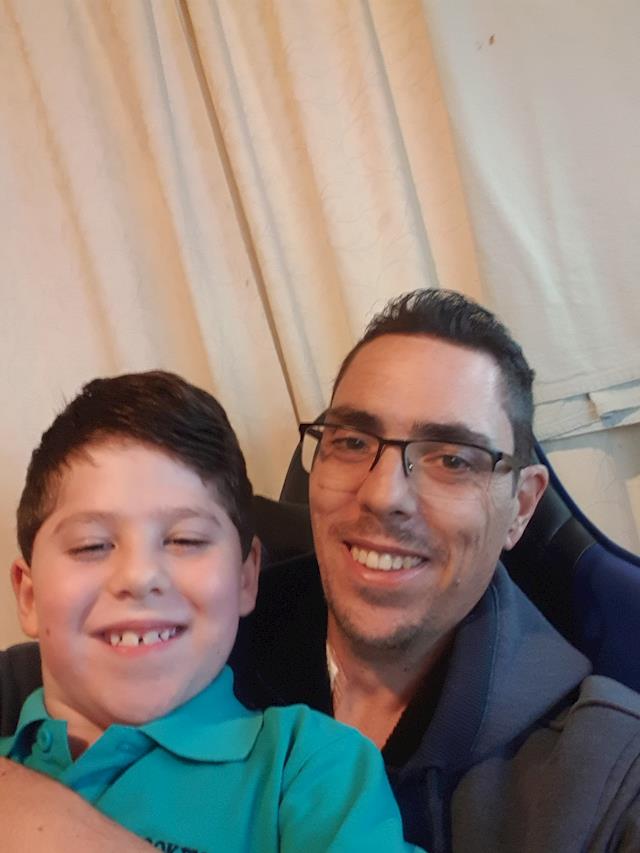 Post Lockdown Haircuts and other things 10 June 2020
Posted by: Brent Curreen
Hi Team,
It's been a few days since my last update, and things have been ticking over here. I continue to be amazed at the level of support I've received, from simple offers of help and support , to meals being cooked, food being donated, and of course the ever growing number of donation's we've received.
A few nights ago Nevin and I were browsing various causes on Givealittle. Nevin noticed that one of the causes had only raised $300, and he asked "Dad, can we help that lady? She only has $300". So I said, "Sure, we can help her if that's what you want to do?" to which he insisted he did want to help her. I asked him how much he would like to donate, and he asked if he could donate $10. So we donated $10 to the ladies cause. You may ask why this story is important to our cause, or important enough to put into an update. The story is important because is just another example of how all his life Nevin has shown empathy and concern for others, regardless of (or maybe because of) the trials and tribulations he himself has gone through in life.
Since my last update I have come off the steroids given to help me through the IV chemotherapy, and I have been taking oral chemotherapy tablets which last for 2 weeks from the date the IV chemo started. The steroids definitely help with energy levels, and I noticed a big dip in energy when I first came off them. The nausea comes and goes, and sometimes I find it's worse when I'm hungry, so snacking may help me keep it at bay. I felt pretty good today, and arranged a catch up with some great support people I met from the Clendon Pride Project. I picked up Nevin from school, and decided we would do a quick shopping trip to get a few supplies. I may have just pushed myself a little too far, as I ended up having to sit down in the milk ilse for a minute to catch my breath. So I may just stick to 1 outing per day for the time being :-)
Thanks again for taking the time to hear/read our story. I look forward to posting more updates :-)
---
Latest donations


Hope this small gesture helps.
Brent Curreen
Thank you Chris, every gesture helps regardless of the amount. Your donation and support is very much appreciated, kind regards Brent


Hope this helps you. Read your story in the paper. I have a little boy myself and this got to me. I own a mechanic business TL Diesel Services Ltd. If you need any mechanical work done. Contact me through the fb page. I'll be happy to help whatever it is.
Brent Curreen
Hi Liam, we very much appreciate your offer, and will definitely keep it in mind if needed :-) Your support is very much appreciated. Brent


Stop eating gluten and bread to help your adrenal glands
Brent Curreen
Your donation and support is much appreciated. Thank you so much. I have stopped eating bread, can't digest it due to my reduced stomach size. Kind regards Brent


Brent Curreen
Thank you Dirk for your donation and support, it is much appreciated kind regards Brent

---
Who's involved?

Created by Support the Curreen Family - Brent's Cancer Journey (Group)

---
Page Moderated
The page has been checked by our team to make sure it complies with our terms and conditions.
---
Fundraise
You can
start a fundraiser
to have your own page that raises money directly for the beneficiary.
---
Got a question for the page owner?
One question has been asked already. Check it out and
ask yours here
.
---
Any concerns?
Report this page
---
This page was created on 27 May 2020 and closes on 27 Nov 2020.