Support the Legal Defence Fund for Graeme Sturgeon.
Graeme has been charged with Common Assault, after he laid charges about being dragged from his car and then punched by a security guard.
Waikato
Graeme Sturgeon's story:
" Three elders, with myself one of them, were camped at Kaimarama near the river ready to bear witness to the dropping of toxins into the Whitianga water supply. As I have suffered the effects of Agent Orange for just on 50 years now, I have a particular interest in aerial deployed toxins into my or anyone else's water supplies.
Just as it was getting dark, I received a phone call telling me that there was a strong smell from the lure mixed with the 1080 bait and the caller had observed bags of bait being loaded out of a warehouse in the middle of Whitianga.
I set off in my campervan followed by my two women companions in their own cars anxious to get a photo of such flagrant abuse of the law of common sense and other laws pertaining to the safe storage of a Class 1A Poison.
I drove down the dark alley next to the Liquor King Building and there was no sign of human activity until I made a right angle turn at the back of the building. There in front of me was an estimated six large trucks lined up two abreast.
There were no signs, barricades, taped off areas to show that this was anything more than a Public Parking area that it had always been.
Standing in front of the trucks were DoC personel, truck drivers and what I presumed were genuine security guards. I stopped my van, undid my seat belt and reached over to get my camera on the dash on the far side of the vehicle.
My door was then opened by a man dressed in dark clothing who approached my vehicle from an angle where I could not see him. He never spoke so I had no idea at this time what his intentions were, but I ended up out of my vehicle, with a sprained shoulder, a bloody nose and my clothes ripped to pieces.
I have been charged with Common Assault. It is now certain that the fiasco on the evening of October 17th, 2017, outside Liquor King Warehouse,in the Whitianga CBD, is going to turn into a long drawn out, down in the gutter affair.
I have had two court cases since that night and now a two day trial has been set down for Febuary 19th and 20th, 2018, at the Thames Courthouse. I have to leave the rest of this story to be decided in Court for fear I may prejudice this case."
Rongoa Whenua / Poison-Free Coromandel's involvement (page creator)
Coromandel Peninsula is a close-knit community and we know the people involved with this case, and who witnessed the circumstances surrounding these events. We welcome support from all around New Zealand.
Use of funds
All funds will be used to cover the costs of this court case.
So far my wife and I have paid the costs out of our own pockets and we greatly appreciate the many generous offers of financial support that we have received.
Graeme and Julie Sturgeon
Other page links
---
Latest update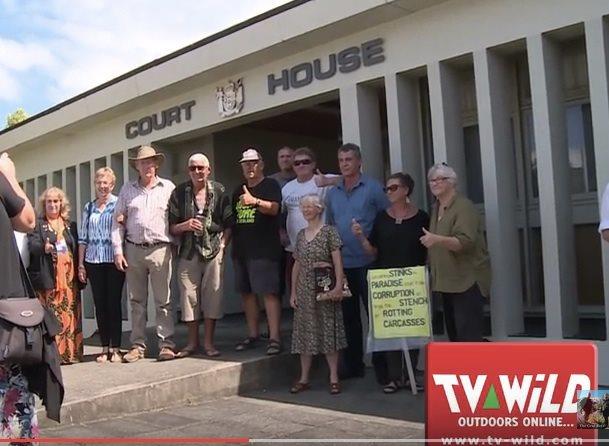 Graeme's Charges DISMISSED 21 February 2018
Posted by: Rongoa Whenua / Poison-Free Coromandel
Common Assault Charge Dismissed Against 1080 Whistleblower.
Wednesday 21st February 2018
In the Thames District Court yesterday, Judge Greg Hollister-Jones dismissed a charge of common assault brought by the New Zealand Police against Graeme Sturgeon of Coromandel.
The unprofessional and confrontational methods used by the DoC security guard Lane, in opening Sturgeon's car door forcibly, with a surprise move, without identifying himself, appeared to tip the balance in the judge's mind to decide that Sturgeon's actions from the moment the door was opened were made in self-defence.
At dusk on 17th October, 2017, Sturgeon and two companions had been alerted to a clandestine 1080 poison loading operation in the Whitianga CBD and went to observe and take photographs.
Driving into the unlit public carpark, Sturgeon stopped his car when coming across trucks loaded with bags of 1080 baits at the back of the Liquor King building, adjacent to residences and supermarkets.
The Court established that Sturgeon was then dragged out of his car by a Department of Conservation guard and a scuffle ensued.
The security guard hired by the Department of Conservation did not have a current Certificate of Approval from the Security Licencing Authority and was untrained in 'crowd control'. He works as a spray contractor for the Waikato Regional Council.
Due to the lack of lighting in the bait-loading area, there were difficulties knowing exactly what happened, as two witnesses did not have full and complete views. Sturgeon had first put in a complaint of assault against Lane stating he had punched him in the nose and dragged him forcibly from his car, without identifying who he was. Then after a lengthy wait, the Police charged Sturgeon with common assault.
CCTV footage showed Sturgeon trying to close his car door to protect himself against his unknown attacker. The car door was wrenched open for a second time by Lane. Lane appeared to have a paranoid mind set believing that Sturgeon posed a threat and might have had a gun in his car.
In his evidence, Lane made a number of statements that proved false under cross-examination.
Photos show Sturgeon with a bloody nose and ripped clothes.
Police and the security guard referred to "protestors" while the activists referred to themselves as "witnesses" whose intention was to observe and record the aerial drop of 1080.
The Department of Conservation had secretly stored 23,700kgs of 1080 poison baits in a warehouse in the Liquor King building from June 2017 through to October 17th when the baits were loaded in preparation for the drop over the Kaimamara Valley, which is the source of Whitianga's town water supply.
No warning signs or barriers were put in place to deter the public from entering the public carpark while the ecotoxic baits were being loaded. The smell of the volatile gases alerted local residents.
Official Information requests showed that DoC did not inform local authorities about this bulk storage, including the local fire chief. If there was a fire, toxic hydrogen fluoride gas would be released, and the town would have to be evacuated.
PoisonFreeCoromandel believes that PredatorFree2050 is an ideological mission which is becoming increasingly militarised.
Now who will hold the Department of Conservation to account for its many breaches of health and safety regulations and legal statutes?
---
Latest donations

Tony Orman
on 17 Apr 2018
Graeme deserves support for the unjust treatment he copped. The 1080 issue is full of deceit and deception from the pro-poison side.

Guest Donor
on 12 Apr 2018
64 years of failure

Paul Thomas
on 09 Apr 2018
Happy to contribute to Graeme for his commendable and brave stand!

Guest Donor
on 08 Apr 2018
The only thing necessary for the triumph of evil is for good men ( and women ) to do nothing

Thank you Graeme, we support you. BAN 1080
---
Who's involved?

---
Page Moderated
The page has been checked by our team to make sure it complies with our terms and conditions.
---
Gallery
---
Want to get in touch with Rongoa Whenua / Poison-Free Coromandel?
Ask a question here
---
Any concerns?
Report this page
---
This page was created on 20 Jan 2018 and closed on 12 Jul 2018.