Thank you Thank you Thank you
23 May 2022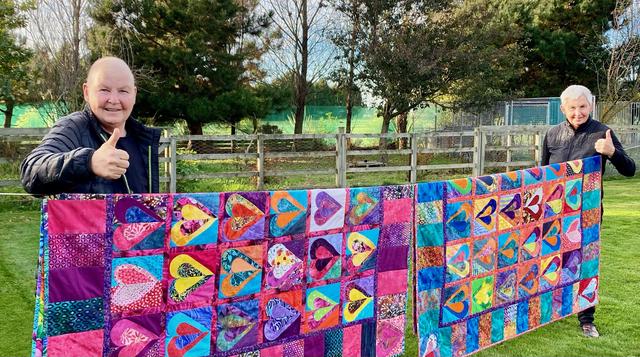 Hello to all of you on this amazing Give A Little Page,
We are so thankful for your tremendous support during this difficult time and the financial and emotional response has been overwhelming and heartfelt. Such a boost to our spirits to read through so many comments and memories of our years together.
We finally got the chance to reunite for our birthday and just being together was medicine that no doctor can prescribe.
A very special group, the Kiwi Quilters group gave us an amazing birthday gift- two of the most beautiful and colourful quilts you've ever seen! 22 women from around NZ each made a split heart block then they all got sewn together to become one heart. Kind of like a twin quilt! "The rainbow colours were chosen because of your work with Gay Rights"
We thank the Kiwi Quliters and honestly people have cheered us up no end with their outpouring of love and kindness.
At the moment, there's still a few people fundraising with different events and challenges (check out the mighty mullet chop) so we will keep the give a little page open till the 30th of July for funds still being raised.
This has been one of the most sad but amazing times in our long career - we love you New Zealand and our international fans and friends - to the moon and back again 💖♥️❤️💕💖♥️❤️
Jools and Lynda
What beautiful quilts, made with love❤️