I'm off my tits! 15 November 2017
Posted by: Freya Desmarais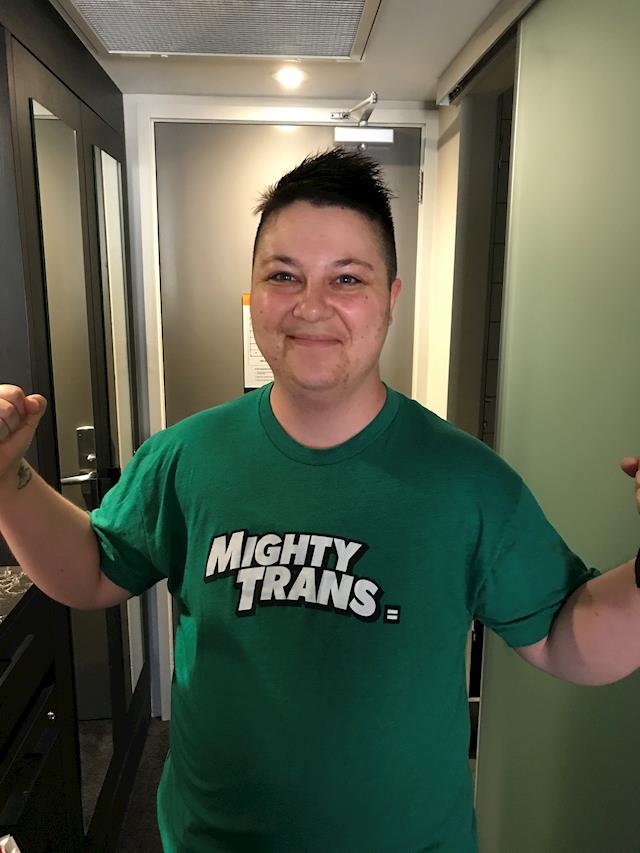 Hi everyone!
So sorry for the lack of updates over the year, I've been getting on doing a Graduate Diploma in Journalism Studies and it has kept me very busy!
Around mid-year I found out about this organisation called the Bowen Trust. They fund top surgeries for transgender guys like me in Wellington as the DHB doesn't. The top surgery is with one of New Zealand's best plastic surgeons, David Glasson, at Bowen Hospital.
Once I knew about the Trust I started the process to apply. I had pretty low expectations - but it soon became clear it was less a matter of if, but of when.
I learned that at the beginning of October with my first consultation with Dr Glasson which I paid for with funds from YOU. The first step through which you made this possible.
He told me it could be 2018 before my surgery. I was relieved that it would happen, but to be honest a little gutted that it would mean another year or so in a binder. They're not fun! Dr Glasson said the next step would be him applying to the Trust on my behalf, after which I'd be advised in about a month as to whether my application for funding had been accepted.
THEN only a week later I got a call from Dr Glassons rooms.
"Hello Felix, how are you? I'm about to make your day a whole lot better."
[Me, assuming this means my funding has been accepted]
"Oh wow, awesome!"
"Your application for funding with the Bowen Trust has been accepted, and we can set a date for your surgery."
"Oh! ... So... roughly when would that be?"
"I just need to check the calendar..."
She put me on hold. I held the phone to my air and looked at the ceiling in disbelief, my eyes prickling. It was actually going to happen! She comes back onto the call.
"We could do Wednesday next week"
WHAT?!
At this stage I hadn't quite finished my studies for the year, so though that following Wednesday would have been wonderful, it wasn't so great. Plus, six days isn't a lot of time to mentally prepare for the first surgery you've ever had!
"...Or the 7th of November or... sometime in January, but that may be cutting it fine"
Something about financial years and cut offs. No pun intended.
So I went with the 7th of November.
And now here I am writing to you on the 15th, just one week and one day post op. I have a flat chest.
The Bowen Trust fully funded the $17,045 for my surgical costs, but none of that would have been possible without you. All of the associated costs to do with having surgery were covered, and without that I would not have been able to accept the Bowen Trust's wonderfully magical and life-changing offer.
Your money paid for:
- The initial consultation with Dr. Glasson
- Post operative accommodation with my mum (I live in a tiny studio apartment so needed another bed for her to sleep in the same room as me!)
- A top up on my mum's airfare to come and look after me - my parents live in Melbourne!
- SO MANY UBERS to the hospital... this added up! I don't have a car, just a scooter - so this was vital.
- Food while in accommodation
- The cost of prescription painkillers
- And many other little bits and pieces that made all the difference, like $12 pajamas from The Warehouse so I didn't cruise round the hospital in my undies and freak out the nurses.
So it's been a whirlwind and all happened rather suddenly!
I've had my drains out so I have a bit more freedom now. I'll be meeting my new nipples next Wednesday. I can't wait.
The feeling? Almost indescribable. When my voice started to change from testosterone, I said that it didn't feel that foreign, because how my voice sounds now is a lot closer to how I sort of imagined it sounded in my head all along. It's the same with my chest - it's very new but very old at the same time - it's exciting and thrilling at the very same time as feeling like this is how my chest has always been in my mind. It feels very natural.
I spent an inordinate amount of time in the bathroom this morning, trying on my favourite tshirts to see how they look on me now. I was giggling at myself in the mirror.
It's lovely.
I feel so much more comfortable.
I feel so much more me.
You have changed my life.
Thank you, thank you, thank you.
x Felix
p.s. head to my instagram @felix_morris_desmarais for some pics!
0 comments | Login to leave a comment | Share this update