Uninhibited Ducks - Duck and Duckling Rescue
Help me feed, and care for ducklings hatched in Winter. They have no chance to survive in the wild.
The New Page is up!
For the latest updates and info, and to donate, please go to: https://givealittle.co.nz/cause/uninhibitedducks2
(Same url as this page, just with "2" appended)
update 28 Dec. I am trying to extend the page closing date as I still have plenty of ducks needing short and long term care.
I cannot edit the end date myself, and am waiting to hear from Givealittle support as to why. If I cannot get this sorted before the page expires at the end of the year, please cheak my main profile as I will endeavour to start a new page if this one cant be extended.
I will try and make the url the same, just with the addition of something like 2 at the end or start of the page name section of the url, ie:
https://givealittle.co.nz/cause/uninhibitedducks2
Or
https://givealittle.co.nz/cause/2uninhibitedducks
I will also post any updated url on e facebook page (http://www.facebook.com/uninhibitedducks).
I currently need more antibiotics, painkillers a pet carrier cage, and heaps of bedding (wood shavings, barley straw).
I currently have a number of juvenille ducks still fully or partially in my care, along with orphaned and injured ducklings and adult ducks.
I have decided to create a GiveaLittle (crowd funding) page to help me cover the ever increasing costs (in time and money) of caring for my rescued ducks.
So far this autumn/winter I have taken in 42 ducklings, and 4 mother ducks. By this I mean feeding them, keeping them warm with heat lamps that I brought, building houses and runs for them, treating them for injury and illness in some cases, bathing and drying orphan ducklings, cleaning, cleaning and more cleaning, gathering pine needles (2 large sacks every day) to save spending up to $50 a week on bedding.
Sure I could just stop taking in ducklings. But so far, of the 7 ducks which have turned up with ducklings in the last couple of months, I have taken in 4 mums and babies, and one baby from a 5th.
Of the ducklings that I wasn't able to house, EVERY SINGLE ONE HAS DIED.
Some slaughtered by predators, some froze to death. In every case the entire clutch of ducklings was dead within a few days of being hatched. None made it to even one week.
Ive watched the mother of one of those clutches, calling pitifully for her babies every day for over 2 weeks after they were killed (the call a duck makes for her young is quite distinctive and easy to recognise from other duck calls).
I've also seen other ducks calling for lost young and frantically searching for them.
Its simply the wrong time of year for ducklings, and without help none would survive. Some people might say thats the way of nature. I challenge those people to consider losing all of their own children, either watching them freeze in front of you and being unable to do anything to warm them up, or watching some creature many times your size tear them to pieces in front of you. And then ask yourself how you would feel after the death of all your children, if someone in a position to have prevented their deaths, told you that it was natures way...
Imagine expending nearly half your own body weight in eggs over a matter of days. Then sitting on those eggs, night and day, hardly ever leaving them, a process that puts your own life at risk, giving you a 50% chance of dying yourself.
Imagine starving because you couldn't leave them long enough to find enough food. Imagine fighting off monsters that want to slaughter them, and you! And finally, after weeks of suffering and waiting, your precious little children are here. How happy are you? How besotted with your children?
And how unimaginable would it be to have every one of them die horribly in front of you, and be unable to save even one?
This is why, when I see, yet another duck waddling proudly up to my place, with her brand new brood of fluffy little cuties, I am not happy, but sad. Because I really can't afford to feed and care for another lot of ducklings. But I cannot leave them to die, and their mother to mourn them. Not when I can give them shelter, keep them safe, fed them and keep them warm at night.
No matter how broke and how overextended I get, I am unable to leave any of these winter ducklings alone to die.
So, in acknowledgement of my own inability to know when to stop, I have started a givealittle page.
Kim Hartley's involvement (page creator)
everything.
As well as feeding the ducks, I have had to build extra housing and runs to hold them all, buy heat lamps to keep the ducklings warm on frosty nights, pay vet bills, administer medication to sick and an injured duckling, give daily warm baths and dry off indoors ducklings with no mother, make plates of food up (requires blending up various foods as no waterfowl feed is available here to buy).
cleaning out the runs and cages takes at least a couple of hours daily and getting the older ducks back in the cage at night, plus putting the little ones indoors under heat adds to that time and means I have no social life.
to provide them with the two large sack fulls of bedding used each day I either spend more time gathering pine needles or autumn leaves, or spend up to $50 a week on wood shavings and straw.
Then there is the food. I am spending between $50-$100 a week on food for them. this is made up of pellets, wheat, cat biscuits, brewers yeast powder and vitamin b suppliments, frozen vegetables etc. ducklings grow rapidly and when they get larger they go through a ton of food.
i am funding this all myself, and spending all my time doing the cleaning, house building, herding, drying, medicating, run building and more. i am trying to build a business and lately seem to have no time to do anything!
i am hoping for donations to provide food and help build a large duck enclosure for my domestic ducks and rescued ducks to live in.
anyone local to me in North Loburn, who has any of the followingitems to donate please get in touch via the facebook page:
wire netting, fencing posts, hinges, latches for doors etc. pond liner.
cat biscuits (not fish flavors. beef, liver, turkey chicken etc ok
chicken pellets (not chick starter as it has medication which is toxic to ducklings)
mixed frozen vegetables, or frozen corn, peas (not minted).not carrot they dont seem to like it.
rice (white or brown but brown preferred
plastic clamshel pool (from the warehouse)
brewers yeast or niacin (vit b3 ) suppliments
old towels
heat lamps and workshop lights
wood shavings (from untreated wood)
hay or straw
any money donated will be spent on the above, and I am happy to show anyone who donates a receiptfor thesethings. anyone who lives near me and donates, is welcome to get in touch via the facebook page if they want to visit the ducks and see wherethere money is going.
read more about the ducks at my facebook page
Other page links
---
Latest update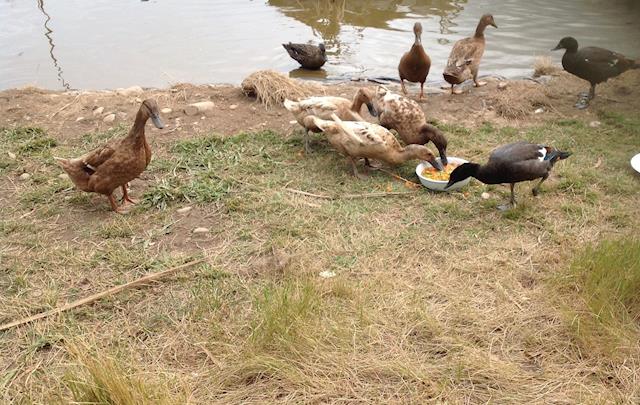 Thanks, And Happy New Year! 28 December 2016
Posted by: Kim Hartley
I hope you all had a great Christmas and that 2017 is everything you want it to be.
Just a quick update, firstly to say a great big THANKS???????? for all of your generous donations in 2016.
Secondly, an update on the ducks, and what is next for 'Ducktopia'
A lot has happened since my last update here, some of it very sad and heartbreaking. So rather than go into it again, I would direct you to the Facebook page (www.facebook.com/uninhibitedducks) where you can catch up on whats been going on.
We have moved all the ducks into Ducktopia. My original plan was to have a fully enclosed space at Ducktopia, including a roof. However its been a massive job to fence it and it simply was not feasible to wait any longer to move the ducks in. My new goal for the roof is before May next year. This is when the Duck hunting season opens and I want to ensure I can keep my flying Mallards safe from people with guns.
My other goals in the short term are firstly, to get a pump and filtering system going in the pond (this is desperately needed). Also to plant out wetland plants around the pond, to creat some small spaces to use as 'naughty corners', sick bays and for mums and young ducklings.
I would also like to create an emergency fund, ideally $500 or more, that I will store in its own bank account, and which is to be used for emergency vet treatment for any of my ducks. As you probably know, I am on a very tight budget, and I hate the fact money could mKe the difference between life and death for a duck, ie if one was badly injured and possibly could have a complete recovery, but only with expensive surgery, drugs and/or tests.
If such a situation arose, would like to have enough money set aside to be able to say, "do whatever you need to do to fix my duck!" Unfortunately the medical insurance available for pets is only for cats and dogs. I have enquired at one of the farm insurers and am waiting back to see if they will insure ducks, but they didn't sound that interested, plus their insurance is aimed at farmers who also have machinery, buildings and so on they want covered so even if they do offer cover, premiums may be too high to be practical.
So if any of you would like to help out, the current projects your money would be spent on are:
Pond pump, filter etc
Landscaping pond
Emergency vet care fund
And as always food costs are an ongoing expense, that I currently receive no help for so have to pay out of my own money.
If you wish to donate and want your donation to specifically go towards one of the above please add a note with your donation specifying what you would like the donation to be spent on.
Meanwhile, here is an update on the ducks...Residing here currently I have:
Rescued Mallards:
- Cindy, along with her two adopted ducklings
- 'Melbourne', plus 'Berlin' and the rest of Rome's siblings
- 'Miss Sore Leg Duck' and her mate, Mr Duck
- Catrin, Mr Duck with a cute (wry) tail (hatched mid winter 2016 by MDWTCV)
- 7 ducklings from the oxford Bird Rescue (siblings to Cindy's 2 adoptees). Two of these have names; 'Black Jack' and 'Cujo'. I hope to get a video uploaded sometime soon of these two, including a demonstration of how 'Cujo' earned her name! They have just started spending their days 'free ranging' around the compound. At night they are either outside locked in a house or indoors with me.
I brought over some others, including Arizona and Miss Duck with a cute voice junior (MDWACV's only girl offspring, they are a mated pair now), and Alaska, California, Miss Forward duck etc. unfortunately they left, Arizona and Miss Duck with a cute voice junior flew back to Loburn. A couple of others are still nearby and pop in for food from time to time.
All of my big ducks are here of course. Bruce, Thomas and Peter have had to be separated from the girls due to over agressive mating.
Ting is not well unfortunately. She had a bad case of bumble-foot which was excised when still at Loburn, unfortunately it returned, maybe due to stress as she was being harassed and aggressively mated by Bruce and it took me a few days to catch him. She is quite lame at the moment and is on antibiotics to treat resistant staph infections, and is having regular treatments including poultices on her foot, antibiotic solution injected into the core of the infection, and regular removal of the 'core' in an attempt to get the better of this nasty infection. She is also on pain relief. She is in a secure cage overnight, as I worry if the hedgehog got back in (I think I have found and blocked the gap in the gate where it was getting though, but want to be on the safe side). She is not eating as well as I would like her to, and possibly niacin deficiency is also part of her lameness so she is also being given niacin shots.
I also have 5 paradise ducks, who are now about 10-11 weeks old. These guys came from the Oxford bird rescue.
One named 'Angel' had angel wing which appeared to be successfully treated with a body stocking for a few days. Unfortunately a hedgehog got in just after the wrap was removed and we suspect the hedgehog was responsible for a wing injury which 'Angel' had the following morning. Her "drivers side" wing was drooping badly. We put a supporting bandage on her which holds the wing up off the ground. It seems to be doing that job, however both wings are again pointing outward as per angel wing. Is could be due to the wrap which is holding her wing up at the elbow. She has another few days in that wrap and then I will remove it, and hope that the wing is no longer drooping. If the wing is still dropping a decision will need to be made as to whether to take her to the wildlife hospital where unfortunately euthanasia is likely.
If the wing droop has been fixed by the wrap, the next decision is whether to put her in a body stocking again to try and resolve the angel wing, or whether to leave her as is, which would mean she will probably never fly. I am not particularly hopeful right now that she will be able to fly, at least not without expensive surgery which would have to be funded somehow. So it may come down to her quality of life and trying to assess whether she is in much pain from the wing, as to whether she is left as is, to live a protected but flightless life at Ducktopia, or taken to the wildlife hospital for likely euthanasia.
Also, despite referring to Angel as her, the gender is not apparent yet, and Angel may be a male. If the other Paradise ducks leave when they learn to fly, I worry that Angel wont be able to find a mate as he/she cant fly off. Not sure how happy a Paradise duck without a mate, and potentially living with no other paradise ducks, just mallards and domestics, would be. So will just have to take things as they come there.
Anyway I will leave you with a photo from Christmas day, of the ducks enjoying one course of their Christmas dinner, their veggies...(their favourite treat, to the ducks veggies are like McDonalds, Lollies, pizza and all your favourite goodies combined!)
I will have more photos and videos on the Facebook page over the next week or so. Our internet here was out most of the week before Christmas thanks to a router failure and delays in the new router being shipped to us.
Once again thank you so much to everyone who generously donated in 2016. Your support has made a huge difference to what I have been able to do for the ducks. And it has also been personally uplifting, especially when times were hard, knowing that there are so many caring people out there who gave of their own hard earned money to help with what I was doing. If any of you are ever down, my way and would like to pop in and meet the ducks please do drop me a line by email or text (kim@foo.co.nz, 020 406 41485) or via the facebook page, and I would be happy to show you around and introduce you to the ducks!
God bless you all, and have a fantastic New Year!
Kim and all the ducks ????????????
---
Latest donations

Guest Donor
on 29 Dec 2016

Thanks Kim for looking after those lil' guys and giving so many updates. Always a pleasure to read you whatever the news. Also, I'm sorry for your loss (Rome), I know how easy it is to get attached to those little monsters and how heart broken we can be. Hugs from Windy Welli! Greg

Graeme and Amy Bird
on 18 Nov 2016
Great job Kim.......

Guest Donor
on 28 Sep 2016
Love what you do. I am seeing many road kill ducks at the moment - so sad!

Guest Donor
on 27 Sep 2016
---
Who's involved?

Created by, and paying to a verified bank account of,
Kim Hartley
on behalf of wild ducks and ducklings
---
Page Moderated
The page has been checked by our team to make sure it complies with our terms and conditions.
---
Gallery
---
Got a question for the page owner?
Ask one here
---
Any concerns?
Report this page
---
This page was created on 18 Jun 2016 and closed on 31 Dec 2016.