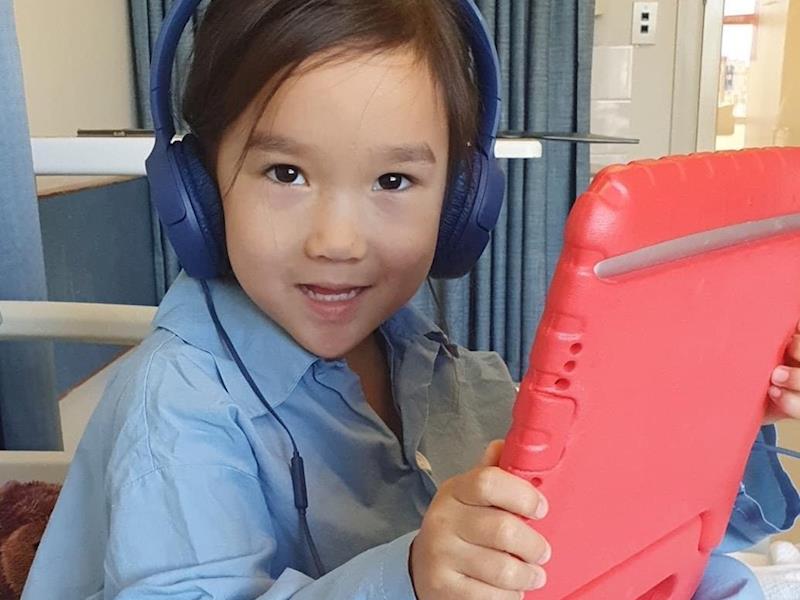 Vivian's Journey ❤️
To support Trish and her family while they focus on Vivian's road to recovery.
Auckland
A few week's ago, Trish ( Viv's Mum ) found a sizeable lump in Viv's Tummy.
After doctors and specialist visits she had ultrasound and CT scan. This confirmed the news no parent ever wants to hear.
Viv was diagnosed with a Wilms Tumour in her right kidney ( Cancer )
She was very quickly booked into surgery to have the right kidney and tumour removed.
She had the surgery on Friday 24th April and is currently in hospital recovering. Once she is well enough the doctors will discuss treatment options and she will have to go through Chemotherapy.
This page is to help Trish and her family financially, she has not asked for this but I would hate for her and the family to have to worry about financial stress as obviously Trish is unable to work.
Briar Pope's involvement (page creator)
I am one of Trish's best friends
Use of funds
Travel to hospital costs, rent, food, household bills. Maybe even a family holiday at the end of this when Vivian is well enough.
---
Latest update
About Vivian's diagnosis 26 May 2020
Posted by: Trish Schedewy
Vivian's diagnosis is a type of renal (kidney) cancer called a Clear Cell Sarcoma of the Kidney and her's is a Stage 2. It's extremely rare. Her oncologist told us that there had only been 3 other cases of it at Starship in the last 40 years. It's also known to be very aggressive. Even though all the scans and tests after surgery came back clear, there's still a high possibility there are cancer cells in other parts of her body that these tests and scans cannot pick up. Medical science is amazing but there are still gaps in what it can and cannot detect. So with that in mind, Vivian needs to undergo very intense chemo to kill any stray cells, and radiation therapy on the area where the tumor was to make sure there wasn't anything spreading in that area. A treatment plan her oncologist even ran by specialists in Vancouver!
Now leading up to all this, Viv showed no obvious signs of being ill. Despite her small size, she had no problem keeping up with other kids her own age. All her development was perfect. For the last few months though, she'd occasionally complain of a sore stomach, usually around dinner time (when it was something she didn't want to eat) or around bedtime (because we thought she was trying to get out of doing what she was told).
It wasn't until some time in early April when she came to me, saying she had a sore stomach. I asked her to point to where it hurt and I could straight away tell something wasn't right. Her whole tummy was bloated and there was a noticeable lump sticking out on her righthand side, just under her ribs. I took her to the doctor, who ordered for full bloods and an ultrasound. We had the bloods done the next day, all clear and normal. Again, nothing to indicate that anything was wrong so I didn't think too much about it, thought it might have been a reaction to something she'd eaten. A couple of weeks later, managed to get the ultrasound and from what I could see, even I knew something was definitely not right. A few more scans later, we had our diagnosis.
Vivs cancer is not hereditary and Emmett's at no risk of developing it either, being her twin. It's purely just something that's happened in her body at some stage that no one could have predicted.
I hope I've managed to answer a few questions and please ask if you'd like to know more. I'll do my best to answer 💖
---
Latest donations

Guest Donor
on 28 Oct 2020
Sorry for the small monetary donation, however I'd like to donate my kidney to little V if she ever need it (and if we're a match of course). Message me evelynhclarke@gmail.com

Nat & Coleman
on 13 Aug 2020
Sending lots of love 💜

Hoping all goes well for little Vivian. X


Hope she get well soon! heart breaking for any parents that have to go through this
---
Who's involved?

Created by Briar Pope

Paying to a verified bank account of
Trish Schedewy
on behalf of Vivian Soon
---
Page Moderated
The page has been checked by our team to make sure it complies with our terms and conditions.
---
Want to get in touch with Briar Pope?
One question has been asked already. Check it out and
ask yours here
.
---
Any concerns?
Report this page
---
This page was created on 28 Apr 2020 and closed on 29 Oct 2020.