The 21st World Hang Gliding Championships, Brasilia Brazil 2017
Help support our New Zealand Hang Gliding team to the World Hang Gliding Championships, Brasilia 6th - 19th August 2017
Our New Zealand Hang Gliding Team
Our dream is to compete and represent New Zealand at the Hang Gliding Worlds this August in Brasilia, Brazil. We want to show the rest of the world that our New Zealand pilots are not just competitive, we are among the World's best pilots. Our country is full of champions on the water, land and in the sky.
We have something to prove, We will be competing against the best 150 pilots in the world, we would really love you to become a small but important part of our Flying Team by giving a little, and most importantly sharing this link, as this is how "give a little" works.
3 Pilots and 1 Manager will be representing New Zealand at this years Worlds, As you can imagine competing and transporting hang gliders halfway around the globe is ambitious and very expensive, up to $2000 per gilder.
One of the team is driving 3000 kilometers each way from Chile with his glider and support vehicle so we can have access to an all terrain pick up vehicle for our pilots each day.
Here is a link to an article written about us by Otago Daily Times: https://www.odt.co.nz/sport/other-sport/sky-limit-nz-side
-Meet Our Team-
-John Smith
"Resident daredevil and all round nice guy".
1st NZ Nationals for the past 3 years. John also holds the New Zealand distance solo record of 202 kilometers. John has come 2nd at the World Speed Run in Greece and 2nd in the Red Ball Speed Run in Kitzbuhel, Austria. John is more than capable of winning races.
-Hagen Bruggemann
"The Godfather of NZ hang gliding"
Hagen will be managing the New Zealand team.
Hagen has come 2nd in the last two NZ Nationals, As well as managing the team he will be supporting his son Jonas in his goal of winning the Worlds.
Hagen's experience in international competition will be very valuable.
-Jonas Lobitz
"The youngest and incredibly promising member of the team".
At 23 yrs of age, Jonas gained 25th place at the Worlds in Mexico in 2015. Jonas has a very long list of international races under his belt in his build up to become world champion. Jonas is a hugely capable pilot and will be striving to take the lead.
-Derek Mckee
"The final member and a goal to push hang gliding to its limits".
Derek brings a huge history of experience and achievement in elite sport, from being our NZ National Pole Vault Champion, Commonwealth Games representative, to taking up hang gliding 7 years ago to now wining the NZ Classics competition this year.
Two of the above pilots are qualified instructors, we give our time passionately and freely to the sport and are more than happy to help guild anyone that is willing to learn how to soar like a bird.
We would like to thank the Canterbury Hang Gliding and Paragliding Club for helping with cost towards our entry fee. Also the New Zealand Hang Gliding and Paragliding Association. You can check out their site www.nzhgpa.org.nz, or click the link on the right of this page if you would like to learn one day to soar like a bird, This site has links to local club instructors.
The New Zealand Team all know each other really well, All funds will be shared to cover cost.
Please share this post with as many friends as you can. Finally thankyou again for any support you have given. Derek, John, Hagen, Jonas.
NZ HG Team Funds - Derek Mckee's involvement (page creator)
I Derek Mckee am one of the 3 pilots competing.
Hang gliding in New Zealand is an amazing sport that I feel honourd, humbled, and excited to be involved in.
It is very costly to travel to international compititions, It is very important we gain international competition.
Use of funds
All money received will be used by the NZ Team members to help cover entrance fees, air tickets, accommodation, food, travel, insurance, and very importantly the transport of hang gliders and equipment, parts and breakages. Transporting hang gliders is very expensive.
Other page links
---
Latest update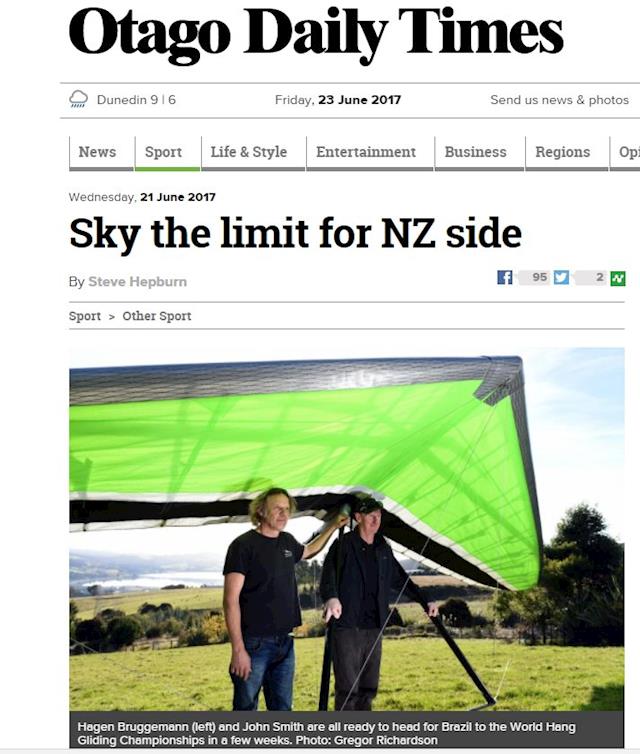 From the Otago Daily Times 23 June 2017
Sky the limit for NZ side
By Steve Hepburn
Up, up and away ... actually a long way away.
Dunedin will provide three-quarters of the New Zealand team heading to the World Hang Gliding Championships in Brazil in a few weeks.
And the team is looking forward to being one of the last of its kind to experience a true down-town landing.
The team is made up of three pilots: John Smith, of Dunedin, Jonas Lobitz, formerly of Dunedin but now based in Chile, and Derek McKee, of Christchurch.
The team will be managed by Hagen Bruggemann, also of Dunedin, who is one of the driving forces behind the sport in New Zealand.
Hang gliding looks scary and pilots are at the mercy of the wind at times but Smith, the New Zealand Open champion, said it was a very safe sport and equipment improvements over the years had made it a lot safer.
He learned the sport more than 20 years ago and had been flying ever since.
The championships will be based in the capital city, Brasilia, about 500km from the Brazilian coast.
Pilots, of whom there will be about 150, from about 50 different countries, will get the rare opportunity to land in a park in the middle of the city
''It is quite famous for it and will be something to remember, going past skyscrapers. But this will be the last time they are allowing us to do it. It will be closed for good after the champs,'' Bruggemann said.
The racing is over large area of up to 200km. Gliders take off from a certain point and have to go to identified marks and end goals. It is all tracked by GPS so competitors cannot cheat.
Smith (46), an arborist, said gliding depended on the weather and thermals but it could take from two to four hours for a race.
Speeds varied but could get up to 100kmh. Normally about half the field completed the race.
The Europeans were expected to dominate but Smith and the New Zealand team hoped to do well.
Lobitz (24) is a promising glider, who was once ranked No8 in the world.
The son of the manager, he has put his gliding career on the backburner for the past couple of years to qualify as an engineer.
The job of the manager is not simply shifting gear. He drives along the route trying to read thermal changes and reading GPS co-ordinates
Getting the glider there was probably harder than competing. Airline companies baulk at taking gliders so Smith has overcome that by buying a glider in Brazil.
How he gets it back to New Zealand is yet to be finalised.
---
Latest donations
$42

Hi Jim, The NZ Team really needed help while in Brasilia, Your contribution was really appreciated. We are all on our way home now and I am working out all the bills, We feel we will break even which is amazing that none of us have gone into debt. Thankyou again Jim for making the Worlds so much less stress free. Kind regards Jonas, Hagen, John, Derek.

Private

HI there dear friend, Your $500 donation was just incredible, The NZ crew were blown away by it, It also came at a time when we all were paying some very large bills over in Brasilia. We can not thank you enough, We will see you real soon. Thankyou from us all. John, Derek, Jonas, Hagen

$50

Hi Kris, Thankyou heaps for your donation, The NZ Team really represented New Zealand well over in Brasilia, Many pilots want to now come and fly here, Our NZ crew were very well liked and the NZHGPA should be proud of them all. Your donation came at a great time. The boys got together and have decided to reimburse our team Manager the 250 Euro he paid as an entry fee which was just fantastic for us all to do. Many thanks Derek, Hagen, John, Jonas.

$100

Hi there everyone at Pegasus Bay wines, Thankyou so much, you guys are just the best. See you for a catch up when I'm back. I'll be missing my Aria over there.

$50

HI Abe, Hey bro cheers so much, Very generous and we thank you so so much, We have really needed this support as extra cost come in. Hope your well and can't wait to share some stories round the fire. Derek, Hagen Jonas, John.
---
Who's involved?

Created by NZ HG Team Funds - Derek Mckee, paying to a verified bank account of
Derek Mckee (Group)
on behalf of World Hang Gliding Championships Brazilia 2017
---
Page Moderated
The page has been checked by our team to make sure it complies with our terms and conditions.
---
Gallery
---
Got a question for the page owner?
Ask one here
---
Any concerns?
Report this page
---
This page was created on 13 Jun 2017 and closed on 31 Aug 2017.