From the Otago Daily Times 23 June 2017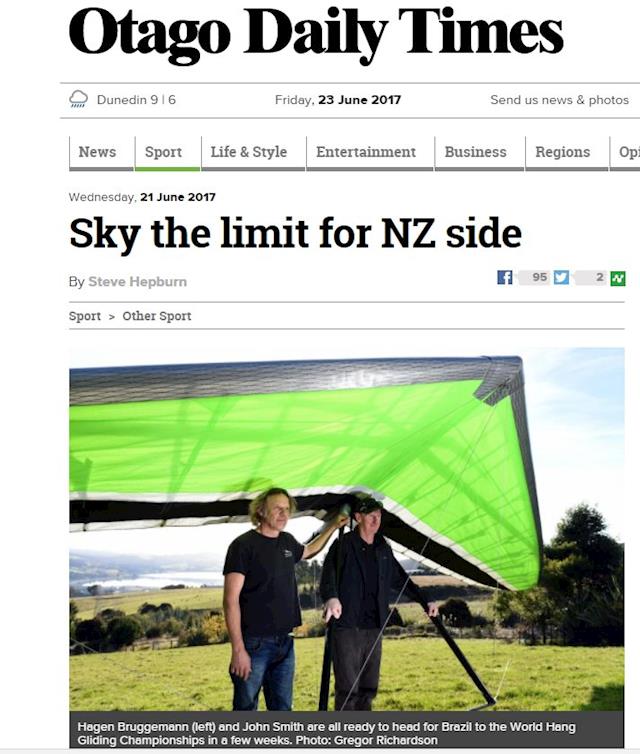 Sky the limit for NZ side
By Steve Hepburn
Up, up and away ... actually a long way away.
Dunedin will provide three-quarters of the New Zealand team heading to the World Hang Gliding Championships in Brazil in a few weeks.
And the team is looking forward to being one of the last of its kind to experience a true down-town landing.
The team is made up of three pilots: John Smith, of Dunedin, Jonas Lobitz, formerly of Dunedin but now based in Chile, and Derek McKee, of Christchurch.
The team will be managed by Hagen Bruggemann, also of Dunedin, who is one of the driving forces behind the sport in New Zealand.
Hang gliding looks scary and pilots are at the mercy of the wind at times but Smith, the New Zealand Open champion, said it was a very safe sport and equipment improvements over the years had made it a lot safer.
He learned the sport more than 20 years ago and had been flying ever since.
The championships will be based in the capital city, Brasilia, about 500km from the Brazilian coast.
Pilots, of whom there will be about 150, from about 50 different countries, will get the rare opportunity to land in a park in the middle of the city
''It is quite famous for it and will be something to remember, going past skyscrapers. But this will be the last time they are allowing us to do it. It will be closed for good after the champs,'' Bruggemann said.
The racing is over large area of up to 200km. Gliders take off from a certain point and have to go to identified marks and end goals. It is all tracked by GPS so competitors cannot cheat.
Smith (46), an arborist, said gliding depended on the weather and thermals but it could take from two to four hours for a race.
Speeds varied but could get up to 100kmh. Normally about half the field completed the race.
The Europeans were expected to dominate but Smith and the New Zealand team hoped to do well.
Lobitz (24) is a promising glider, who was once ranked No8 in the world.
The son of the manager, he has put his gliding career on the backburner for the past couple of years to qualify as an engineer.
The job of the manager is not simply shifting gear. He drives along the route trying to read thermal changes and reading GPS co-ordinates
Getting the glider there was probably harder than competing. Airline companies baulk at taking gliders so Smith has overcome that by buying a glider in Brazil.
How he gets it back to New Zealand is yet to be finalised.
0 comments | Login to leave a comment