From Sardine Cans to Hula Hoops. A Successful Resilience Project Completed.
20 January 2022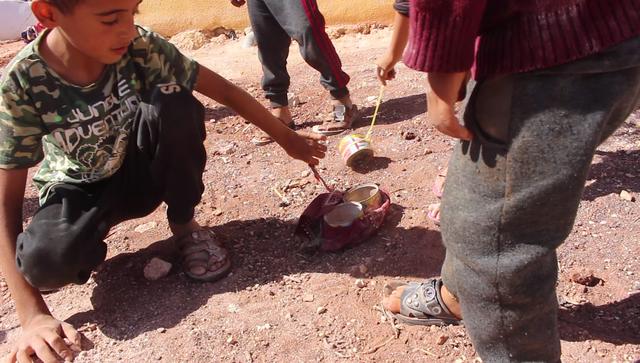 On October 18th, our Syrian based team, including Education Workers, Fatima and Rafed, arrived at the camp to distribute toys to children- as they went from tent to tent, they gave the family a bag from ReliefAid. Children had told us earlier that the toys they played with were old sardine cans that they pretended were cars and modelled homes and villages out of mud. Now they were being given balls, hula hoops, skipping ropes and whiteboards - and the reaction from the children was one of disbelief.
The distribution of toys was only the beginning of this project. A week later Fatima and Rafed arrived to spend time playing games and teaching the children how to use the toys in new and interesting ways. Time was spent building relationships with the children and their parents and each visit had a focus on a particular set of activities. By providing challenges children were given the opportunity to practice both physical skills and resilience building ideas. Many benefits of the visits were becoming quite obvious. "Every visit I see a big improvement in the behaviour of the children, they play with each other, .and they cooperate with each other. Some of them were shy during previous visits, but today we found them playing and having fun."
During each visit Rafed and Fatima would also take time talking to the parents about how they could play with their children and help build both their relationships with their children but also skills to help their wellbeing. Many parents told us that they their daily struggles had distanced them from their children. It was encouraging when Fatima told us "What I noticed is the change in the parents' view of the value of play. At first, they did not attach any importance to playing with their children. After these visits, they started playing with their children at home, and this is a wonderful thing".
Twice a week for the following 7 weeks, Fatima and Rafed would be greeted enthusiastically by girls and boys keen to play. As weeks went by more and more children joined in the games. A young girl, scarred by fire from a kerosene stove found the courage to come out of her tent and finally make some friends. A young boy, with a broken leg, would be carried by his mother to each play day so he could join in with the others. Children called out to those they had never met and invited them to play.
As the weeks went on, natural leaders were identified amongst the children. Our plan was that once the project was over the activities would be carried on by these children who would use their leadership skills. We knew that winter was setting in and soon the children would be spending far more time in their tents to avoid the snow and mud. After a final session, where biscuits and juice was given to each of the children, we also replaced the worn-out whiteboards to make sure they could play the fun games we had taught them during the long winter hours.
So now after the completion of a project with a model we consider having been successful for all sorts of reasons, we are reviewing and planning for 2022. We will be looking to raise funds to provide this opportunity for even more children living in displaced persons camps in Syria. This project has given these children an opportunity to look forward in hope, with increased resilience to make the most of the future they deserve.
Last word goes to Rafed who was told by the parents "…We will continue to play with our children, you gave us ideas we did not know, and the children learned to organize and arrange, now they learned group play and the situation became better."
A huge thank you to all the donors who make this project possible. Remember to check out the photos on the gallery and share in the happiness you have brought.
Bernadette Stockman
Education Manager
ReliefAid
bernadette.stockman@reliefaid.org.nz
Some of my favourite quotes from the children:
"I did not have a board to learn reading. We got a board and games. My father taught me the letters and I became reading."
"It was even better when you went you told us play with the little kids and teach them. We collect the kids and play with them."
"When I was facing difficulties that I could not solve, now I have learned and I can solve them. Before I could not."
0 comments |
Login
to leave a comment