On 4-6 April 2020 Vanuatu was hit by category 5, Cyclone Harold. It now battles the twin challenges of cyclone recovery and Covid-19.
International
From the last week of May to the middle of June the Butterfly Trust has made several trips to north Malekula to assess cyclone damage and also to assist with Covid-19 awareness. These trips have resulted in planning for a sanitation programme, addressing both cyclone damage and further Covid-19 awareness, which will take place later this year.
The Trust is also continuing its work in support of West Coast Santo. It has delivered 185 packs of washable sanitary pads to 6 villages on WCS. It is also planning to support disaster-related shelter preparation later this year.
Go to our latest update (see below) for more details.
Previously, the Trust has:
-coordinated the shipment of 6 tonnes of rice (approximately 12kg per household) to the villages on West Coast Santo over 23 & 24 May
- on the return voyage, transported 17 school students (and 5 adult guardians) to Luganville so they could re-start their education, and also returned with sacks of kava and peanuts for sale in Luganville to help re-start the local WCS economy
- . on 11 May transported 9 coconut thatch weavers to WCS, plus relief supplies. The weavers carried out instruction on weaving thatch to rebuild the damaged houses on WCS.
- on the weekend of 25 and 26 April coordinated a second shipment of approximately 9 tonnes of aid supplies
- on 21 April delivered 8.5 tonnes of rice and benzene to WCS.
The Butterfly Trust has also earlier delivered another 1.25 tonnes of emergency food aid to the Maskelyne Islands in South Malekula, and facilitated the delivery of 65 emergency shelter kits to Middle Bush on Santo.
Over a third of Vanuatu has been badly affected by this cyclone, and Vanuatu must meet this challenge internally while it battles to keep its borders safe from Covid-19.
The Butterfly Trust is on the ground in Vanuatu and using all its current resources to work on the cyclone recovery programme and the threat of Covid-19.
Please give generously to help with the cyclone recovery and Covid-19 awareness.
In more normal times, the Butterfly Trust works with less materially privileged communities, primarily in Vanuatu. It focuses on health and education.
The Trust works closely with the Vanuatu Ministries of Health and Education & Training, and other organisations to ensure duplication of resources and programmes is minimised. The Trust has Memoranda of Understanding with both the Ministry of Health and the Ministry of Education & Training.
All donations to the Trust are used 100% for programme work. There are no deductions for administrative costs from donations.
PLEASE GIVE GENEROUSLY so we can support as many local communities as possible.
Please visit our website at www.butterflytrust.org, or our facebook page at www.facebook.com/thebutterflytrust/ for more information, or for a thumbnail sketch of our work, read below.
More on the Butterfly Trust:
Since 2010, Butterfly Trust has established community development projects in education and health to assist remote communities in Vanuatu.
The Butterfly Trust is a New Zealand registered charity that works with village and urban communities.
The Trust's main objective is sustainable community development through individual empowerment and the strengthening of local structures and systems.
Specific projects include:
• Facilitating kindergarten teacher training and development for remote and outer island kindergartens in Vanuatu.
• "HELP GIVE A VILLAGE A FUTURE" - A secondary school academic and hardship scholarship scheme for students from the Maskelyne Islands, southeast Malekula, Vanuatu.
• Providing materials and resources for the development of schools, kindergartens and health facilities eg. solar power equipment, building materials, tools, dental equipment, educational resources.
• Vocational training skills eg. basic electrical and maintenance of solar power equipment, community building courses.
• Facilitating medical and dental volunteers to support and complement services at remote health facilities, integrating clinical, preventative and training components.
• Setting up a permanent dental clinic at Lamap Health Centre, south Malekula, Vanuatu, in partnership with the Vanuatu Ministry of Health.
• Partnering with local Vanuatu oral health awareness group - Vanuatu Oral Health Awareness (VOHA) to promote oral health and hygiene in schools and communities.
• Strengthening village community health education on the islands of Tongoa, Ambae and Malekula in Vanuatu.
• Disaster relief and recovery work, in particular 'Build Back Better' building education integrated with reconstruction and repair of cyclone ravaged buildings.
Contact Trustees David and Lynn Colbert
More about us
Butterfly Trust operates in Vanuatu in Education and Health. It partners with local communities, national and provincial authorities and other NGOs. The Trust believes in sharing resources, ideas and spirit for a more equal and harmonious world community.
Other page links
---
Latest update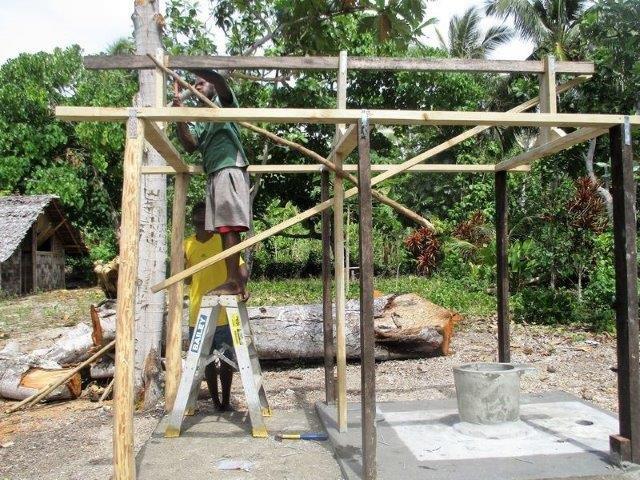 Butterfly Trust Newsletter December 2020 22 December 2020
Posted by: Butterfly Trust
2020 started with the twin challenges of Covid-19 and Tropical Cyclone Harold. TC Harold was a category 5 cyclone which struck Vanuatu with extreme force between the 4th and 6th of April. The Butterfly Trust worked hard on cyclone recovery activities within the confines of Covid-19 restrictions. Later in the year the Trust managed to return to some of its more long-term development projects.
In spite of the pandemic, the generosity and kindness you have shown towards the people of Vanuatu this year has been overwhelming. We thank you, each and everyone of you, for your contributions.
You can read about the activities of the Butterfly Trust in our final newsletter by following this link:
https://www.butterflytrust.org/wp-content/uploads/2020/12/Butterfly-Trust-Donor-Report-Dec-2020.pdf
---
Latest donations

Guest Donor
on 21 Mar 2021
Gift World day of prayer Church Brasschaat- Belgium
Butterfly Trust
Your gift to the people of Vanuatu is much appreciated and will go a long way. Thank you so much for your kindness and thoughtfulness. Many blessings and a heartfelt 'tankyu tumas' to Church Brasschaat.


Sent on behalf of my mum for Mother's day in the UK.
Butterfly Trust
Thank you so much Ben and your mum!


John and Kathy
on 30 Dec 2020
Thanks for your continuing great work!!
Butterfly Trust
Thank you so much John and Kathy for your continuing support and encouragement! Tankyu Tumas, Arohanui.


Happy Christmas Butterfly Trust and West Santo Liz and Ross
Butterfly Trust
Liz and Ross - You are wonderful people. Heartfelt thank you for your ongoing support and encouragement. Blessed Christmas to you both.


Butterfly Trust
Thanks so much Tracey. We can't thank you enough for your ongoing support. We are currently working on a cyclone recovery/covid-19 sanitation project in north Malekula. We will get a report out in a few weeks. Take care.

---
Who's involved?

Created by, and paying to a verified bank account of, Butterfly Trust (Charity)
---
Registered Charity
A Registered Charity has legal recognition under the Charities Act 2005.
Page Moderated
The page has been checked by our team to make sure it complies with our terms and conditions.
---
Fundraisers supporting us
Fundraise
---
Gallery
---
Want to get in touch with Butterfly Trust?
Ask a question here
---
Any concerns?
Report this page