Rally for Democracy
1 September 2016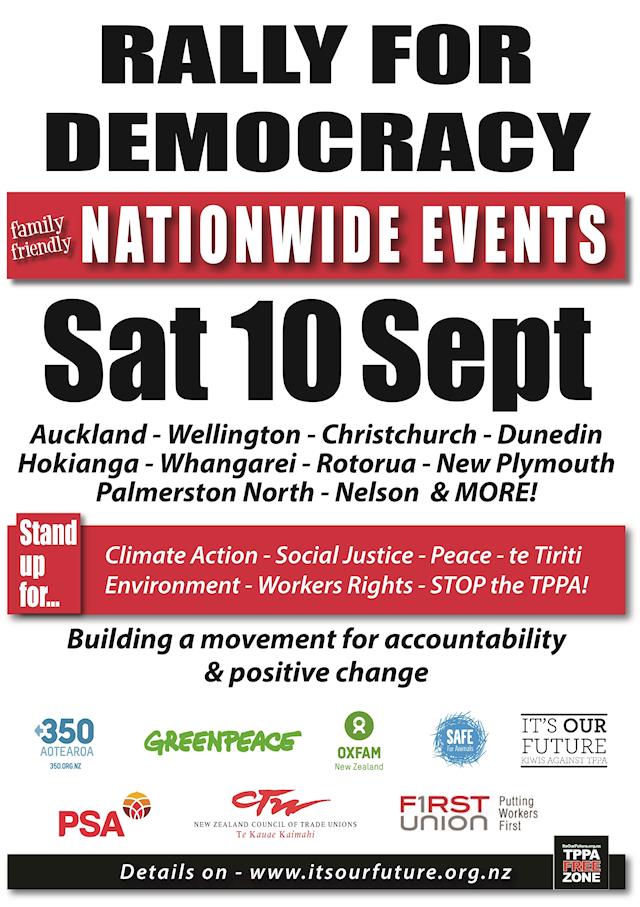 Thank you so much to the generous supporters who have helped It's Our Future get our message out. We are a vibrant network, with no paid staff but we have expenses for the revamp of our website (I hope you like it!), for design, for our E-mail service, and for events. Your help is crucial for our survival.
We are now gearing up for 10 events across Aotearoa new week. Our Rallies for Democracy aim to build a movement that will end the TPPA and its clones. We have the support of major trade unions, NGOs, community activists and some great musicians and speakers who will be at our events. https://www.facebook.com/ItsOurFutureNZ/
The strategy is that we can't rely on US politicians to kill the TPPA - it will be revived under the next President. Instead we need to convince a new NZ government at next year's election to change our trade policy, reject the TPPA and similar treaties and renegotiate existing treaties that allow foreign corporations to sue our government.
We CAN do this! We have a majority of the public on our side. We have more events planned to mobilise them over the next year. Any assistance you can provide will be hugely helpful. Thank you!
Nga mihi
Barry Coates,
It's Our Future coordinator
0 comments |
Login
to leave a comment