Finn's 2015 Tennis Futures Tour
Tennis is my passion. Your help will enable me to compete at top events on the European Futures ProTour in 2015. Come join me on the Tour!
STRETCH TARGET!
Now that my European Tour in 2015 is certain, I'm setting a Stretch Target to reach a further $6,000 before the project closes on 15 December 2014.
The extra funds will allow me to play at least 6 more events on the ProTour, thereby building on the opportunity that I have and allowing me to play stronger competition as I go. These events are a week long each.
The money will be used for travel between tournaments, accommodation and entry fees.
ABOUT THE PROJECT
My project is to compete at top events on the 2015 European Futures Pro Tennis Tour. This is an important part of my professional tennis journey.
ABOUT ME
I have been playing tennis for over 15 years.
I love the competitive aspect of the game, the feeling of winning all on my own and the dedication and sacrifice that it takes to play at a high level internationally.
I'm driven by the desire to get better every day and to be the best player that I can be. I have always fitted tennis around studying. This has meant plenty of early morning and late night sessions on the court or in the gym.
When I am back home in Wellington, it's really important to me to spend time talking and playing tennis with the junior players. That way I can share some of what I've learned along the way.
SETBACKS
Earlier this year I discovered that I needed to take time out for shoulder surgery. I've learned a lot from that experience and it's been a long haul going through the recovery and rehabilitation period.
Thankfully the surgery has gone well, I'm making very good progress and really looking forward to making a comeback in 2015.
MY ACHIEVEMENTS
•Winning two golds for NZ at the 2008 Commonwealth Youth Games,India
•Member of Pepperdine University Tennis Team 2009-2013 when the team reached both the final eight and final four positions nationally in the NCAA Division 1 Team Tournament
•Reaching a personal best of #14 Singles and #2 Doubles in the NCAA Div 1 Collegiate Rankings
•Being part of the winning NZ team in the Asia/Pacific Tennis League, Melbourne Park, 2014
•Reaching the finals of five of seven Doubles Futures events and winning two Doubles titles
THE BIG DREAM
My big dream is to succeed as a professional tennis player. In order for me to fulfil my potential, it is essential that I continue to be exposed to high level intense international competition.
The 2015 European Futures Pro Tour offers high calibre competition and will allow me to progress to the next level of professional tennis. Playing the European Futures ensures that I compete with the best in the world.
COST BREAKDOWN
The $6000 will pay for travel from NZ to London and then onto events in the UK, Turkey or Greece. When the tournament schedule comes out I can give you an update on the country locations. It will also help towards my accommodation, entry fees and insurance.
A basic breakdown of expenses is:
Flights $3500
Insurance $250
Accommodation $1800
Entry fees, in-country travel $450
SUPPORTER JOURNEY
You can be a part of my 2015 ProTour Team. I will be really appreciative of any support that you can give me- it will really help me on my way.
If you pledge, you will receive regular updates from me, with photos and video clips via this site and social media..
With the help of Tennis Central www.tenniscentral.co.nz and my coach, Clint Packer, I've arranged some fantastic rewards which you can be a part of.
Pledge $100:
•Entry to the prize draw to win a Tennis Player Pack with a value of about $2000. This includes a tennis racquet, gear, cans of tennis balls and all sorts of cool stuff. The draw will take place at the Renouf Tennis Centre once this project closes. Exact date to be confirmed.
Pledge $1000:
•Entry to the Prize Draw
•Small signage for your business displayed at the Renouf Tennis Centre courts for 1 year (cost of producing the sign not included)
•1 hour private indoor tennis session at Renouf Tennis Centre with Finn (time to be agreed)
•5 Renouf Tennis Centre indoor court vouchers (off peak)
Pledge $3000 (Limited to 2):
•Entry to the Prize Draw
•Large signage for your business displayed at the Renouf Tennis Centre indoor courts for 1 year (cost of producing the sign not included)
•1 hour private indoor tennis session with Finn (time to be agreed)
•5 RTC indoor court vouchers (off peak)
Pledge $5000 (Limited to 2):
•Entry to Prize Draw
•Large signage for your business displayed at the RTC indoor courts for 1 year
•Business Signage on shirts and travel bag (to be agreed)
•2 hour private indoor session with Finn
•1 hour private indoor session with coach Clint Packer
•5 indoor court vouchers off peak
•5 outdoor court vouchers
If you are not able to travel to Wellington, I may be able to come to a NZ tennis court near you, as it fits with my tennis schedule.
Finn Tearney's involvement
I want to represent New Zealand on the international tennis circuit. I am fundraising to compete in the 2015 European Futures Pro Tour.
Other page links
---
Latest update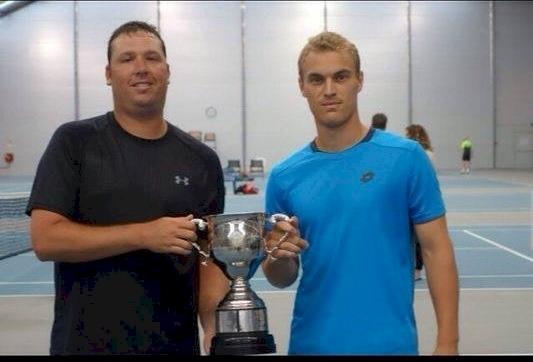 Thanks for your support and looking forward to 2015 22 December 2014
It's been a roller coaster ride for me over the last couple of weeks with both a big loss and a big win.
The first came when I went down to Mike Venus in the semifinals of the singles at the NZ Champs. Mike went on to win the singles title, beating fellow Davis Cup player, Rubin Statham and with this win, he gets a highly prized wild card into the main draw of the Heineken Open, early in the new year. In the doubles, I teamed up with Wesley Whitehouse and defeated tournament top seeds Marcus Daniell and Artem Sitak. This means we've also booked a ticket into the main draw doubles at the Heineken Open. For me, this is a great way to top off a challenging year and having this opportunity is fantastic at the start of 2015.
You can catch me playing at the following places if you are in the neighbourhood.
Upcoming Events:
• Jan 7 & 8 2015 La Dolce Vita Tennis Invitational, Fiordland Community Events Centre Te Anau
http://www.eventfinder.co.nz/2015/la-dolce-vita-te-anau-tennis-invitational/te-anau
• Jan 12 – Jan 17 2015 Heineken Open
The Heineken has a world class line up of seven Top 20 players entering. I'm hoping to play the qualifying rounds, at Albany on Jan 10th.
The main draw will be at the ASB Centre, Auckland.
Check out the link for more information http://www.festivaloftennis.co.nz/heinekenopen/
• ATL in Melbourne, this is on the back courts during the 2nd week of the Melbourne Open, with a team of 4 players from NZ. For more info check out Tennis NZ site in January.
Please come and say hello to me if you do attend a tournament.
I really appreciate your support and am looking forward to doing my European Tour.
If you have provided me with your email, I'll keep you up to date with progress. Let me know if you need to be added to my contact list.
All the best for a Safe and Happy Christmas season
Cheers Finn
---
Latest donations
---
Who's involved?
---
Page Moderated
The page has been checked by our team to make sure it complies with our terms and conditions.
---
Gallery
---
Got a question for the page owner?
Ask one here
---
Any concerns?
Report this page
---
This page was created on 11 Nov 2014 and closed on 15 Dec 2014.
---
You might notice some changes - we've updated our page layout to give a better experience. We think we've hit the mark, but if something's not right, please let us know by emailing feedback@givealittle.co.nz.