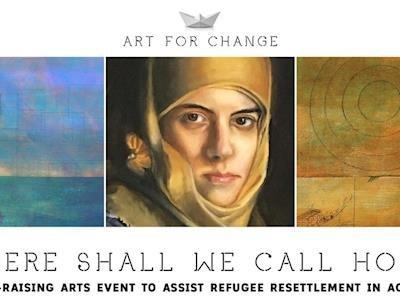 Where Shall We Call Home? A fund-raising arts event to assist refugee resettlement in Aotearoa
"Where Shall We Call Home?", an arts event to raise money for refugee resettlement?
Thanks so much to all the generous donors who have helped us cover the shortfall in our funding for Where Shall We Call Home?
Any donations made to this page will now be added to the monies raised through the exhibition and other associated events. So if you can't make it to the exhibition, or don't want to buy artworks, but would really like to support refugees in making new lives in Aotearoa, here's your chance to help in a practical way.
Where Shall We Call Home?
An arts event to raise awareness and funds for Refugee Resettlement in Aotearoa
Venue: Depot Artspace, 28 Clarence Street, Devonport
Opens: 2pm, Saturday 17th June 2017
Runs until: Wednesday 5th July 2017
Hours: Mon: 12 – 5pm, Tue to Sat: 10am – 5pm, Sun: 11am – 3pm
Website: www.depotartspace.co.nz
Special Event: World Refugee Day Speakers Evening
When: Tuesday, 20th June 2017, 7-9pm
Where: Depot Artspace, Devonport
Art For Change Contact Details
Email: artforchange2017@gmail.com
Facebook: www.facebook.com/artforchangenz/
If you are concerned about the international refugee crisis, here's your chance to take positive action and see some compelling art at the same time.
"Where Shall We Call Home?" is a powerful exhibition that features over 50 artists, coming together at Depot Artspace to show their support for refugee resettlement in Aotearoa.
Hope, despair, longing, family and safety are among the themes featured in the beautiful and compelling paintings, photography and sculptural pieces created especially for this exhibition. One wall will feature a montage of diverse 10" x 10" works, all priced at $150.
Contributing artists include painters Jennie de Groot, Nicola Gibbons, Nancy Synnestvedt and Tina Frantzen, photographers Elizabeth March and Maureen Tan and bone carver, Aaron Frater.
Internationally acclaimed Devonport glass artist, Holly Sanford, is excited about being involved in the project. She says, "I am pleased to be part of this exhibition and to have the opportunity to indirectly help support the people who come here from the hardship and suffering in their own countries".
Works by artists from a refugee background, including calligrapher, Sayed AliKaram Jawhary are also included in the exhibition.
The artists hope to raise essential funds for agencies that help refugees create a new life in NZ: The Red Cross Pathways to Settlement Programme and The Auckland Refugee Family Trust (ARFT). Amnesty International NZ will also be on hand to let people know how to Build Hope through small actions.
Special Event: World Refugee Day Speakers Evening
This special evening event celebrates World Refugee Day with speakers, stories and performances by individuals from refugee backgrounds.
Participating NGOs or charities
The Red Cross Pathways to Settlement programme offers 12 months' support to former refugees in Aotearoa.
Refugees are often resettled where the society, language and culture are completely different from their own. It is both challenging and rewarding. The money generated through the "Where Shall We Call Home?" exhibition will support funding basic, practical items families need when settling into their new homes in New Zealand.
www.redcross.org.nz/what-we-do/in-new-zealand/refugee-programmes/
The Auckland Refugee Family Trust (ARFT) say that "being reunited with family members is the most pressing concern for refugees in New Zealand". Their work is so important for refugees who have a very small window in which to help their families come to Aotearoa – and it can be very difficult without financial and practical help. Funds raised for ARFT will be used exclusively to assist with airfares and related family reunification expenses.
www.facebook.com/Auckland-Refugee-Family-Trust-166470193420349/
Amnesty International NZ campaigns include ensuring that refugee and asylum seeker rights are respected. It will be offering people the opportunity to Build Hope by taking action to close Australia's offshore detention centres on Nauru, Manus and Christmas Islands.
The Art for Change movement started when visual artists Fiona Barrett, Belinda King, Brenda Liddiard, Mary Ann Manchego and Gaël Rowntree discovered they shared deep concerns over the current international refugee crisis and realised that together they could do something to help.
"There was a feeling that, although geography has protected us from having to face the refugee crisis head-on, we could not turn away from those in need", says Belinda King.
With the backing of Amnesty International, the group approached Depot Artspace in Devonport, who valued the opportunity to offer their gallery. Over 50 artists responded to their request for entries.
"It's amazing to discover how many other artists were looking for a way to do something to help refugees and explore it in their work", Brenda says. "None of the original Art for Change members had been involved in organising anything quite like this before, so it's been a steep learning curve, but very exciting to meet so many people who are passionate about wanting to help refugees in some practical way, and we've been grateful for all the encouragement we've received for the project".
ART FOR CHANGE's involvement (page creator)
I am Brenda Liddiard. I first became really interested in the current refugee crisis in 2015, when I heard about the Australian government paying people smugglers to take boat refugees back to where they had set out from. Having lived in Australia for a number of years when I first came to Australasia from the UK, I was particularly disgusted with this practice, and so created my first painting on the issue. As the boat refugees situation also began to unfold in Europe, I continued painting, and then wondered how I could best use these works. So, together with 4 other artists, I formed the group Art for Change as a vehicle to mount this exhibition.
Use of funds
This page is for costs of running the event. Any remaining donations will be donated to The Red Cross NZ Refugee Resettlement Programme in Auckland and The Auckland Refugee Family Trust
Other page links
---
Latest update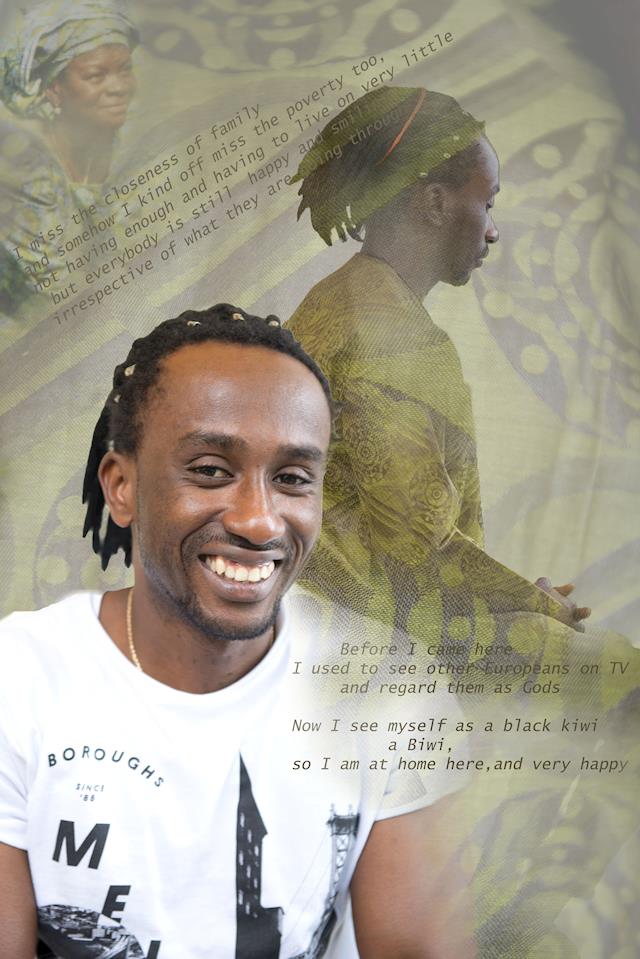 One Week to Go! 11 June 2017
Posted by: ART FOR CHANGE
Hi to all our donors. Well, we're nearly there - only one week to go until the opening of Where Shall We Call Home? (Saturday 17th June, 2pm). It's been quite a journey, and most exciting to unwrap the packages containing artworks that have been created especially for this exhibition. If you are able to come to the opening, please come and say "Hi" to Art for Change members who will be wearing name badges. It should be quite an event! Once again, we can't thank you enough for your generous support. Brenda & the Art for Change team
The video shows Brenda Liddiard singing her song, The Ocean, and some of her artwork included in the exhibition. Video & editing by Louise Liddiard-Imeson.
The image is Asuquo by photographer Elizabeth March
---
Latest donations

Nancy Synnestvedt
on 10 Jul 2017

Peter Matthewson
on 16 Jun 2017


Alan and Jeanette Vink
on 12 May 2017

Guest Donor
on 27 Apr 2017
Thanks ;-)
---
Who's involved?
---
Page Moderated
The page has been checked by our team to make sure it complies with our terms and conditions.
---
Want to get in touch with ART FOR CHANGE?
Ask a question here
---
Any concerns?
Report this page
---
This page was created on 24 Mar 2017 and closed on 15 Jul 2017.