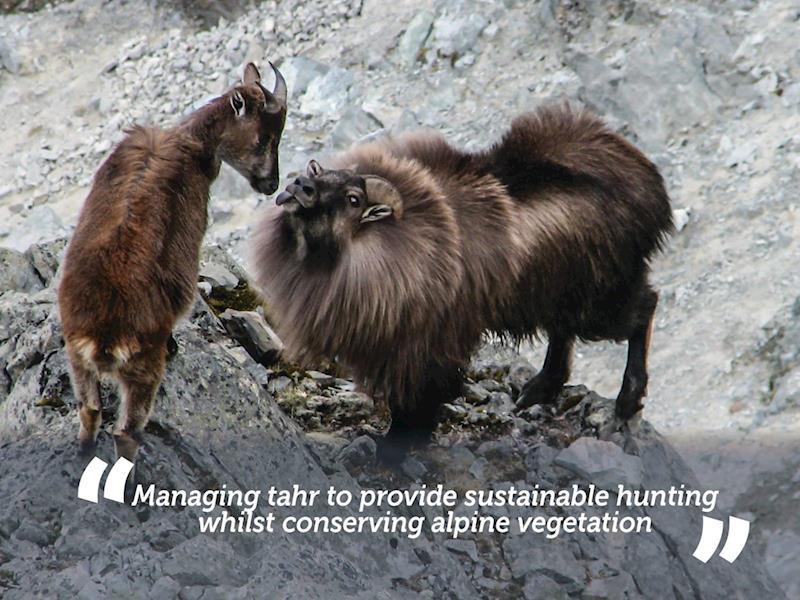 New Zealand Tahr Foundation
All we want is a mature well considered and consulted discussion, resulting in a sensible sustainable plan.
Canterbury
Most of you will be aware by now that the Minister of Conservation has Himalayan tahr well and truly in her sights. Make no mistake, if she has her way, it will be the end of tahr hunting as we know it!
She has instructed her department to cull 17,500 tahr on top of the almost 3000 already culled in the last couple of months, and also she intends to reduce the tahr density in Mt Cook and Westland National Parks to zero. She wants her department to cull around 25,000 to 30,000 tahr by the middle of next year, out of what they are saying is an estimated population of around 35,000 with an error margin between 17,000 and 50,000.
What do we have left if there is only 25,000 to begin with?
They intend to shoot thousands of bulls worth an estimated $14,000 each to the New Zealand economy. This will cost our country tens of millions of dollars and is without doubt the destruction of tahr hunting in New Zealand as we know it.
For what?
Tahr have never forced a New Zealand plant species into extinction. Yes, the population needs to be properly managed so as to allow plants to regenerate, but certainly not in the "shoot from the hip" approach the Minister is implementing. There is no urgency to this. There will not be a sudden explosion, they only have one young a year, bulls don't breed and recruitment rate is not 100%. Not to mention that hunting pressure is ongoing and increasing!!
The only way we are going to stop this Minister from carrying this out and destroying more than 100 years of New Zealand heritage and culture, is by all hunters and outdoor enthusiasts uniting together and making our voices heard by politicians, local and national level. But this will not stop the slaughter before the damage is done, she starts in less than two weeks.
The New Zealand Tahr Foundation is seeking a court injunction to have the culling stopped while the GAC puts together an alternative proposal to achieve sensible herd reduction spread over 3 years to preserve the alpine vegetation without totally destroying the tahr hunting resource.
As the minister noted July 16th on TV1's Sunday program: "we are a democracy, so we need to consult, we need to ensure we have all the facts so that we have a clear workable plan." Her plan for tahr is not workable, they do not have all the facts, they have not consulted and it's clear the minister has a different rule for hunters.
Kaylyn Pinney's involvement (page creator)
New Zealand Tahr Foundation is raising funds to protect the sustainability of our New Zealand Himalayan tahr resource
Use of funds
Funds raised will finance an interim injunction to halt the culling of tahr and if required file a high court judicial review. Any surplus funds will go towards NZ tahr obtaining "herd of special interest" status, to avoid this ever happening again.
---
Latest update
Sensible Management Plan Looks More Likely 2 October 2018
Posted by: Kaylyn Pinney
Following the large amount support on this givealittle page, as well as the huge political pressure put on the government by the supporters of the NZTF, the Minister has agreed to revision of the original proposal and called a Tahr Liaison Group meeting yesterday.
As a result of yesterdays meeting, consultation is now progressing and it appears likely that sensible management will prevail. This means legal proceedings can hopefully be avoided.
If this is the case the funds raised on this page can be put towards setting up the tahr herd as a "Herd of Special Interest" to ensure ongoing sensible management into the future. Obtaining this status means that tahr would no longer be considered a wild animal, Instead they will become a Game animal under the GAC Act which encourages sustainable management. This will require huge efforts, substantiated scientific research and financial resources far in excess of what we have raised thus far.
Please note the NZTF is committed to the New Zealand hunting community and sustainable management. As such the use of funds for the purposes stated on this page will be fully transparent.
For regular updates check out New Zealand Tahr Foundation facebook page.
---
Latest donations

paul kuchenbecker
on 20 Oct 2018
the minister is very one eyed and any wild animal that has 4 legs must be exterminated

Hunters Element
on 19 Oct 2018

Peter & Karina Livesey
on 18 Oct 2018
Thanks to everyone at the Tahr Foundation for working hard to protect this valuable resource.

Guest Donor
on 16 Oct 2018

Bryan Hermiston
on 16 Oct 2018
As someone just getting into hunting and after witnessing the Grizzly bear ban here in B.C, Canada I'm glad to put my money where my mouth is to help you guys out. I know it's not much but I hope it helps. All the best.
---
Who's involved?


Paying to a verified bank account of The New Zealand Tahr Foundation (Group)
---
Page Moderated
The page has been checked by our team to make sure it complies with our terms and conditions.
---
Want to get in touch with Kaylyn Pinney?
3 questions have been asked already. Check them out and
ask yours here
.
---
Any concerns?
Report this page
---
This page was created on 20 Sep 2018 and closed on 20 Oct 2018.