Please help give Diane the gift of time.
Please, help us pay for related medical costs and quality time for Diane, who is bravely fighting for more time with her husband and son.
Manawatu / Whanganui
Diane Codd is a very much loved Wife, Mother, Daughter, Sister and the Best Friend ever! It was devastating to us all when she was diagnosed with stage 4 lung cancer in December 2018. Especially as she is a healthy, active, non-smoking young 45-year-old with no history of any cancer in her family.
Diane is married to Adam and they have a 14-year-old aspiring basketball star - Ethan (who needs his Mom). They immigrated to New Zealand 10 years ago and settled in the Palmerston North area. The Codd family resides in Ashhurst and is very active in the local community. Diane is a much loved lecturer in the Beauty Therapy School at UCOL.
Due to Diane's healthy, active lifestyle and being a non-smoker, it took a very long time for a shoulder pain complaint to be linked to possible lung cancer. This lengthy delay meant that at the time of diagnosis she was already at stage 4 NSCLC lung cancer. We are very proud of how Diane is fighting this disease with incredible strength, optimism and dignity. It has been heartbreakingly sad to witness how the cancer has spread to her hip and recently brain metastases. She is fighting for her life and as much quality time as she can get with her beloved family.
The Codd family are very grateful for the treatment and excellent care that she has received since diagnosis. Up until now Diane has been able to access funded targeted therapy treatments but unfortunately these have run their course. There are a number of treatment options available, none of which are currently funded by Pharmac. The first treatment that she will be looking to access is a targeted therapy called Osimertinib (Tagrisso) which costs $11,000 per month. This treatment is successfully used all over the world in treating this type of lung cancer and providing progression-free quality of life.
We started this page as we needed your help to fund this next stage of desperately needed but unfunded treatment. However late on Friday 13 September 2019, we received the most fantastic news - unbeknownst to Diane and Adam, their Oncologist worked behind the scenes to secure compassionate access to the medication from the pharmaceutical company who supplies this new drug! It was a long shot and we are all amazed and extremely thankful that his application was successful.
As of 16 September 2019, $22,451 has been raised due to your kind generosity. These funds will go towards the first two months of treatment that was unfunded at $11,000 per month as well as a blood test that cost $5,000. Your generosity are appreciated more than words could ever say.
Further funds will go towards paying for other related medical costs and tests as well as creating special quality family time.
Kia Kaha
Brenda Wormgoor's involvement (page creator)
Diane, Adam and Ethan are our very dear friends, who are facing a devastating illness. They do so much for others and now need help that we all wish we would never need.
Use of funds
Update on 16 Sept 2019: Funds will be used for other related medical costs and tests as well as creating special quality family time.
**
Funds donated prior to 16 Sept 2019 ($22,451) will cover the first two months of unfunded treatment (Osimertinib/Tagrisso) of $22,000 and a blood test that cost $5,000.
---
Latest update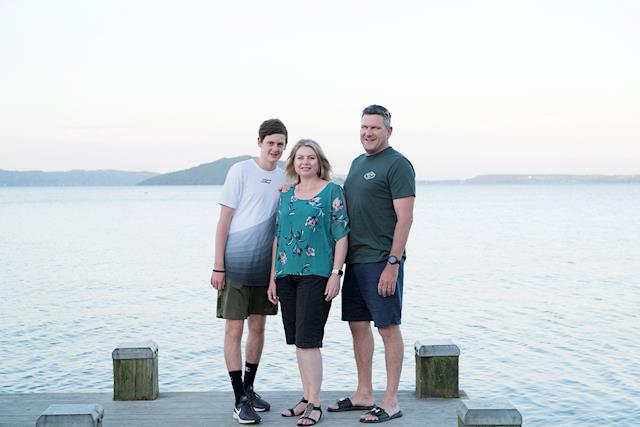 Update: 13 September 2019 – Unexpected and incredible NEWS!!!!! 14 September 2019
Posted by: Brenda Wormgoor
So, late this week, in a completely unexpected and unbelievable chain of events, it was confirmed that to our utter surprise, the pharmaceutical company who supplies the new drug that I have begun taking, has provided me with a compassionate access scheme.
A compassionate access scheme means that the drug company has agreed to provide me with this drug FREE OF CHARGE!!!!! As you can imagine, we were and still are completely stunned and obviously delighted as we had no idea that this was even a possibility.
I had asked about this before even making the decision to start taking this life saving medication and mentioned it to my oncologist (the oncologist has to request this from the pharmaceutical company) but it didn't look hopeful as many others had tried before and failed.
Unbeknown to us, the oncologist had submitted a request for this and much to his and indeed our surprise, they have agreed to supply me with this drug due to meeting certain conditions that were required, in terms of my medical situation and diagnosis.
I am still a little vague on all of the specific details of this agreement but my basic understanding is that they will continue to supply this to me for as long as it continues to work. Each month, we need to reapply to get a new script.
I can't even begin to tell you what how shocked and surprised we were and just so incredibly relieved to hear this news!! It was truly the best news we have had in a very, very long time and just provides such a sense of relief to know that right now, finances will not be such a huge concern for us. I can keep focusing on my health and family and not worry about how we will afford to get the $11,000 for the next month's supply to keep me alive! Just so, so grateful.
Obviously, this now means that we will not need to keep asking for financial support as whilst we have had to cover the cost of the drug up until this point, hopefully it will be smooth sailing to get hold of it via the pharmaceutical company each month.
We are so, so incredibly grateful to each and every person who has helped us to raise money on the GiveaLittle page, we couldn't have managed without your support and feel blessed each and every day by the overwhelming generosity and support that has been shown to us. Such incredible people, all of you, who have contributed not only money but also the most beautiful comments and words. I couldn't have asked for a better response or outpouring of love and support. In fact, whilst I would really rather not be fighting this awful disease, the one truly remarkable and memorable thing that has come out of all of this, is the kindness and goodness of people. Each and every moment of each and every day, I feel overwhelmed by this and truly lost for words.
The much-appreciated donations have helped to cover the unfunded medication and medical tests to date. We cannot begin to explain how much it has helped my husband and I in this difficult time.
Of course, going forward this will not be the end of the road in terms of medical costs for us as there are so few drugs which are funded by Pharmac for lung cancer and sadly the new government cancer initiatives do not address this in the current plan. I am hopeful that this will change over the years but to keep fighting, we are going to need to keep searching for the best options medically and try to utilise these to fight my cancer for as long as possible. Along with this, due to your generosity and the news of the compassionate access to the medicine, I feel that at least this will give me the opportunity to slow down at work as and when required, without feeling the burden of this. I can then spend valuable quality time with my family and friends.
I have no idea what the future holds but I am optimistic and you have all helped me and my family tremendously. I am going to keep fighting, keep researching and keep positive along with taking each day as it comes.
Kia Kaha
---
Latest donations

My thoughts are with you guys. Much love xxx
Brenda Wormgoor
Thank you for your love and support Janine. It means more than words can say to Diane and her family.


Brenda Wormgoor
Thank you so much for your kind donation. Your generosity and support means more than words can say to Diane, Adam and Ethan.


Brenda Wormgoor
Thank you for your kind donation. Your support that means more than words can say to Diane and her family.


Guest Donor
on 13 Oct 2019
Brenda Wormgoor
Thank you for your kind donation and support that means more than words can say to Diane and her family.


Cancer is such a scary word to hear! I hope this small donation can help you continue to enjoy your precious time with your family 💕😇
Brenda Wormgoor
Thank you for your kind words and encouragement. Your wonderful donation and support is very much appreciated by Diane, Adam and Ethan.

---
Who's involved?

Created by Brenda Wormgoor

---
Page Moderated
The page has been checked by our team to make sure it complies with our terms and conditions.
---
Want to get in touch with Brenda Wormgoor?
Ask a question here
---
Any concerns?
Report this page
---
This page was created on 10 Aug 2019 and closed on 9 Aug 2020.