Helping Girls Feel Pretty Smart About The Body They're In!
Pretty Smart is a talk for teen girls to help them see through images coming after them – online, through their 'feed' and around them.
Auckland
Smartphones are infiltrating young minds with thousands of manipulated, Facetuned, tweaked, tanned, and toned images that are not helping body image and self-esteem. Perfected images that don't celebrate our differences but reflect too much of the same. It's vital we raise confident girls in Aotearoa and give them tools to survive in the social media jungle they are growing up in. Pretty Smart is raising funds to reach 8000 girls this year around New Zealand.
Why?
Because girls are taking their Snap Chat filtered images to plastic surgeons asking to look the same, filtered way, and there is a greater divide between their online self and who they are in the real world. Because there is high levels of depression, anxiety, cutting, substance abuse and disordered eating. Because more than half our young people are worried about body image (still in 2019) and plenty of girls are more concerned about appearance than how they're doing in math.
That's a lot of worry!
But studies show that if teens are taught how to see through imagery they are less affected by it.
The Pretty Smart talk focuses on one aspect of confidence – helping girls feel comfortable in the skin and bodies they're in – and break down the myths in the media and beauty industries. Plus it gives them some tools to be kind to themselves, and others, and judge less on appearance.
We've been talking about body image and Photoshop since the 90s, and you would hope this talk wasn't needed now. Yet women spend more on beauty than education. Thanks to the globalisation of messaging, young girls in India and Africa are lathering their faces and bodies in acidic skin-whitening creams in the hopes of looking lighter. While in the western world we do the same with fake tanning creams. We're spending energy trying to fix how we look as if it's something wrong. Too young. Too old. Too black. Too white. Too fat. Too thin.
So much energy is going into something we can't ultimately change. We can change our words, our actions, and our thoughts but we can't fundamentally change our appearance. Not really.
Pretty Smart helps girls link arms and question the industries coming after them, rather than question themselves. It's important to teach our young wahine to be able to see through it and stand tall in the bodies they're in.
Pretty Smart wants to raise warriors, not worriers!
Use of funds
Funds will be spent on transportation to towns outside of Auckland - a mix of petrol or flights and accommodation when not staying with friends/family.
Other page links
---
Latest update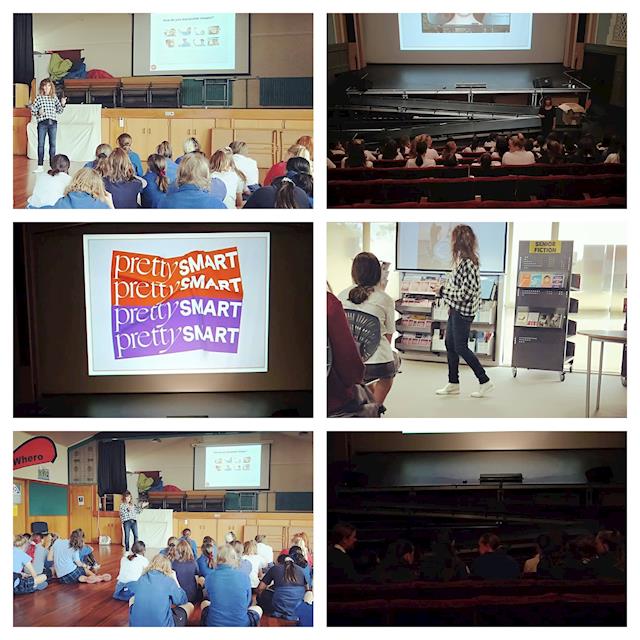 Pretty Smart was on the West Coast thanks to you ! 6 December 2019
Posted by: GAIA ENTERPRISES LIMITED
Kia ora everyone
Your generous donation contributed towards a trip to the West Coast last week, where many schools had a Pretty Smart talk. The wonderful people at WestREAP (Rural Educational Activities Programme) pulled all the schools together and we did seven talks in two days across intermediate and high schools, from Greymouth to Hokitika to Hari Hari, where surrounding rural schools shipped their girls in.
We also managed to squeeze in a parent talk in the evening in Hokitika and experienced some fine local hospitatlity including a very tasty lunch made by the Soroptomist Society.
Kindness was everywhere and we even saw a weka cross the road.
The girls asked some super smart questions like 'why do kids still tease other kids for looking like a 'tomboy?' Good question!
I am grateful to all of you for helping out and making this trip happen. It was fantastic to get to a part of New Zealand that often misses out on initiatives because of its geographic location.
I've included some photos below.
Angela
Pretty Smart
---
Latest donations

The crew at Ultrella
on 05 Jul 2020
Hi Angela, together with our customers, we're so proud to be supporting the amazing work you do in our community. The Ultrella crew xx

Guest Donor
on 16 Oct 2019
Loved the talk you gave at my daughter's school and love your posts. Keep it up and thank you.

Guest Donor
on 16 Oct 2019
Thanks for speaking at my daughters school. Keep going with what you are doing.


Diana Pjanger
on 05 Sep 2019
From Diana Pjanger
---
Who's involved?

---
Page Moderated
The page has been checked by our team to make sure it complies with our terms and conditions.
---
Gallery
---
Want to get in touch with GAIA ENTERPRISES LIMITED?
Ask a question here
---
Any concerns?
Report this page
---
This page was created on 24 May 2019 and closed on 20 Nov 2020.