PURANGI WINERY - WINECELLAR - WITH A VIEW - THE NEXT THIRTY FIVE YEARS -
Be part of creating a new Purangi Winery overlooking Mercury Bay for good times and music and events
SAVE THE PURANGI WINERY AND WINECELLAR iconic winery pizzeria and bar in Mercury Bay and music venue and bar in St Kevins K'Road
Ever old school our vineyards and orchards were scratched out of the scrub with the help of old Fergie tractors by the loose group of back to the land communards who drifted over to the Coromandel in the 1970s - about a dozen of us back then around the Purangi River with six of us eventually taking on the wine cider beer and happy juice making with whatever we could lay our hands on! Eventually by the 90's there were just our family left but something had started that people just kept coming back to. World wide a community fostered by a genuine shared experience of Danny's talk and times and food and Rohan's music and food and drink and a sense of place now exists and is added to year on year by the new generation with generations of friends having Purangi Winery and Rohan's Winecellar as a shared boon in their lives.
So - nearly a year after starting to relocate from the old building - we are still being held up and not open. We are unable to carry on from our original location, so the great idea was to put some old containers obtained at a discount from a fellow winemaker with shiny stainless steel insides on concrete foundations and make a new winery with a view on top of the once gorse covered hill which we transformed into a terraced vineyard mainly for the production of the ever popular Port.
So that is our cause - to keep the sense of hospitality and enjoyment that the Purangi Winery and the Winecellar in St Kevins K'Road that is our existence alive. You would have thought that it would be a simple matter to move from one side of the road to the other and quick too - with instant - up to all the food wine etc.. standards included in super green repurposed containers - but no.
The seemingly endless delays and semantic wrangles of getting through the consents process has been grinding on and the money keeps going out and the mortgage gets maxed and the dream fades - unless.........and that's where you come in!
Because we have been stopped from selling to the public we are getting our products stocked elsewhere - watch this space.
All donations will go to pay the fees and charges and costs to get open again at Purangi and hang on to the Winecellar so you can have a corner to call your own.
Use of funds
All money will be used for paying fees and costs of relocating Purangi Winery with any surplus going towards the rent of the Winecellar St Kevins and Arcade Recordings
Other page links
---
Latest update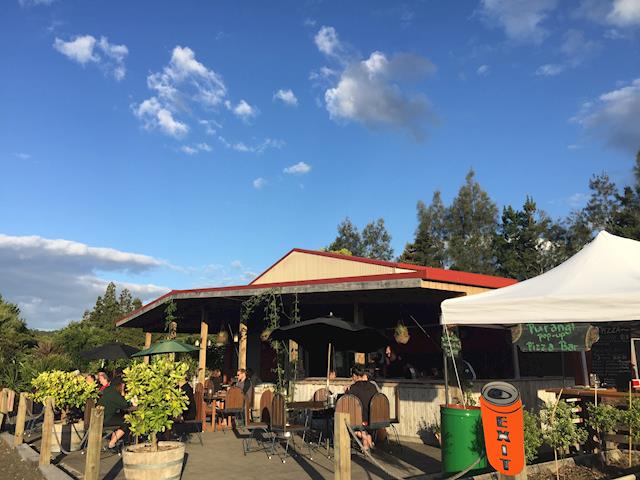 Summer time - Pizza time 15 May 2018
Posted by: PURANGI ESTATE LIMITED
We can't believe how lucky we where having the opportunity offered to cook pizzas in a pop-up styled setup for the Hot Water Brewing Company in Whenuakite all summer. And the feedback was fantastic!
We are grateful to be part of a community like this, where businesses help each other in tough times. Big shout out to Jen Walker and her whole family for the incredible support! It was a great summer and everything worked out so well for both businesses. It help us keeping up with upcoming bills and it's been probably the greatest "give-a-little" we could have ever expected <3
We now finished the pizza pop-up and the Brewery is operating on off-season hours: Thursday to Sunday 11am-7:30.
Our Feijoa Cider is still available on tap as well as most of our popular Liqueurs as off-licence sales. So pop in to the Brewery to stock up on your favs.
While we were busy cooking pizza, we had a few developments with our new winery site:
We got the planning approval for the produce stall aka Wine Cellar. That means we will be allowed to sell our products, which include, handcrafted liqueurs, wines and spirits made from farm grown fruits, as well as non-alcoholic products such as preserves, jams, hot sauces and tea stuff. And we got our temporary off-licence approved (our first application was denied by council mid 2017).
Our temporary Wine Cellar stall set up (which you might have seen last year in a little wooden carport-like shed) moved into one of our containers.
We are now working on building applications to get plumbing and fit out of our kitchen container and toilet and wastewater facilities through.
The kitchen container will, for now, be used for the production of food stuff and preserves for the sale in our stall as well as tea manufacturing.
We are also on the way to move our winemaking and storage facilities from the old winemaking area into two of the three stacked containers in regard to upgrade the wine production towards higher winemaking standards.
While the development of the new site goes on we can't forget: it's autumn now and we need to do a lot of harvesting, processing and storing of all our produce. We've had a great feijoa harvest and done a massive crush for the next seasons liqueur. Persimmons are coming on well, though growing only old astringend varieties we need to ripen them to perfection for further processing. We have a tonne of limes what means we will be able to make a lime version of our very popular limoncello yummy!
Pop up any time to the new site, check up on our progress and say hi to Danny.
We will keep posting updates here as well as on our Facebook page and homepage. So watch this space and keep up to date with all the developments!
Cheers,
Team Purangi
---
Latest donations

Scott Kendall
on 06 Nov 2018
Hope you get it open for summer Danny

Guest Donor
on 08 Sep 2018

I visited here when I was first travelling New Zealand and I've always wanted to go back! I started planning a trip to bring a couple friends a while back when I noticed it was closed for renovations. I'm dying to share this magical place with people who've never been here so hoping it opens again really really soon! :)

Guest Donor
on 07 Mar 2018

Randal Godfrey
on 09 Feb 2018
Sorry I forgot to pay I thought I had when I was chatting with you as I got my card out but realised that I actually put your contact details behind it. Thanks Danny
---
Who's involved?
---
Page Moderated
The page has been checked by our team to make sure it complies with our terms and conditions.
---
Gallery
---
Got a question for the page owner?
Ask one here
---
Any concerns?
Report this page
---
This page was created on 14 Nov 2017 and closed on 15 Nov 2018.