Stunt Woman Dayna Grant - Emergency Brain Surgery
Mother & StuntWoman Dayna Grant was injured on major film set and needs immediate surgery for an aneurysm.
Auckland
World renowned Stuntwoman Dayna Grant (Wonder Woman, Mad Max, Snow White, Xena, Ash vs Evil Dead) recently sustained a head injury while on set filming for an upcoming series/film.
After experiencing symptoms of Traumatic Brain Injury Dayna was sent for Neuroimaging CT and MRI scans.
Unfortunately receiving the devastating diagnosis of an 8mm Aneurysm and upper spinal (neck) injuries.
Surgeons recommend immediate surgery. As is often the way with these things Insurance and liability are a maze of red tape and potentially life threatening delay through the Public Health system.
Immediate, private Surgery costs $NZ60,000
We would like to give Dayna's friends, film Whanau (family) including the Stunt community and fans of her work around the world the opportunity to help.
Dayna is not only a World class stunt woman, but a mother of 3 (her youngest, Ryder is 7) and pioneer for the arts within her community. She runs a stunt school based in New Zealand and works with youth.
If you know and love Dayna, have enjoyed her work or shared her training/inspirational workshops please help us get her looked after as soon as possible and with the best care.
Let's get Dayna fixed and on the road to recovery as soon as possible.
Ngā mihi nui.
Thank you
Use of funds
To pay for the urgent brain/aneurysm surgery. If there is enough raised funding may also be used for post-op physio after care. Health insurance has confirmed they are unable to cover the surgery, and the public system has a minimum 4 month waiting list. ACC have also fought to say that it's not covered.
Other page links
---
Latest update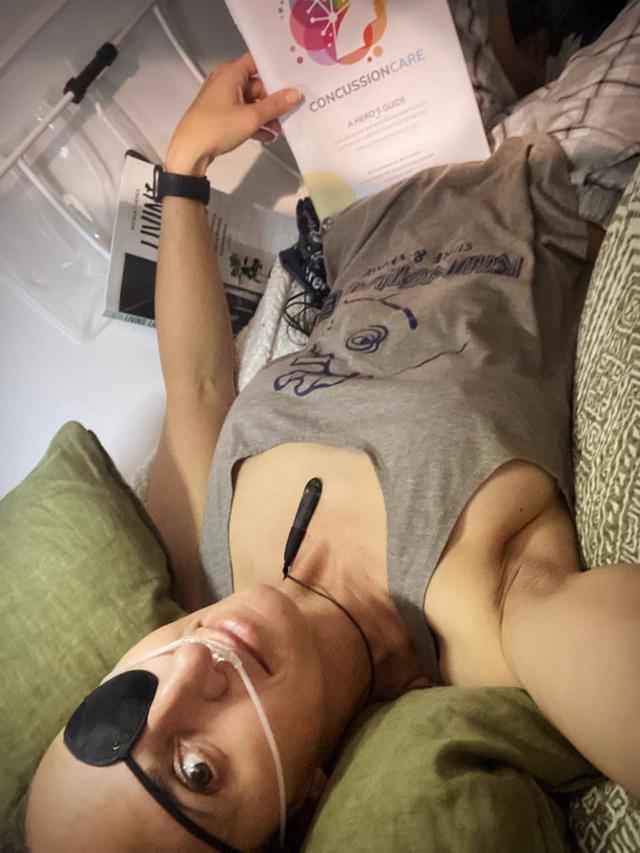 Update from Dayna July 25 2021 25 July 2021
Posted by: Dayna Grant
2 weeks and 3 days since my brain surgery and 4 months since my accident on set:
Weeks before the surgery I was in denial, the day before surgery it hit me really bad, I cried non stop, wondering if that night would be my last nights sleep, the day of surgery wondering if I would see my 3 kids again, they are my heart ❤️ the biggest anxious knot in my upper gut that I have never had in my life, my surgeon asked how I was and the last thing I said was "to be honest I'm so damn scared, I'm a bloody stunt woman I should be able to deal with anything" and straight away they put me to sleep 😴
I woke up 4.5 hours later and it was the best day of my life, I worked out pretty quick I was blind in my left eye, but I didn't care cause I was alive and instantly thought of everyone around the world that gave me all the love and support to make the best day in my life possible (oh dear I'm crying 😂) can't thank you all enough ♥️
Then it was days of rest and now starting rehab.
Yes I'm blind in one eye and I have been told from one person straight after surgery my eye sight will be back in 2 weeks and from someone else I might never see out of that eye ever again, each day I wake and cover my right eye to test my left and I still can't see, I'm ok with that, I know one day it's gonna come back and for now I'll learn to live life without it, it's definitely not easy, learning distances and walking down stairs, wearing an eye patch etc, I try to keep it uncovered when I can and when I get a headache from trying to use it, I put my eye patch back on.
I'm trying to get used to being in the passenger seat of the car, it makes me nauseous, but it will get better.
Every 3.5 hours of each day I have to do a brain break for 40mins, that means do nothing with a blind fold and ear muffs.
So for the 3.5 hours I make the most of that time, like today I went to help teach at our stunt school, I love that so much, my stunt family is incredible but boy was I tired after.
Now the oxygen hyperbaric therapy chamber,
I have to do 2 hours per day in this for 3 months, without the help of you all this chamber wouldn't have been possible, it's the best thing ever!!!! Everytime I use the chamber my head feels incredible, since using this I haven't had to take any pain killers, I swear by it so much ♥️
I have also been on a high dose juice diet, different juices delivered every few days, greens, beetroot, turmeric and supplements, my diet is a huge priority to give me all the nutrition I need.
I also have a huge brain concussion rehab program that I have to do each day, balancing, looking, moving, spinning, wearing a laser head light…. sorting my brain out.
I couldn't have done any of this without my amazing man Pai looking after me 24/7, driving me to my appointments, doing everything for me, being my eyes and hands, stopping me from pushing myself to soon and too fast,
Love him so much ♥️
I have a long way to go but I love my life and where I am at, how can I complain……
IM ALIVE 👏
I have been given a third chance in life and by golly I'm gonna pay it forward (third chance because doing a stunt once I got bought back to life)
I'm gonna be back to normal
I'm gonna get my eyesight back
I'm gonna be stronger than I was before and I couldn't have done this without you all, the love and support, the donations, the messages, the visits, the phone calls (sorry when I don't answer) the prayers, the thoughts, the gifts, the helping hands etc
There really are some beautiful people in this world….. and I have love for you all ♥️
#feelthelove
---
Latest donations




Guest Donor
on 20 Jul 2021

A little more #XenaLove ... I wish you a speedy recovery dear Dayna!
---
Who's involved?
---
Page Moderated
The page has been checked by our team to make sure it complies with our terms and conditions.
---
Fundraise
You can
start a fundraiser
to have your own page that raises money directly for the beneficiary.
---
Gallery
---
Want to get in touch with Dayna Grant?
Ask a question here
---
Any concerns?
Report this page
---
This page was created on 28 Jun 2021 and closes on 31 Aug 2021.