The Inspired Guide - FREE Monthly Digital Publication
Help me to continue uplifting, empowering, informing & inspiring lives in NZ & the world with this free lifestyle & wellbeing guide for all.
Nelson / Tasman
The Inspired Guide is a FREE monthly digital lifestyle guide - filled with inspiring, uplifting and informative articles, audio and videos by contributors from NZ and the world! There is food, gardening, exercise, travel, mindfulness, art, small business, community, sustainability, short stories, parenting, conscious living, health and wellbeing, spirituality, and more...
♡ Free to Read
♡ Free to Subscribe (although not required)
♡ Free to Be Inspired
I believe in empowering people to use discernment and make more informed choices by providing accessible, inspirational and informative articles which I carefully curate from national and global thought-leaders, bloggers and professionals in their fields and share via this innovative, interactive, accessible and exciting digital publishing platform.
You can help to support us by:
♡ Read the guide
♡ Review it on our FB page
♡ Share it with your friends
♡ Advertise your conscious business
♡ Shop from our advertisers
♡ Donate to support us
Thanks! It is just me (Amanda Sears) doing it ALL (including the cover art) + the lovely articles submitted by contributors, so your support is much appreciated ♡ I am based in Nelson, NZ & the magazine is read throughout NZ & the world! It is for all who seek to live more conscious lives.
If you would like to invest in the development, growth and evolution of The Inspired Guide, please use the appropriate link to become a supporter of this exciting project.
"With great knowledge, comes great empowerment"
Thank you!
Amanda Sears
Creator
Use of funds
Time: Design, marketing, editing, content creation, etc.
Operational: Our digital platforms: publishing, email, website, etc.
Marketing: To increase reach, readership and awareness ($100p/month)
*Eventually paid advertisers will cover these expenses...
Other page links
---
Latest update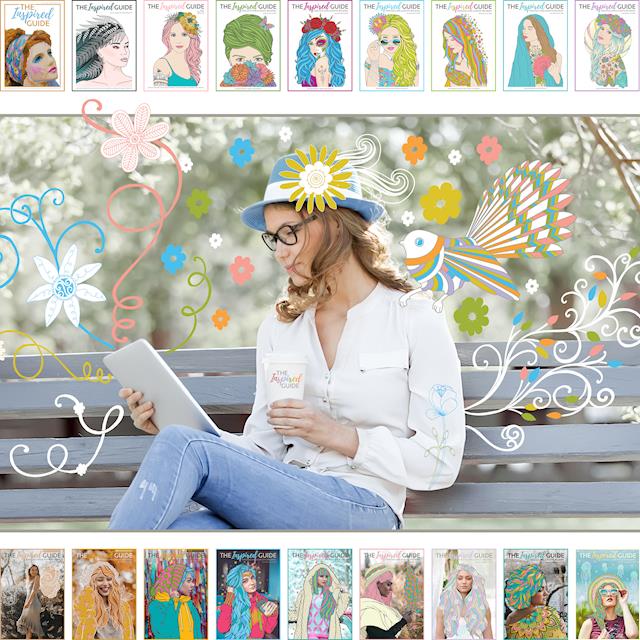 Thank You! 12 January 2021
Posted by: Amanda Sears
The Inspired Guide is taking a break - but ALL 18 editions will continue being readily available to anyone, anywhere in the world to Be Inspired by! The information is timeless and still relevant in years to come - treat it like your own personal library of insightful wisdom and creative inspiration and return to it often - each magazine is infused with the essence of all involved in that edition.
Some stats:
- Editions: 18 (2019-2020)
- Articles: 600+
- Reads (1.7.19-31.12.20): 13,000+
You can read each edition on the website in full on the READ page or search the authors, artists and articles on the SEARCH page - or scroll through each category.
I would like to thank all the contributors, followers, advertisers, donations and readers for their love and support over the last 1.5 years and 18 editions as The Inspired Guide was birthed, grew and evolved - reaching people all over the world at a time when self-love, conscious living, mindfulness, self-empowerment and inspiration was needed most.
Maybe I was ahead of my time, or maybe it was only ever meant to reach the ones it did; maybe I was meant to create this web of connection, compassion and love across the world with the readers and contributors - who knows... all I know is that I have loved almost every minute of creating this divinely inspired magazine and connecting with people all over the Earth and that now it is time to transition into something else... what that is, I do not know yet.
THANK YOU!
---
Latest donations

Such a beautiful magazine. Keep up the good work xx

This magazine is a credit to you and your energies. I love the inspirational focus and curated artworks you include in each issue. The recipes are a treat too! I hope your soul draws much wellness creating this as I do reading it. x
Amanda Sears
Thank you so much!!! What wonderful words and such a generous donation. It is MUCH appreciated. Thank you <3


You've created something really special! Thank you for all that you do to make this magazine possible.

Thanks for thinking of me Amanda! I'm so excited to have my art included in your publication 😄😄

---
Who's involved?
---
Page Moderated
The page has been checked by our team to make sure it complies with our terms and conditions.
---
Want to get in touch with Amanda Sears?
Ask a question here
---
Any concerns?
Report this page
---
This page was created on 12 May 2020 and closed on 12 Jan 2021.