Help my mum walk the dog with us! She is Mighty Strong living with MS.
I want my mum to come walking with us again.
Marlborough
My name is Sienna and I am 13yrs old. With my dad Andrew's help I have set up this page.
My wonderful mother is currently living with a difficult multiple sclerosis. It was diagnosed in 2002 before she met my dad or I was born. There is currently no treatment available for this horrific disease which slowly, over time just takes away mum's freedom.
I have set up this page (with my dad's help) to help my parents to gain the funds needed to purchase an Omeo mobility chair, which is a Segway style chair that will allow my mum to come and walk the dog with me and dad. This will help her spend family time with myself and dad because now she has to stay at home or wait in the car when we go bike riding, tramping or even supermarket shopping.
Anyone who knows my mum Lisa, knows her as an inspiring person who always takes everything life throws at her and makes the best of it. She often says "It's a great day today because I'm awake and here and I have you" and my mum lives everyday with a positive attitude.
She loves her family and used to be an active traveller and enjoyed adventure. From running 1/2 marathons, scuba diving in Thailand, snowboarding and hang gliding off Coronet Peak, this disease has really slowed her down. I believe that this Omeo (Segway chair) will allow her so much more freedom to explore the outdoors with us and just be independent again.
The biggest thing for my mum is to be able to come with me and dad to walk the dog. It's been 6 years since she could do that.
My mum is fiercely independent and doesn't like to ask for help but she knows that without your help this chair is not funded. My parents put all they have into me and now I want to have a go at giving back and thanking them for supporting me.
Lisa helps people change their lives through hypnotherapy and now you have a chance to help my amazing kind generous mum to grab hold of life again.
If ever you thought it was too hard to go for a walk, just imagine how happily my mum would trade her legs for yours.
Every dollar will help towards the purchase of this NZ made device (support local) which will support my mum's journey with this annoying disease.
Your messages, a single dollar to much more will all be appreciated to create this little bit of freedom so I can have my mum share adventures with us again.
Sienna and Andrew Wheeler's involvement (page creator)
I am her 13yr old daughter and I want to help my mum. My dad helped me set this up as I am too young.
Use of funds
To fund an Omeo chair and associated costs (car hoist, gst, spare battery). Goal $42,000
Other page links
---
Latest update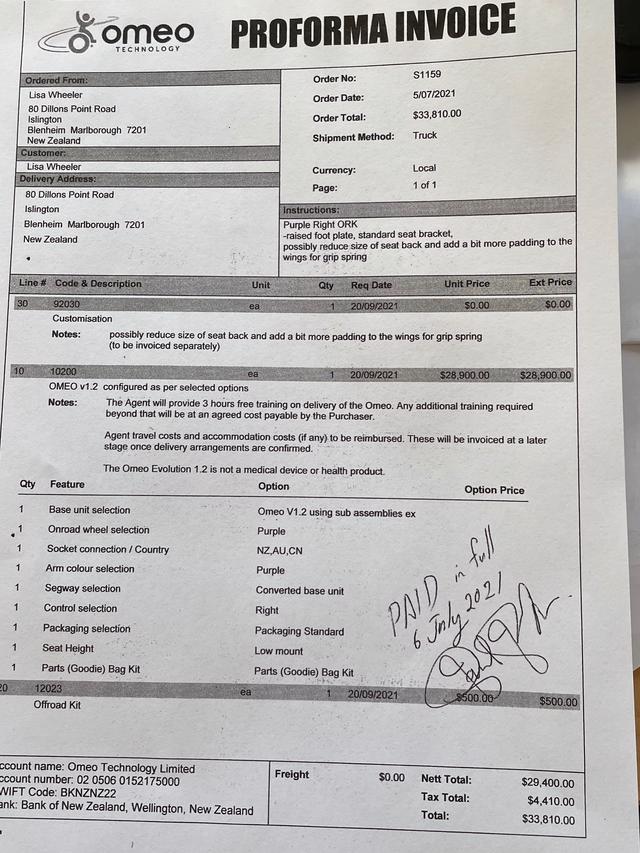 Paid in Full 9 July 2021
Posted by: Lisa Wheeler
With a 10-12 week wait time and unknown delays out of China for parts, we hope to be Omeo owners before October.
---
Latest donations

Saw this on Tanja O'Hanlon from Canada fb post. I'm a friend of Tanja All the best. Keep on going to reach your goal for your mum. She's blessed to have you as you are to have a very positive mum and dad God bless 🙏🏼
Lisa Wheeler
Thank you for caring about others. Tanja is a life long connection and she's pretty special too. Some individuals do truly inspire! Enjoy your day and many ahead!

Guest Donor
on 30 Jun 2021
May God bless you Lisa. "Whatever you ask for in prayer, believe that you have received it and it will be yours". Mark 11:24
Lisa Wheeler
Thank you for supporting us. Yes, there is no success without belief. Your kindness has a lasting impact on our family.

Lisa Wheeler
Thank you for your support. May good things come your way. Enjoy some sun and warmth during this winter season.

Go well, stay strong, and lets hope you can get that magic set of wheels.
Lisa Wheeler
Thank you very much! We are so close to this change that we can taste it. Your help is appreciated. Enjoy your day.

Hope this chair gives you more of those all important memory making moments. Thanks :)
Lisa Wheeler
My goodness it will change our lives. I've been contacting so many owners of these awesome machines and they all feel the freedom! Thank you so much!
---
Who's involved?


---
Page Moderated
The page has been checked by our team to make sure it complies with our terms and conditions.
---
Fundraisers supporting us
---
Gallery
---
Want to get in touch with Sienna and Andrew Wheeler?
Ask a question here
---
Any concerns?
Report this page
---
This page was created on 23 Mar 2021 and closed on 30 Jun 2021.