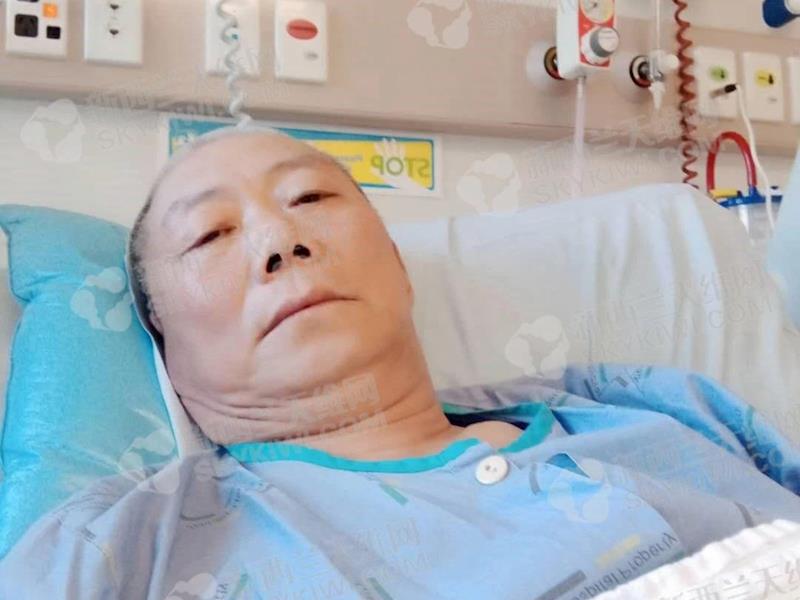 Help Ren Wang to get home to his family
COVID-19 is hard, and it is even harder for Ren Wang, 52, an undocumented Chinese worker who was diagnosed with advanced stage lung cancer.
Nationwide
COVID-19 lockdown is hard for many people. It is even harder for Ren Wang, 52, an undocumented Chinese worker who was diagnosed with advanced stage lung cancer
Wang came to New Zealand two years ago on a visitor's visa. He borrowed more than 30,000 New Zealand dollars from friends and families to pay to an agent in China in order to come to New Zealand.
He was told that once entering New Zealand, he would make his fortune by the many construction works that are desperate to recruit workers like him.
With just a jacket, Wang boarded a flight on August 13, 2018 and arrived in Auckland.
He soon realized that things were not as beautifully described as by the illicit agent. He was on his own.
Not being able to read or speaking any English, Wang had to find himself work opportunities on the many localized Chinese WeChat groups. "I had at least to earn my agent fee back", he said.
He took whatever work he was offered. Sometimes the Immigration NZ officer would suddenly turn up and he had to hide himself. Soon he would have to leave the site and find a new job.
Starting as a labourer paid at $15 per hour, Wang saw his hourly rate gradually increased to around $18 before he found something wrong with his body.
Early in February, Wang found himself difficult to breath when working. "I had to rest for a while even after some minor work", said Wang.
Wang chose to ignore the symptom as he knew the medical fee is expensive for an undocumented worker. He had to save his money for his family back in China.
Then came the COVID-19 lockdown. He had no income. He did not seek medical advice fearing he could be found by the INZ, or could be asked to pay a lot of money for his treatment.
When construction works were allowed to resume under Alert Level 3, Wang knew he was very ill.
He began to cough blood out. In two months, his condition changed from bad to worse.
Last week, a friend took him to the Waitakere Hospital in West Auckland. He was hospitalized immediately. Doctors requested further tests from North Shore Hospital.
This Monday, Wang received a phone call by Dr. George Zhang from the Waitakere DHB that he was diagnosed with advanced stage lung cancer and needed prompt treatment.
Dr. Zhang confirmed Wang's condition with Skykiwi later on.
"Medically he needs prompt treatment for this in the form of chemotherapy and/or radio therapy and follow up by oncology specialist," said Dr. Zhang.
"Unfortunately, Mr. Wang is a non-resident and is not eligible for funded treatment in New Zealand," said Dr. Zhang, who discussed with Wang his situation and wanted to help.
"The current plan is for Mr. Wang to travel back to China to have treatment there before his condition deteriorates."
But Wang had no money at all. He has even used up his life saving during this half year as he has no stable income even before the lockdown. Few company dare to hire him as an over-stayer and a cougher.
He was just able to pay last week's rent for his accommodation in New Lynn and had to go by his bond for further staying in the room. Let alone the cost of several thousand-dollar for an air ticket.
He was stranded.
Asked if families back in China could send some money to him. Wang, speaking slowly in the phone, gasping, "My family still owes about $45,000 in debts. We have literally borrowed from everyone we know."
Friends in New Zealand even thought about going to Immigration NZ to lodge a complaint about his visa status so that Wang could be deported to China.
"(With official deportation), at least he would be able to go back," said one friend who call herself Joy.
Wang hopes someone could help him so he could go back to China and be with family as soon as possible.
"If I am going to die, I wish I could be with family in my hometown," said Wang.
About us
Partner with SKIP, it's not OK campaign to provide information and resources for the communities that are relevant to the parents regarding to family harm prevention.
Use of funds
The fund will be used to help Wang to purchase the ticket so he could go back to China and be with family as soon as possible, any extras will be used for his treatment once he got home.
Other page links
---
Latest donations

Guest Donor
on 17 Aug 2020

Guest Donor
on 17 Aug 2020
尽量到正规三甲医院检查,如基因突变那就有靶向药可以吃,可高质量的保证生活如平常人,如有医保可大比例报销。希望您在国内一切顺利!

It's really sad thing, you actually working hard to back your family in China, and things happen not we expect...Hope this can help

Guest Donor
on 16 Aug 2020

Guest Donor
on 16 Aug 2020
May you get well soon!
---
Who's involved?
---
Registered Charity
A Registered Charity has legal recognition under the Charities Act 2005.
Page Moderated
The page has been checked by our team to make sure it complies with our terms and conditions.
---
Our other pages
---
Got a question for the page owner?
Ask one here
---
Any concerns?
Report this page
---
This page was created on 11 Aug 2020 and closed on 18 Aug 2020.