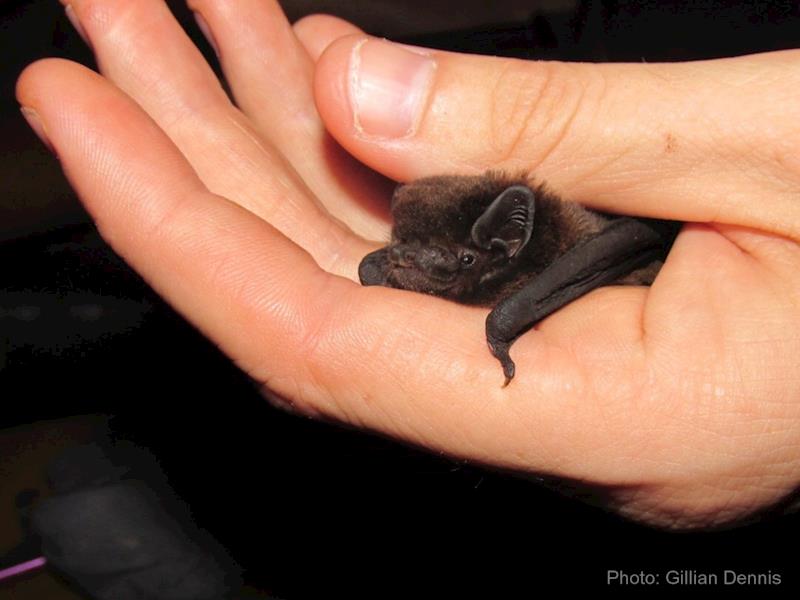 Love the night life? Help save New Zealand's long-tailed bat
Forest & Bird is busy with a 3-year project to try to understand our long-tailed friends better to help save them. We need your help!
Nationwide
Native long-tailed bats/pekapeka were once widespread and abundant in New Zealand. Sadly, habitat loss and predation by introduced pests such as rats have reduced bat populations dramatically. Like the kakapo, they are now critically endangered. Pelorus Bridge Scenic Reserve in Marlborough is one of the few locations in the Top of the South Island where long-tailed bats are hanging on. Since 2010, volunteers from Forest and Bird's Top of the South Bat Recovery Project have been doing predator control at Pelorus Reserve to protect and enhance the local bat population. Forest and Bird's bat expert is currently underway with a three-year bat monitoring project to provide answers to three important questions:
Where do the bats roost?
If long-tailed bats are roosting in trees outside of Pelorus Reserve then our predator control will need to be expanded to new sites.
Is the local bat population size increasing?
If the long-tailed population is increasing it suggests that our current predator control work at Pelorus Reserve is helping to protect the bat population. If the population is decreasing it suggests that we may need to review our predator control work or to look for other reasons for the decline.
Where do the bats feed?
Long-tailed bats forage for insects on the wing over large areas, so they will fly many kilometres outside of Pelorus Reserve to feed each night. Feeding hotspots will be key sites to target for future habitat protection and restoration projects.
How will we answer these questions?
During December and January each year long-tailed bats will be fitted with miniature radio-transmitters that emit a regular pulse at half the speed of a human heartbeat. The tiny bat-signal will be detected by a team of bat-trackers on the ground using radio-tracking equipment. Long-tailed bats move to a new roost tree almost every day, so early each morning bats will be tracked to discover where they choose to spend the day after a busy night on the wing.
Some bats will also be tracked throughout the night, revealing where they prefer to hang out, where they go for a good feed and how they move from A to B. The radio-transmitter, which is glued on to the bat's back, naturally falls off after about 10 days and does not harm the bat.
Bats will also be captured as they leave their roosts at dusk using specially designed 'harp-traps'. Each captured bat will be given 'wing bling' - a tiny band with a unique ID number fitted to the bat's forearm. This band allows each bat to be identified individually when it is captured again, and information on recapture rates can be used to estimate the population size and to work out whether the population is increasing or decreasing.
The long-tailed bat is one of only two bat species found in New Zealand – our only native land mammals. They are often overlooked because they are small, nocturnal, fast flying and live in large areas of native forest or in remnant forest patches in rural landscapes.
Update:
Te Hoiere/Pelorus Bat Recovery Project - Bat Supporter Project Update Summer 2018/19
Field work for the bat project commenced in December 2018. During the first two weeks we placed automatic bat detectors at potential catching sites in the Rai and Pelorus areas in Marlborough. The detectors record the bats' echolocation calls. Traps were set in various locations but our first success came at Brown River Reserve, where the first bats were captured.
Two of the adult females captured were fitted with radio-transmitters. We tracked them at dawn each day over the following week and found five roost trees in the reserve. Each roost was high up in the crown of a very tall native podocarp tree. Sadly, this made them impossible to trap. However, we were able to count bats emerging at dusk from three of the roosts. So far, the highest emergence count from a single roost is 25 bats. Both transmitters fell off within the week, so after a short break for Christmas and New Year the team have gone back to using ground-based harp traps to try to capture new bats for transmitter attachment.
The bats captured in the reserve have given our local volunteers their first face-to-face encounter with these beautiful creatures, after spending so many years contributing to bat conservation by carrying out pest control in local reserves. The captures have also provided an opportunity to train volunteers how to radio track the bats to their roosts and to learn the method for night-tracking so that we can gather data on the night-moves of the bats.
We resumed long-tailed bat catching using ground-based harp traps in Brown River Reserve in early January. After almost a week without any success, we finally caught four bats on the morning of 6 January. We were delighted to discover that two of the bats were juveniles! The other two bats were an adult male and a lactating female. Young bats do a lot of growing early in their life, so they are already about 70% of adult weight when they leave the roost for the first time, at four to six weeks of age.
An automatic bat detector placed at nearby Carluke Reserve during early January indicated that this could also be a good catch site. Harp traps were placed in gaps between large trees on the edge of a clearing between the reserve and the river. Three bats were captured at the site during January, and we tracked all three back to Brown River Reserve, revealing that Carluke Reserve was part of the bats' foraging ranges. Tracking over the subsequent weeks revealed that the Brown River bats also roost in trees in Carluke Reserve.
After the bats caught at Brown River and Carluke in early January 2019 had dropped their radio-transmitters we turned our attention to Pelorus Reserve. Our attempts to catch bats there in December 2019 using harp traps had been unsuccessful so we decided to try mist-netting.
Further success trapping at Brown River and Carluke Reserves resulted in capture of another six bats in late January. Three of these, including a large juvenile female, were selected for transmitter attachment. Each dawn we tracked the bats to their roosts, and in the evening viewed emergence to count bats and attempted to identify roost entrances. We also had the chance to do some night tracking to learn where individual bats forage! More on this next season…
Watch this space for further updates on New Zealand long-tailed bats during Summer 19/20!
About us
Forest & Bird protects and restores the wildlife and wild places you love. From rolling up our sleeves and planting trees, to campaigning for greater predator control, going to court to protect freshwater and native forests - we help YOU defend nature.
Use of funds
Your generous support will contribute to the conservation of this precious bat, found only in New Zealand, by assisting with project costs such as the purchase of specialist bat-catching equipment, radio-tracking equipment and radio-transmitters.
Other page links
---
Latest update
Support the Pelorus Bridge Bat project in 2020 29 November 2019
Posted by: Forest & Bird
As we re-open this page, the team of volunteers and Forest & Bird's bat woman Gillian Dennis, are readying themselves for another summer of studying the pekapeka at the top of the South Island.
The team have been tasked with a three-year project to try and better understand these little furry creatures to know how to protect them. As we come into 2020, they are heading out on their second summer of field research.
Support the project today and help be a voice for nature in New Zealand by donating to help protect the highly-endangered long-tailed bat.
---
Latest donations


Guest Donor
on 11 Dec 2020


Guest Donor
on 03 Aug 2020

---
Who's involved?
---
Registered Charity
A Registered Charity has legal recognition under the Charities Act 2005.
Tax credit
Donations of over $5 are eligible for a New Zealand charitable giving tax credit.
Page Moderated
The page has been checked by our team to make sure it complies with our terms and conditions.
---
Our other pages
---
Want to get in touch with Forest & Bird?
Ask a question here
---
Any concerns?
Report this page
---
This page was created on 5 Nov 2018 and closed on 31 Jan 2021.