Help Me Walk Again
Sophia Malthus, 19 year old, Tetraplegic since 29th November 2016 from a race horse fall. Seeking funding to help pursue further treatment.
Hi, my name is Sophia, I am a 19 year old girl from Auckland, New Zealand. Last November 29th, 2016 whilst following my dream to become a jockey, I fell from my racehorse and sustained a C5 Spinal Cord injury which resulted in me becoming Tetraplegic. Now I have no sensation or motor skills from the collarbone down.
I am currently going through rehab at the Auckland Spinal Unit which is teaching me how to live with being in an electric wheelchair and some very basic self-help skills but on the whole, I require full time round the clock care.
The reason I wish to raise some extra funds is because I have high hopes of gaining enough recovery to lead a full life again and to achieve this I will need to pursue many alternative treatments which are not currently funded by the health system here. These include but are not limited to Peptide/ Hyperbaric Oxygen and Stem Cell therapy and even virtual reality running/walking therapy. If I am successful I would love to share my knowledge with others in my position too.
I want to aggressively pursue any treatment that may help me regain what I have lost. I look forward to 2017 with excitement, some trepidation, curiosity and huge motivation.
Thank you so much for taking the time to read my story and particularly for any financial contribution you may choose to make to my cause!
Other page links
---
Latest update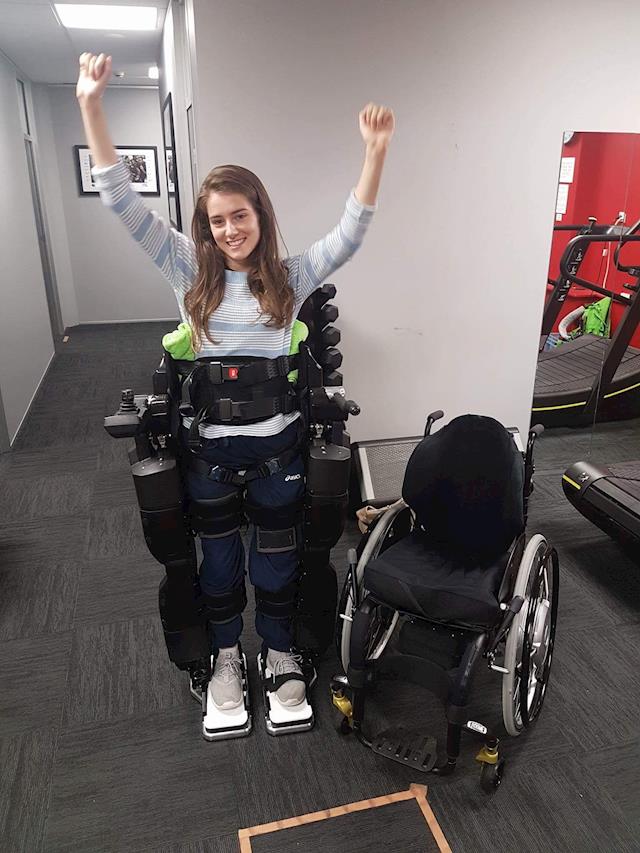 Where is the money going? Therapy update 28 August 2017
Posted by: Sophia Malthus
Hi everyone! As some of you know already, I have been very, very busy the last few weeks – I have started doing some new therapies which I am really excited about.
In addition to the physio I receive through ACC, with your donations I am funding two private physiotherapies; Neurophysics and Neurophysiotherapy.
I go to Neurophysics three times a week, where the focus is on sensation and what feedback I am getting from my paralysed body parts – particularly the feet. The belief is that once sensation is regained in the muscle, voluntary and controlled muscle movement will come back quickly and naturally. I am really enjoying this, it is making me much more aware of my body and my abilities, and I'm noticing improvement particularly in my sitting posture and balance.
Neurophysiotherapy is great, she is very enthusiastic about doing work with my lower limbs (which is something we have struggled to find in a physio until now)! Doing this physio has given me access to lots of cool equipment, including the Rex Bionics Exoskeleton in the picture. When I am in this exoskeleton, I am able to passively walk forwards, backwards, do lunges and squats, sidesteps, and even stand up and sit down the way the normal body would. I'm so lucky to be able to access this, she said I am the 15th person to be in it which is incredible for me, but also eye-opening as it shows how little others are accessing this type of rehab, whether it is because of lack of funding or lack of education.
I cannot reinforce enough how grateful I am for all of the donations and donators, as well as people who have given me advice on where to access these additional therapies. It is also a blessing to be based in Auckland, where there is so much available. Between Neurophysics, Neurophysiotherapy, physio, and the gym, I am keeping very busy and taking advantage of all that is there for me!
Thank you endlessly for your support, it means the world to me and it is making a huge difference xx
---
Latest donations

Guest Donor
on 15 Nov 2017

Guest Donor
on 30 Oct 2017


Guest Donor
on 25 Oct 2017

Good luck with your future treatments :)
---
Who's involved?
---
Page Moderated
The page has been checked by our team to make sure it complies with our terms and conditions.
---
Fundraisers supporting us
---
Gallery
---
Want to get in touch with Sophia Malthus?
4 questions have been asked already. Check them out and
ask yours here
.
---
Any concerns?
Report this page
---
This page was created on 4 Jan 2017 and closed on 29 Nov 2017.