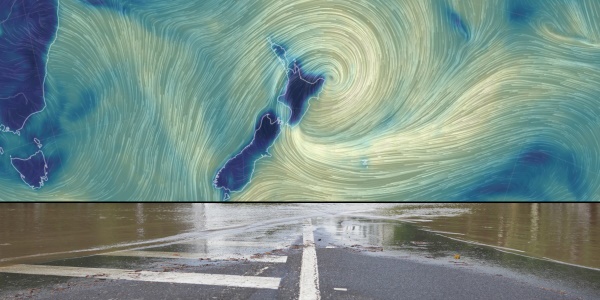 The Givealittle philosophy is to help kiwis fundraise for the things that matter; and in response to a natural, or man-made disaster, Kiwi's may turn to crowdfunding to help rebuild and heal in urgent times of need. After a disaster event, it becomes especially clear that New Zealanders have an incredibly generous nature, and want to help their loved ones and communities in need of support, or organisations who are helping on the ground.
Following a disaster, Givealittle generally sees an increase in pages being set up as has been the case in the aftermath of Cyclone Gabrielle; which has caused unprecedented loss and damage to parts of the North Island. Since Gabrielle struck on the 12th of February, over 200 cyclone-related pages have been created by individuals, businesses, and organisations to support those in crisis; mainly located in the northern, and eastern regions of the North Island which were by far the hardest hit.
Included in the cyclone relief response fundraisers on Givealittle, there are currently nearly 30 Organisations such as NZ registered charities and Mayoral Funds which are also raising funds to help those affected. Many individuals and businesses have fundraised directly for these organisations. Early on, Stuff NZ mobilised quickly, and raised nearly $4.5M in under two weeks for the Red Cross and affected Mayoral Funds by casting a net of support that spread far and wide.
Crowdfunding on Givealittle as part of a disaster response is incredibly accessible for individuals, charities, businesses, and groups to fundraise or support; in one place. For many, raising funds is the only way they can help. We are proud to be able to provide a platform that people can turn to with trust and confidence in times of crisis.
Recovery from Cyclone Gabrielle is only just beginning, and this is a painful time for the country; our team's hearts go out to everyone who has been affected.
Noho ora mai / Stay well
The Givealittle Team
---
Other examples of Disaster Relief Fundraising on Givealittle
https://givealittle.co.nz/l/tonga After the eruption of Hunga-Tonga-Hunga-Ha'apai volcano in Tonga, nearly 30 pages were created and over $300K was raised to support in various ways.
https://givealittle.co.nz/l/supporting-ukraine Over 60 pages created by New Zealanders in response to the war in Ukraine, where there was an urgent need for humanitarian aid in 2022..
https://givealittle.co.nz/landingpages/support-for-christchurch/index.html Over 100 pages were created in response to the Christchurch Mosque shootings on March 15, 2019, and Victim Support raised nearly $11m to support those directly affected.
---
FAQ's:
How can I create a page on Givealittle for my Organisation?
Follow this link to get started then go to Raise Funds to create your page and fill in more details about your charitable purpose or campaign. Submit your page, and the team will be in touch if we have any questions.
How quickly does Moderation happen?
In general, a page will be Moderated within 48 hours, however it is often less than this if we have all of the required information and it is published within our business hours (Mon-Fri 8:30am-5pm). For a Registered NZ charity/organisation you will need to provide proof of bank account, CC#, and/or relevant official information about the Organisation before we can Moderate, so please have this handy. If anything is missing, the team will be in touch via email.
What is the vetting process for Givealittle pages?
All Givealittle pages are moderated by our customer care team according to a content management policy and standard code of conduct. Moderation of the page includes check on legality of fundraising, clear representation of the need for funds being raised; and on a case by case basis, we may require supporting documents; however we cannot check and verify every detail associated with a page. We also establish the relationships and permission for pages, and then we carry out Identify and bank Verification on the payee of a page before any funds can be paid out.
The public or 'crowd' play an important part in not only in supporting a cause but also in raising concerns about a page. If a member of the public has a concern about a page, they can use the Report This Page function on the page, and provide us with specific details about their concerns so we can then look into it.
As a donor, how can I make a good decision for where to support?
During the Moderation process which every page goes through, we ask fundraisers for transparency; and this is important. We would advise any donor that when choosing where to donate, to read the page content about how donations will be used and by whom, and to be comfortable, and confident with their choice. We also have a Q&A function on the page that people can use should they wish to ask the page owner a question before donating.
Who uses Givealittle?
Everyone can crowdfund on Givealittle. The majority of Givealittle pages (over 60%) are created to benefit individuals, however there are over three thousand registered NZ Charities with a presence on the platform, and approximately 30% of the donations made via Givealittle are to charitable organisations. *Stats from FY 2022.