Donors love learning more about the people and causes they're supporting, and video is a great way to share what's going on in your fundraising journey.
With smartphones it's now easier than ever to make video a part of your Givealittle page. Hit record and get connecting.
The 4 W'S and the A
A good crowdfunding video contains the following information:
WHO you are
WHAT are you doing
WHY you are doing it
WHAT you will do with the money
An "ASK".
These are all pretty straight forward. It's usually easy to say who you are and why you are motivated to create a Givealittle page, but a supporter also wants to know exactly what you are going to spend it on so they can understand the tangible result of them donating. By forgetting this piece of information, you are giving people a reason to close the window.
Remember, the average person doesn't know how much a sports uniform costs, or what it costs to get equipment overseas. Break that down and show people where their money will go.
The "ASK"
The most important part of your video is the "ask" and it's also the bit people are most likely to forget. Asking people for money is not easy, but without an "ask", many people won't know that's what you want them to do.
A good ask is simple. For example: "If you'd like to get on board with my project and show your support, click "Donate" and make a donation to my page".
You should only ask your viewer to do one thing. In a follow up video you might consider asking "Please share my page with other people to help me get the word out."
The fewer actions you ask a person to take, the more likely they are to do it. Equally, if you don't ask them to do anything, they're more likely to do nothing. Ask for the outcome you really want - in most cases this means asking them to donate to your page.
Making the video
There are some other things to keep in mind when making your video:
Keep it personal. This is about you. The most important thing is that you are actually in your video. Don't be camera shy!
Keep it short, less than 2 minutes is ideal.
Keep it professional make sure your camera is steady, and if you're filming on a smartphone, make sure you film horizontally!
Be original. If you're a funny person, be funny. If you are a bit weird, be a bit weird. But don't try to be anything you aren't. Just ensure you are hitting all the essential parts of your video shown above.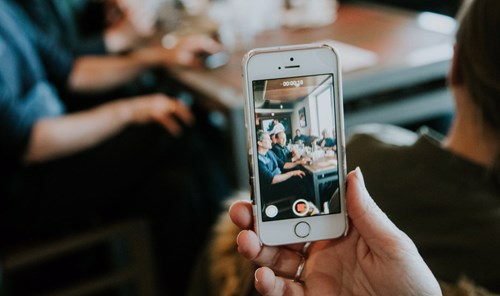 Getting a feel for it
Go and watch some other crowdfunding videos. Look for projects like your own one. After you watch each video, note down:
What was their "angle"?
What did you like about the video?
What didn't you like about the video?
Would you donate to that page?
Why/why not?
Use what you've learned to plan a crowdfunding video that you would find entertaining and make you donate.
It's not just for the initial pitch
Video isn't only useful for your pitch; it's also a great way to keep your supporters updated throughout your journey.
If you're using a smartphone, you've got a little video camera sitting in your pocket. Use it! It's quick and easy to to capture the moment share something special with your supporters on Givealittle.
Not sure what to share?
You could share:
Your story and your journey as you fundraise.
Interviews with people related to your page.
A thank you message.
An update for your donors on what you've been able to do with their funds so far.
Something about yourself! Show us where you live, what you like to do...anything that gives a great idea of who you are.
Some handy tips
Make sure your videos are short - around 2 minutes or less is best. You want to hold your viewer's attention, and keep them watching right to the end.
Plan ahead know what you're going to say before you hit record. This way, you'll keep rambling to a minimum.
Hint at what you'll talk about next time if you're posting regular updates, give your viewer a reason to watch the next one.
Let's get techy
Once you've made your video, you'll need to upload it to Youtube or Vimeo. You'll need to sign up for an account with one of these sites, but both allow you to upload straight from your mobile device, easy peasy!
To share it on your Givelittle page
To add a video to the main image on your page, go to Raise Funds (https://givealittle.co.nz/drafts/new) and either add a new page or select an existing page to edit.
On the main menu on the Raise Funds page, select the Image option:

Within the image section there's an Optional Video section for the URL of your video from Youtube or Vimeo. Cut and paste is probably the easiest way to transfer the URL.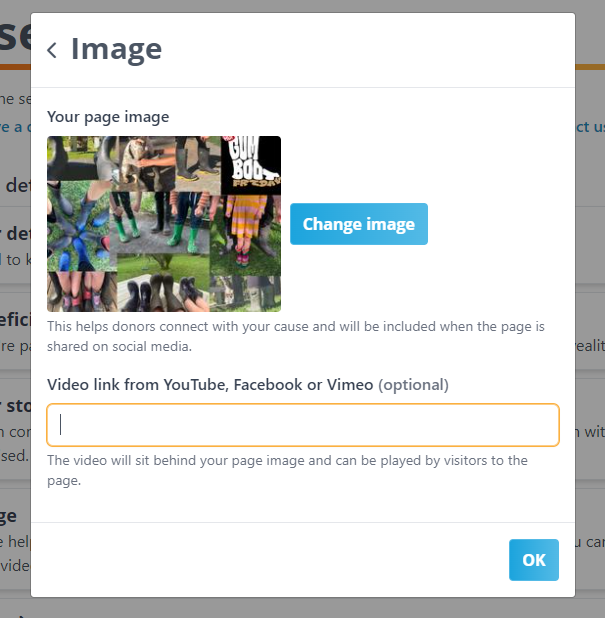 To include it in a Givealittle Page Update
See here for details on how to create a Givealittle Page Update.
Within the Page Update screen you'll see an option for adding a Video link. Cut and paste is probably the easiest way to transfer the URL.