You can set up a separate Givealittle page for a specific campaign, or you can add matching to an existing page for a period of time.
Matching is a perfect way to boost your fundraising because:
It gamifies giving and encourages donors to amplify the benefit of their donation by donating now.
It provides donors with a real sense of achievement for having helped secure the extra funds.
It adds a sense of urgency, as donors want to see your charity get all the matching funds available before the period runs out, encouraging them to share your page as well as donate.
It's effectively leverages major donor funding as it doubles the impact of the original matching funds.
It's an ideal way to thank and promote your corporate sponsors and big supporters as they gain mana and exposure by providing the matching funds.
Matching ideas:
Mobilise your corporate partners! Send out motivated comms to let employees and customers know about your campaign, and how matching via Givealittle will maximise their donations.
Your corporate sponsors can help by running an in-house campaign and promote matching donations to employees.
When a large donor offers funds, instead of just taking the donation, suggest doubling it with a donation matching campaign.
Ask a few smaller benefactors if they'll go in together to create a pool of money large enough for a special matching campaign.
Embrace seasonal events like Christmas, or personal events like birthdays, when the joy of giving-and-getting is on people's minds and the "gift" element of matching is highly motivational.
---
How to set up Matched Giving for your campaign:
Step 1 - Find a donor willing to provide matching funds. This can be one donor or you can combine funds from a few sources.
Step 2 - Set up your campaign page on Givealittle and talk to our friendly support team to add matching to your page.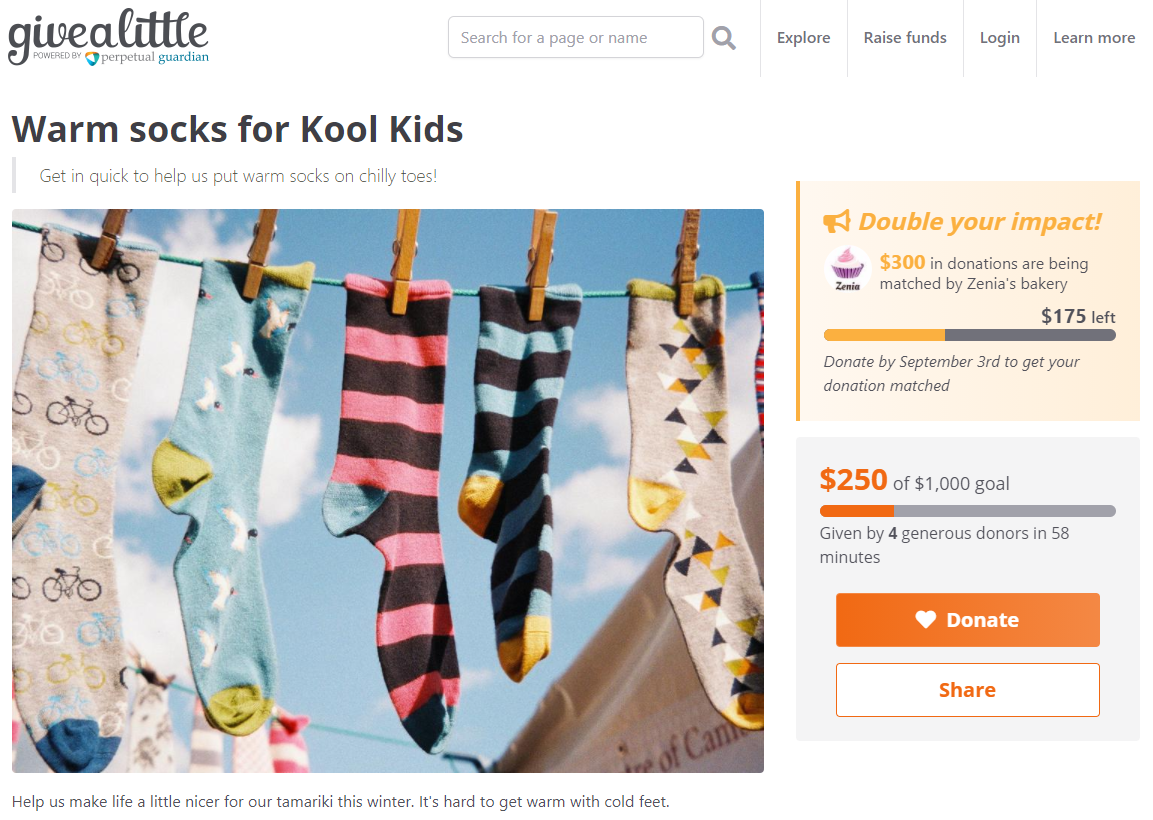 Step 3- Promote the campaign through your networks and media. Use Givealittle's page sharing functionality to get the word out on all kinds of social media platforms.
Step 4- When donors contribute, they get a badge on their donation saying it is matched and the matching total for the page is updated.

Step 5- Follow up. Use Givealittle's Page Update functionality to send message to the donors letting them know how it went and thanking them for the success of your fundraising! And remember to let your matching partner(s) see how much good their support has done!