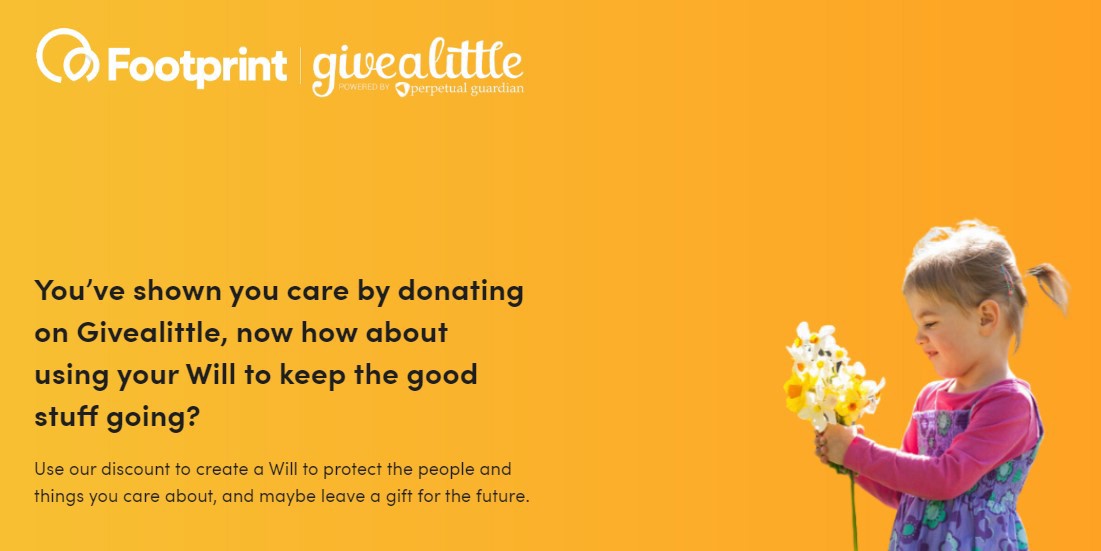 Givealittle have collaborated with the online Will provider Footprint to encourage more Kiwis to consider leaving a gift to charity in their Will.
Through this collaboration, donors to charities who have switched on Footprint messaging will receive a 50% discount on the cost of a Footprint Will with the suggestion that they consider leaving a gift to charity.
How Footprint and Givealittle can help benefit Kiwi Charities
Footprint are an online Will provider with a focus on improving financial literacy and helping change the perception that Wills are about retirement. Their aim is to drive a behaviour change that results in more people getting their Wills earlier in life - to protect what matters.
The Footprint experience was designed to meet the growing needs and expectations of those who prefer to connect via digital channels, look for products and services that provide a lifetime of value, and want to engage with companies that believe in giving back.
Research has shown that gifting in Wills has the potential to make a real difference to NZ Charities, with some reporting it represents 30% of their total income.
Many New Zealanders use bequests in their wills to support causes or organisations they care about, and our collaboration with Footprint aims to help our users (and your donors) keep the good stuff going by providing the opportunity to leave a legacy gift to charity, and create a discounted Will on Footprint.
How it works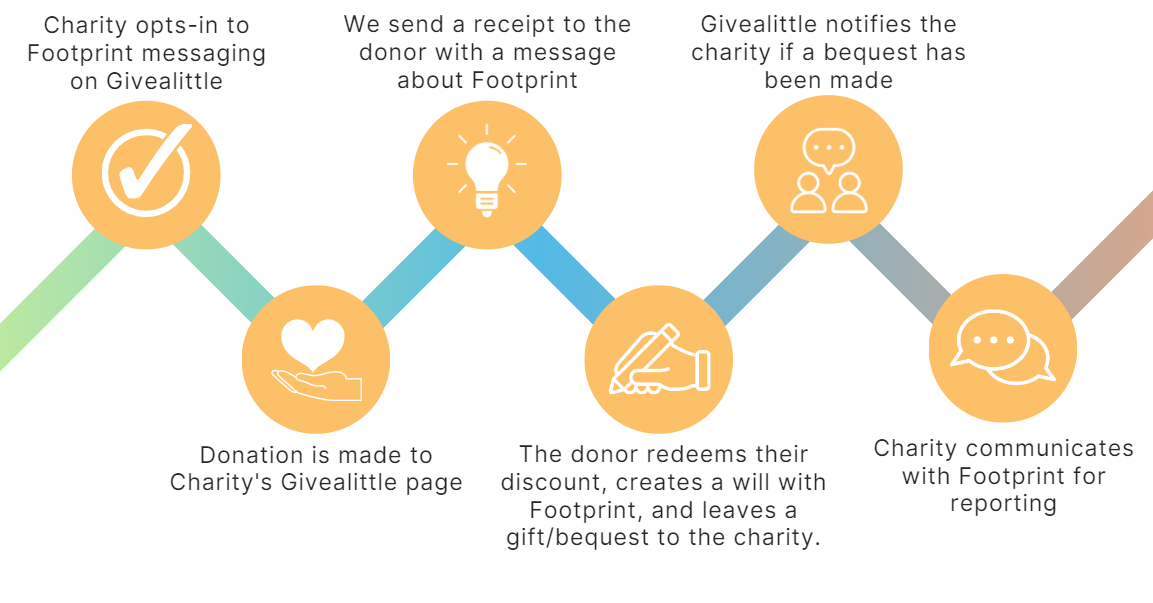 When your charity opts-in to add Footprint messaging...
The Footprint message will appear in the donor receipt email for any donations made after that point.
It is on a per-page basis. So, if you turn on Footprint's messaging on a page you own, anyone who donates to that page will see the offer/message from Footprint on their printed receipt.
If you own an Event Page, , and the Footprint message is ON, it will also be on for all participants pages. So the Footprint offer/message will be present on every donation receipt made to all pages connected to your Event; e.g. your Participants, Teams, and Fundraisers.
Page owners can turn Footprint messaging off at any time.
It is optional for the donor to leave a bequest to Charity in their Will.
Note that Givealittle does not take a fee from any part of this process
What the donor sees
On the Receipt
The donor sees this notice at the bottom of their donation receipt email. Click HERE to see an example.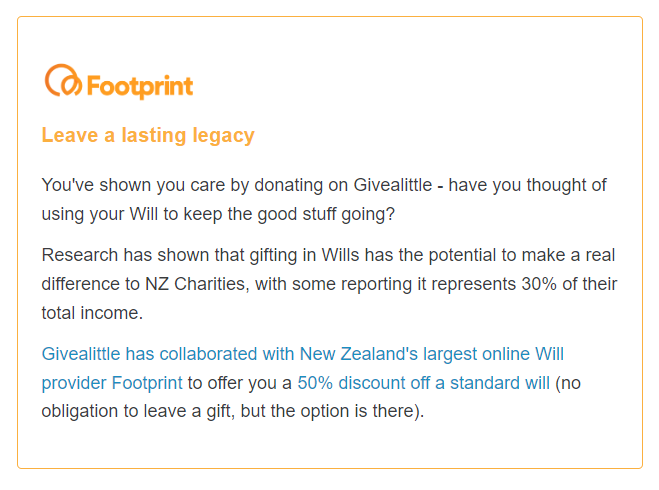 When creating a Will on Footprint
If they use the link to set up a Will, when they get to the "Gifts of Significance" section they can search the NZ Charities Register to choose who to give to. They can give multiple gifts.

Log in to Givealittle
Head to My Pages, locate the page you want to add the Footprint messaging to, and click the title (in blue).
In the "Page Tools" panel on the right, select "Gifting in Wills"
Click "Yes" > "Submit Changes"