Building a relationship with donors is critical to ongoing fundraising success - your donors could be your future fundraisers and promoters. Page Updates are an easy and quick way to keep in touch and keep donors connected with the impact they make.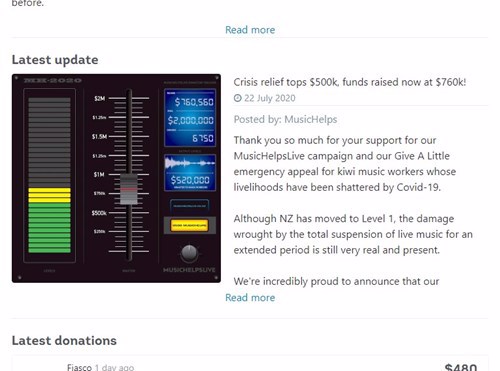 ---
What is a Page Update?
A Page Update is a text and/or video message that appears on your page and gets emailed to subscribed donors. You can choose to include an image - highly recommended to tell a story and engage your donors. Regular Page Updates will keep visitors to your Givealittle page up to date and connected, whether they are donors or just people viewing your page.
Interact with your supporters: Givealittle users can comment on an update
Spread the word: We make it really easy for your donors or supporters to share updates on social media.
Leave it to us: Givealittle will email Page Updates to donors who opt-in to receive them.
Visible right away: the Page Update is visible on your page immediately to anyone. You can edit, or un-publish if necessary.
Plan ahead: Create an update and save it as a "draft" if you need to get it approved, or tweak before sending out.
---
Why use Page Updates?
Page Updates are an essential tool, and the perfect way to thank your supporters by letting them see their impact, and goodness their donation has achieved.
Where they have opted in, Givealittle provides you with information about your donors, including names and email addresses so you can contact them directly with a thank you or other communication. However, not all donors will choose to share their information. Page Updates therefore give you another avenue to communicate with donors who may be reluctant to share their contact information.
Scenarios:
You are almost at your goal! Add an Update to re-ignite support, and encourage donors to share! Include clear targets - how much has been donated so far and how much you need to meet your goal?
You have smashed your goal! Reward donors with a picture or video of what they helped you accomplish.
Your page has closed. Tally up the donations, successes, feedback, reflections, and give a big thank you. We call this "closing the loop", and it is excellent incentive for donors to continue to support you in future.
Something changed, an important milestone reached? Use a Page Update to let people know what has changed and why.
Just say "Hi"! Keep donors engaged by sharing a picture or video update. You don't need big news to make an update; include a photo and video as best practice to keep donors motivated and connected.
---
Who will see a Page Update?
Donors to your page can opt in during the donation process to receive updates. Once your update is Moderated by the Givealittle helpdesk, we send it out automatically to draw attention. We always encourage your donors to comment and share – they can share your update with their network via social media links we include with the update.
Your update is visible publicly on the front of your page the moment you submit it! That means, anyone viewing your page can see an update at any time.
---
How to create one
To create a Page Update right now click here. You'll be taken to a listing of all your pages. Select "Updates".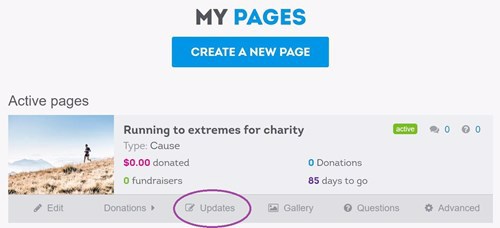 Alternatively:
Log in.
Go to your Givealittle page.
From the page-owner menu, at the top left of the page, select Manage Updates:

​
On the Page Update Management screen select Create a New Update: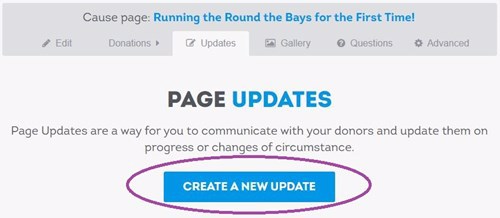 You're in control of your story. You can edit your page updates and there no limit to the number of Page Updates you can have on your page. But if you feel something is out of date you can remove it from public view by hiding it.