A Page Update is a text and/or video message that appears on your page and gets emailed to subscribed donors. You can choose to include an image - highly recommended to tell a story and engage your donors. Regular Page Updates will keep visitors to your Givealittle page up to date and connected, whether they are donors or just people viewing your page.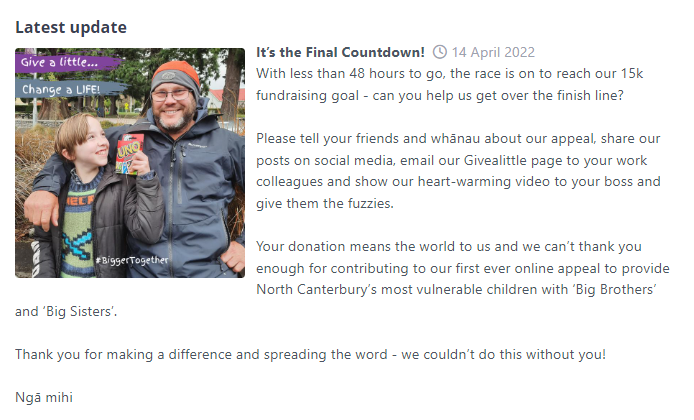 ---
Why Use Page Updates?
Spread the word: Givealittle will email Page Updates automatically to donors who opt-in to receive them.
Page Updates give you another avenue to communicate with donors who may not have shared their contact information.
Keep donors in the loop - Something changed? Get an offline donation? Doing the mahi and want to share it? Page updates are an essential tool for a successful fundraiser.
Say "Thanks": Updates are a perfect way to thank your supporters by letting them see their impact, and goodness their donation has achieved
Visible right away: the Page Update is visible on your page immediately to anyone. You can edit, or un-publish if necessary. There's no limit to how many you can make.
Plan ahead: Create an update and save it as a "draft" if you need to get it approved, or tweak before sending out.
Interact with your supporters: Givealittle users can comment on an update
Scenarios:
You are almost at your goal! Add an Update to re-ignite support, and encourage donors to share! Include clear targets - how much has been donated so far and how much you need to meet your goal?
You have smashed your goal! Reward donors with a picture or video of what they helped you accomplish.
Your page has closed. Tally up the donations, successes, feedback, reflections, and give a big thank you. We call this "closing the loop", and it is excellent incentive for donors to continue to support you in future.
Keep donors engaged by sharing a picture or video update. You don't need big news to make an update; include a photo and video as best practice to keep donors motivated and connected.
---
Who will see a Page Update?
Donors who "opt in" during the donation process receive your update automatically via email.
Anyone looking at your Givealittle page.
---
How to create one
Log in.
Go to your Givealittle page - Click here to go to a list of your active pages, click on the page title.
From the Page Tools menu at the top right of the page, select Post a Page Update ​
On the "Page Updates" screen select Create a New Update:
Page Updates for an Event
Follow the directions in the section above
Select additional options to broadcast your message to donors, participants, or both

Page Update to Participants: Will be emailed out automatically to ALL participants, and will also display on each of their pages.
Page Update to Donors - Will be emailed out to ALL donors, and will display on your Event page.